Vancouver's Michelle Liu's Brilliant Bogey Leads To B.C. Bantam Girls Championship
Details

Category: Inside Golf
Published: 2020-08-27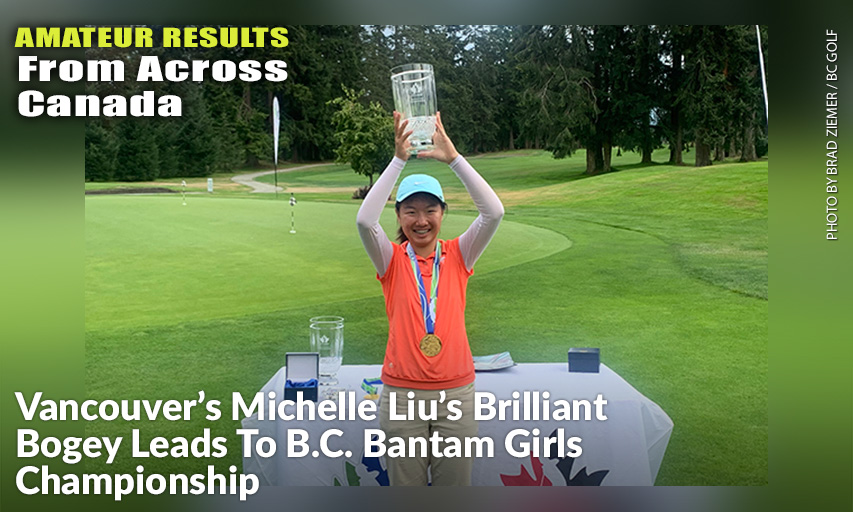 By BRAD ZIEMER, British Columbia Golf
CHEMAINUS, British Columbia — There is such a thing as a good bogey and Michelle Liu made one of those on the first hole of the final round of the B.C. Bantam Girls Championship.
The 13-year-old from Vancouver hit her second shot out of bounds but managed to escape with a bogey she was, "pretty proud of."
That OB shot was about the only mistake Liu made Wednesday at Mount Brenton Golf Club as she shot a one-under par 70 to win by six shots.
This is how she described her first-hole adventure: "So I hit my drive left and it was like next to a tree and a root and I was like, 'I can probably hit it out of here.' But I think the ball ticked the tree root and went straight up into the air and went OB. 
"So I re-hit from there and I hit it out successfully this time. And from there I put my approach shot like a foot from the pin. I am pretty proud of that bogey."
And she's delighted with her first B.C. title.
"I am really happy I was able to win this tournament," said Liu, who plays out of Shaughnessy Golf & Country Club and is about to start Grade 9 at Crofton House school. "I had a lot of friends who were playing here with me. And especially to win on this course. I found it quite difficult for the length it was playing at. I am happy I was able to play well. I enjoyed playing this course."
Liu followed up her brilliant bogey on the first hole with a nice birdie on the long par 4 second hole. With the tees moved back Wednesday, Liu said she just barely got her tee shot over the water crossing the fairway. Her approach settled on the front fringe and she rolled in what she called a long slider of a putt for her birdie.
She made the turn in one-over par, but had a clean back nine with two birdies and no bogeys. She finished off her round with a tough up-and-down for par from behind the green on Mount Brenton's 18th hole.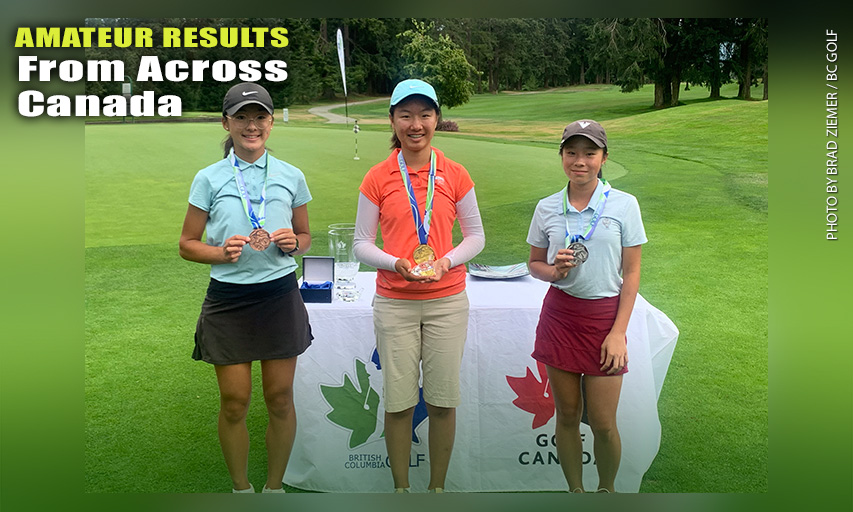 BC Bantam Girls Champ Michell Liu (Middle) Is Joined By 2nd Place Finisher Chelsea Truong (R) And 3rd Place Yeji Kwon (L).
Liu finished the 36-hole tournament, open to players aged 14 and younger as of Aug. 1, at even-par. Chelsea Truong of Victoria finished second at six-over after closing with a 73. Yeji Kwon of Port Coquitlam was third at seven-over. Kwon, who won the Alberta Women's Amateur Championship last month, shot a three-under 68 on Wednesday.
Liu's win followed something of a disappointing finish at last week's B.C. Junior/Juvenile Girls Championship at Cowichan Golf Club. Liu held the lead heading into the final round but ended up finishing third. "At Cowichan the last two days, nothing was quite there," she said. "I think going into these two rounds my swing was generally better."
Liu is a seasoned player, despite her young age. She was the low Canadian at last year's Canadian Women's Amateur Championship and earned a spot in the 2019 CP Women's Open where she got to play alongside the LPGA Tour's best players.
She is heading to Campbell River next week for the B.C. Women's Amateur Championship.
"There will be some collegiate players there and lots of other really good players are also going to be there," she said. "And it will play longer. I will go there and try and play my best and if everything falls into place I think I can play well."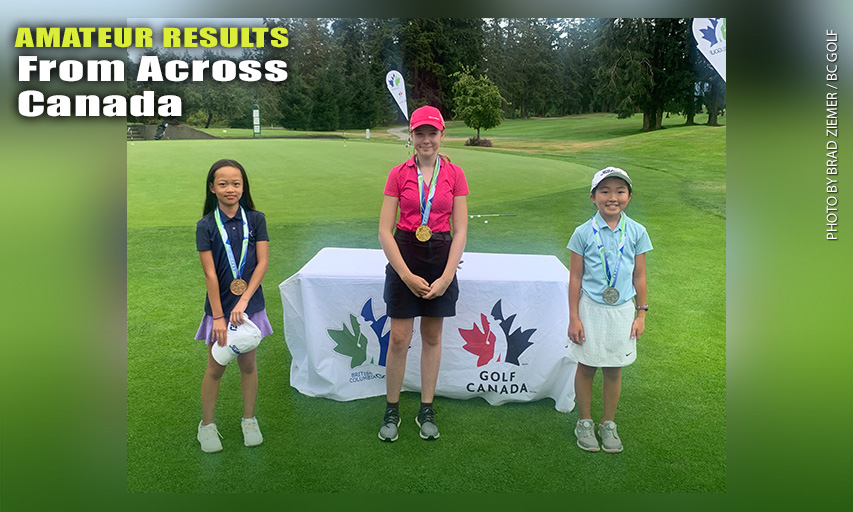 Girls Novice Champion Sophia Mackenzie Of Cowichan (centre) Flanked By 2nd-place Finisher Sarah Kim Of Victoria (right) & 3rd-place Finisher Angela Zou Of Nanaimo.
Sophia Mackenzie of Cowichan Bay won the Novice Girls category, which was open to less experienced golfers and used a net Stableford scoring system. Mackenzie finished with 70 points. Sarah Kim of Victoria was second with 63 points, while Angela Zou of Nanaimo was third with 61 points.
Click HERE for complete final scoring.