Gord's Alberta Golf Notes: Pro & Amateur Tourney Winners; Ace On A Par-4; Early-Season Snow
Details

Category: Inside Golf
Published: 2020-09-09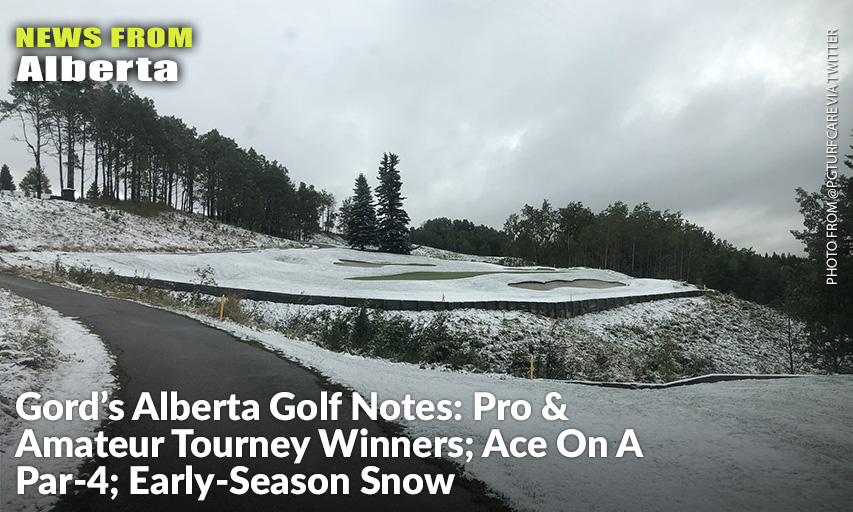 By GORD MONTGOMERY, Inside Golf
It seems hard to believe that summer, for the most part, is gone. But that fact was borne out recently when the first major frost delay of the year took place at Northern Bear GC, just outside of Edmonton. The annual Pro/Pro Best Ball tournament was delayed by about an hour by Mother Nature on August 31 of all things, but eventually play took place. The winning due of Mitchell Fox and Jacob Manz from Speargrass in Calgary, paired up for a more-than-respectable score of 62 on one of the area's great tourney courses. They won by two strokes over the Vandermey brothers, Spencer and Nick, who hail from the Edmonton Petroleum G&CC and the Windermere G&CC.
On the amateur side of the scorecard, Jayla Kucy from Camrose continued her strong showings in junior golf, as she became the first three-time winner of the McLennan Ross Alberta Junior Tour Championship, played as always at Wolf Creek GR. Kucy actually trailed by one headed to the 17th hole in the final round but pulled even there, and then with a great 20-foot birdie putt on the final hole, pulled out a two-shot win. On the boys' side of the ledger, Zach Haydamack from Calgary, claimed the title with an even par 70, to win by three.
We don't normally write about aces unless they're really unique, so here's one for the books — Calgary Flamer d'man, Michael Stone, wrote down a '1' on his scorecard after carving up the 16th hole at the new Mickelson National GC in Calgary. What makes this shot reportable is the fact it came on a par-4 hole. While Stone likely would have preferred to be firing pucks at opponents' nets in the Stanley Cup playoffs instead of golf balls at holes in the off-season, we guess this shot will place a somewhat soothing second.
Oh yeah... speaking of frost, how about some early-season snow? The white stuff blanketed much of the southern part of Alberta on the middle day of the latest long weekend, when a cold system met up with some upper air moisture to create a ground cover of white, shutting down a number of courses for the day. The thing is, this is Alberta, and since the weather can change so quickly and dramatically at this time of the year, temps were expected to be back up in the low to mid-20s a couple of days later.
So, that being said, here's hoping everyone can get in a a few more rounds before the white stuff comes to stay, which in this part of the country, may be sooner rather than later.
Another Albertan has struck it rich, so to speak, on the Mackenzie Tour's Canada Life Series, as he picked up a win at the latest stop in Ontario. While he won't be able to retire on what he won there, which also included a bursary from some Canadian PGA TOUR players, Albert Pistorius likely has a different view on life as a playing pro after this, his first professional win. You see, Pistorius had actually given up his hope of playing pro golf and become a teaching pro at Calgary's Pinebrook G&CC, an occupation choice/switch that may now bear some future scrutiny.