Chase Wright's Maiden Victory At ATB Financial Classic
Details

Category: Inside Golf
Published: 2017-08-14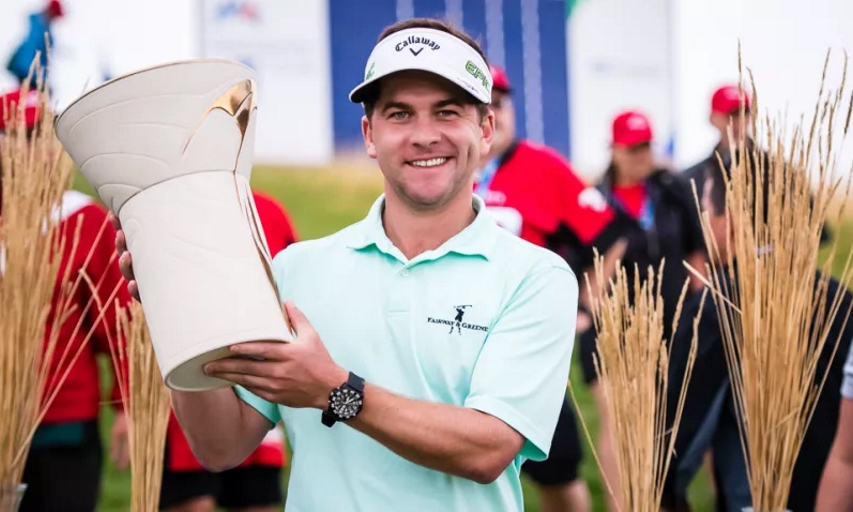 Chase Wright Fired Rounds Of 65-65-72-67 To Capture His First Mackenzie Tour Title. (Photo/PGA TOUR)
CALGARY, Alberta — Muncie, Indiana's Chase Wright shot a 4-under-par 67 to come from behind and win the ATB Financial Classic for his first Mackenzie Tour – PGA TOUR Canada win.
The 28-year-old started the day one shot back of the five 54-hole co-leaders—who were tied at 12-under-par—but got off to a hot start on Sunday, making a 30-foot putt for birdie on the first hole, followed by birdies at hole Nos. 2, 4, and 5. Wright bounced back from a bogey on the par-3 No. 6 with an eagle at No. 7 to make the turn at 5-under, good for a one-stroke lead at that time.  
Weather conditions changed significantly as the final few groups approached the 12th and 13th holes—wind speeds in the morning were no more than 17 km/h, but afternoon  gusts reached up to 31 km/h. Wright, however, seemed undisturbed by the change in the elements. He notched six straight pars on Nos. 10-15 and said his par saves on Nos. 13 and 14 were crucial keys to his victory on Sunday.
"The winds that came through, you hadn't seen them all week," said Wright. "That was two huge moments. I probably wouldn't be here if I wouldn't have gotten those up-and-downs."
On the par-5, 507-yard No. 13, Wright was left with 180 yards for his second shot, and with the wind conditions, he needed only a wedge for the shot, which flew the green. Wright hit his third shot just inside a hazard and saved par by chipping it to two-and-a-half feet and making the putt. On the par-3, 212 yard No. 14, Wright hit his tee shot into a greenside bunker and made a 7-footer for par.
His mentality throughout the round—and the week, for that matter—did not waver. "I just tried to stay patient and play like it was the first day every day and not really worry about stuff going on around you and how other people are playing," said Wright.
Wright bogeyed the par-3 16th on Sunday but bounced back on No. 17, sinking a 15-foot putt for birdie, despite needing to back away twice due to the wind. After failing to get up-and-down on No. 18, he signed his scorecard for a 72-hole total of 15-under-par—the clubhouse lead—and waited for the remaining two groups to finish.
"I wasn't discouraged or anything. I just kept plugging," said Wright about his final stretch of holes. "I felt really calm most of the day…I've seen my name up there [on the leaderboard] all day and I never once thought I let that affect me, and if it did, I made sure that it didn't affect me more than once."
Wright finished his final round just before play was suspended at 4:24 pm local time due to lightning in the area. When play resumed at 4:58 pm, South Korea's Todd Baek was the only player who could potentially force a playoff with Wright, but Baek's failure to birdie No.18 secured Wright's first Mackenzie Tour victory.
The win moves Wright into seventh on the Mackenzie Tour Order of Merit, $1,085 behind No. 5 Patrick Newcomb. The top five players on the Order of Merit at the season's end will earn status on the Web.com Tour for 2017.
"Anybody that knows me kind of knows that I've put myself through a lot in the last year and a half," said Wright, who finished in the top-50 on the Web.com Tour money list in 2014 and 2015 but failed to keep his Web.com Tour card after the 2016 season after missing 15 of 20 cuts. "Coming back here and having an opportunity to get back to the Web.com Tour is awesome, and [I'm] taking advantage of it now."
Wright was one of six co-leaders at 6-under 65 after the first-round and had the solo 36-hole lead by one stroke over Todd Baek, thanks to another 65 in round two. A one-over 72 in the third round left him one stroke back of the five co-leaders heading into the final round, but his attitude remained positive and persistent.
"I didn't play that bad," said Wright about his 72 on Saturday, which also saw wind speeds reach the mid-30s (km/h). "I lost three-and-a-half shots on the greens. My game was right there; I just gave away a few shots. So I knew if I just kept hitting solid shots and putting myself in position, the hole's gonna get in the way, and it did."
NOTES:
Chase Wright
28-year-old Chase Wright was making his eighth career Mackenzie Tour start in his first season on the tour. In a season marked by four made cuts and two top-25 finishes prior to this week, the Indiana University alum's best finish prior to his win Sunday was a T15 at the Players Cup.
Wright earned status on the Mackenzie Tour by finishing sixth at the USA West #2 Q-School.
Since turning pro in 2012, Wright has made 69 starts on the Web.com Tour, where he's notched 12 top-25 and six top-10 finishes. His best finish came at the 2015 Columbia Championship, where he was in solo second after the third round but went on to finish T3.
While a collegiate golfer at Indiana University, Wright was selected to the All-Big Ten First Team and PING All-Midwest Region Team as a senior. He also won the 2010 Indiana State Open.
Wright's caddie this week was Jordan Crone, an attorney from Calgary.  
HEFFERNAN TAKES FREEDOM 55 FINANCIAL TOP CANADIAN
With a total score of 14-under par in a tie for second, Calgary, Alberta's Wes Heffernan finished as the top Canadian on the leaderboard, earning Freedom 55 Financial
Canadian Player of the Week honours and a $2,500 prize.
The top Canadian on the leaderboard each week takes home the award, with the top
Canadian on the Order of Merit at season's end earning the Dan Halldorson Trophy,
Freedom 55 Financial Canadian Player of the Year honours and a $25,000 prize.
RACE FOR THE FIVE HEATS UP
The top five players on the Order of Merit at season's end will earn status on the
Web.com Tour for 2017. Below are the top five through eight of 12 events:
Johnny Ruiz              $62,731
Robby Shelton          $55,473
Kramer Hickok          $51,902
Max Rottluff              $51,354
Patrick Newcomb     $39,340
THEY SAID IT
"It was the proudest I've been after a tournament, just because I haven't played that much…I didn't hit a single shot where the nerves caused me to hit a bad shot." –Wes Heffernan, Calgary native and PGA of Canada professional, on how he felt about his T2 finish this week.  This week marked Heffernan's 147th start in the Canadian Tour and Mackenzie Tour eras combined.
"I was thinking to myself coming down the last fairway, 'If you enjoy stability in your life, you probably shouldn't take up golf.' 12 hours ago I'm asking myself why on earth I try to play golf for a living, and I come out and bogey the last hole to shoot 64, and not a whole lot changed." –Lee McCoy on shooting a final-round 7-under 64, a 14-shot improvement from his 78 in round three. McCoy finished T30. 
MISCELLANEOUS NOTES
Weather: partly cloudy in the morning, overcast in the early afternoon and light rain showers in the mid-to-late afternoon, with lightning in the area causing a brief suspension of play (see note below). Temperatures reached a high of 29 degrees Celsius. Wind speeds ranged from 9-17 km/h in the morning and 17-31 km/h in the afternoon.
Play was suspended at 4:24 pm local time due to lightning in the area and resumed at 4:58 pm. Two groups remained on the course at the time of the suspension.
Chase Wright received seven free daily rental vouchers for a rental car from AVIS for the win.
The 36-hole cut came at 3-under with 66 players at T55 or better.
Here's a look at the scoring averages this week:
Round            Scoring Average     
R1:                  70.838                      
R2:                   70.039                      
R3:                   71.561
R4:                  70.803                      
Thanks to a T4 finish this week, Johnny Ruiz moves into the No.1 spot on the Order of Merit. He entered the week trailing Robby Shelton by $442 but now has a $7,258 lead over Shelton.
While the demanding par-4 10th hole played the toughest hole for rounds one through three, the par-3 14th hole played the toughest in in the final round—It yielded 2 birdies on Sunday and played to an average of 3.515.
Click here for final scores.
The ATB Financial Classic announced a donation of $38,500 at the end of the week towards the Stampeders Foundation, the charitable arm of the Stampeders Football Club.