Bermuda Sands Apparel Introduces Women's Red Wood Fall 2018 Collection
Details

Category: Inside Golf
Published: 2017-08-30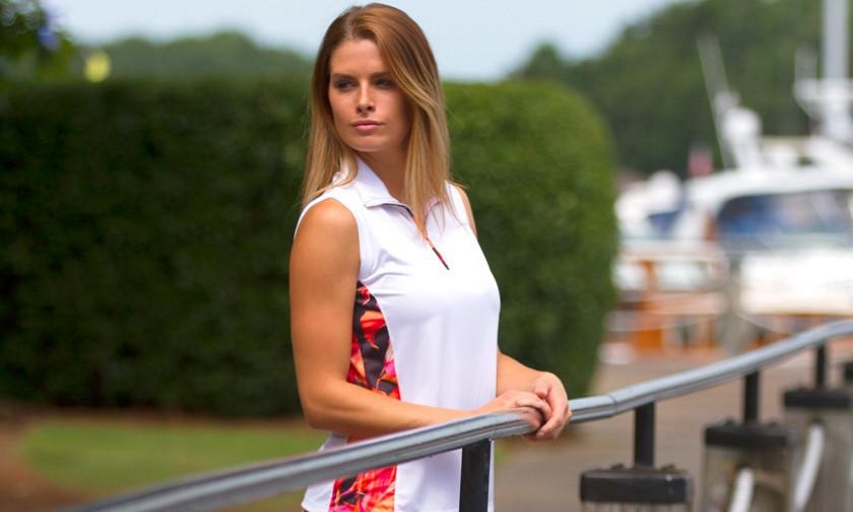 CHARLOTTE, North Carolina — Bermuda Sands are pleased to introduce their new Fall 2017 Women's Red Wood collection. Be inspired by the warmth of fall and fall colors that arrive.
The Women's Red Wood collection is complete with hues of cheery poppy and royal reds. Get swept away to when the sun light rays are shining through the changing leaves of fall.
The new patterns offer countless opportunities for effortless yet sophisticated style. From patterned options to polos and sleeveless shirts, all will include the color inspiration, making outfits bounteous. The Red Wood collection is perfect for a walk in the park, escaping to the back nine or a quick weekend getaway.
"We are very pleased with this collection," said Joe Pagani, CEO Bermuda Sands. "We have added new styles and designs that appeal to a wide audience and highlight our capabilities as a leader in the leisure apparel space."
Women's Red Wood Highlight Products
Daria 
The Daria offers more variety for polo options, with a touch of flare in the highlight pattern side paneling, highlighting and maximizing coordination with respective patterned or solid skorts.
92% polyester, 8% spandex
3 color options available 
Available in XS-2XL
MSRP: $73
Vivi
The Vivi is a stand-alone piece in the Women's Red Wood collection. This full patterned polo tee is designed to match perfectly with its skort mate, the Jackson. When worn as a complete set, it will give the illusion of a dress.
92% polyester, 8% spandex
4-button placket
Available in XS-2XL
MSRP: $73
Rosalia 
Introducing new sleeveless option of the Rosalia top, featuring subtle medallion pattern detailing on the inner collar, and mesh detailing on the shoulders for added texture and appeal.
92% polyester, 8% spandex
Quarter length zippered placket
2 color options available
MSRP: $67
Jackson Skort
The Jackson is the new staple patterned skort, featuring the Red Wood diagonal pattern completely across the body, with a pair of concealed shorts built in for added modesty and ease of movement when moving around the course.
95% microfiber polyester, 5% spandex
Inner shorts: 4 3/8" 
Available in XS-2XL
MSRP: $73
Cadee Hoodie
New to the collection: The Cadee Hoodie, a crossover lifestyle piece. Featuring a versatile hood that can be worn as a hood or as a stylish cowl neck. A sleek kangaroo pocket in the front stores essentials and offers quick warmth for hands.
91% polyester, 9% spandex
2 color options available
Available in XS-2XL
MSRP: $77
Greer Jacket
Rounding out the new products for Women's outerwear is the Greer jacket. This full zip jacket is available in various colors for optimal outfit coordination. New color blocking, and striated heather hues across the front of the product contrast with solid coloring on the back. Brushed micro fleece on the inside for extra next-to-skin softness.
91% polyester, 9% spandex
Brushed interior
Full zip
2 color options available 
MSRP: $77
---
About Bermuda Sands
Bermuda Sands is vertically integrated apparel company designing and manufacturing premium performance apparel for the green grass and active lifestyle consumer. Founded in 2009, Bermuda Sands is a family-owned company with over 40 years experience in apparel manufacturing. Please visit bermudasandsapparel.com for more information.