Three Canadians Including B.C.'s Richdale Earn LPGA Tour Status
Details

Category: Inside Golf
Published: 2016-01-10
via Golf Canada
DAYTONA BEACH, Fla. – Quebec's Maude-Aimée LeBlanc won with panache, earning her LPGA Tour card for 2016 at the end of the five qualifying rounds in Daytona Beach, Florida.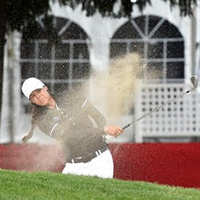 The Sherbrooke, Que., native recorded a score of 71, 1-under par in the final round Sunday. Her cumulative record of 350 (-10) saw her finish tied for fourth, a single-stroke be enjoying her second year with full status on the LPGA Tour, having previous qualified in 2011.
Image Caption : Samantha Richdale From Kelowna, B.C. Was One Of Three Canadian Women To Earn Status On The LPGA Tour For 2016 - Image Credit Jurgen Kaminski
LeBlanc wasn't the only Canadian to earn LPGA status for 2015.
Anne-Catherine Tanguay of Quebec finished tied for 36th at even-par 360, while Samantha Richdale finished a shot back at 361 (T41) at to earn conditional status.
Langley, B.C.'s Jessica Wallace earned Symetra Tour status for 2016 by virtue of tying for 64th at 6-over 36