Hannah Green Punctuates Tremendous Rookie Season with Third Win at IOA Golf Classic
Details

Category: Inside Golf
Published: 2017-10-04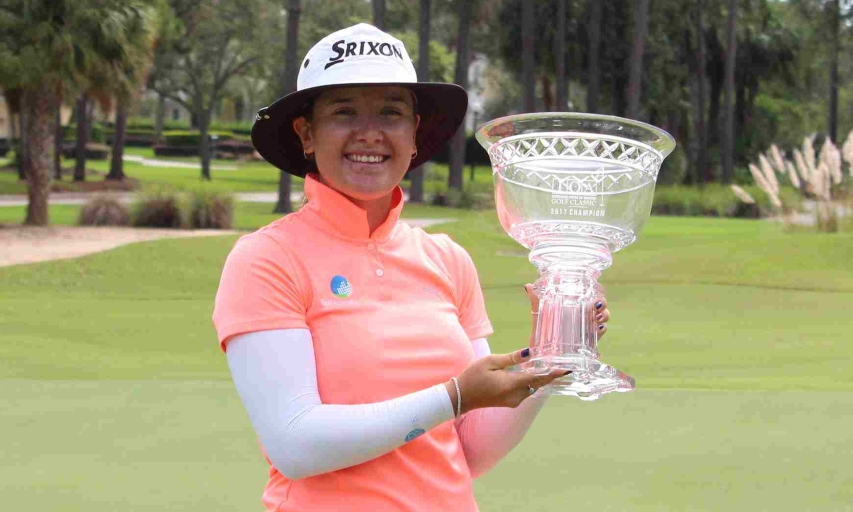 (Photo/Symetra Tour)
LONGWOOD, Florida (Symetra Tour) — Hannah Green (Perth, Australia) completed a wire-to-wire victory at the IOA Golf Classic at Alaqua Country Club. She carded a final-round 2-under, 69 to win by two-strokes at 13-under, 200. Green built a four-stroke lead and then survived a double on 16 and a bogey on 17 to edge Katelyn Dambaugh (North Charleston, S.C.), who finished second at 11-under. Lindsey Weaver (Bellefontaine, Ohio) and Elizabeth Szokol (Winnetka, Illinois) tied for third at 10-under. 
Green, 20, collects her third Symetra Tour victory of the season and pockets the $22,500 first-place prize to move from fourth to third on the Volvik Race for the Card money list. She has earned $105,054 in 19 starts and is the third player this season to eclipse $100,000 in earnings, which has never happened in Symetra Tour history. 
"For the tournament to be over and for me to have the trophy is awesome," said Green. "I'm just glad that I have my LPGA Tour card for 2018."
Green is also the second player to pick up three victories (Nanna Koerstz Madsen). It's the first time that two players have won at least three tournaments in a single-season. 
"I always wanted three wins and I talked to my coach (at the beginning of the year) and we set simple goals and three was the major goal," said Green. "To have two wins in three weeks is definitely not how I planned it out, but to have three is awesome."
Green won the Murphy USA El Dorado Shootout two weeks ago. 
Green started the final-round and finished nine holes. She resumed the next day on the tenth tee. She hit her third shot of the morning, the approach into ten, to 2-feet and birdied to build a three shot cushion. She also made birdies on 12 and 14 to stretch the lead to four shots. 
She hit her tee shot out of bounds on 16 and then missed her approach short and left on 17, but the tournament was never truly in doubt. 
"I didn't know what the score was on the last hole, I just thought I had to two-putt to win," said Green. "The scoreboard wasn't completed yet, but it eased the nerves when I walked to the scorers tent after making par."
Green won first in April and then didn't win again until two weeks ago in Arkansas. She has surged at the end of the year with two wins and a top five in the last three weeks. 
"My game has definitely improved and I think going home during the off weeks was the big difference," said Green. "Seeing my friends and family and only being on the road for six weeks during this stretch has helped. The hard work has paid off."
Green has now played five straight tournaments and will play a sixth in a row next week to finish the season. She still has a chance at the Symetra Player of the Year award.
"I'm getting really tired and this week was not what we were used to with all the delays, but to play five in a row is a lot of golf," said Green. "Hopefully I have a good week this week in Daytona and then I get a bit of a rest before I play in another event back home in Perth."
Following the Symetra Tour season, Green will play against the men in the WA Open, an event on the PGA of Australia.
Then, it's time to rest and recharge for the LPGA in 2018. 
"My first event on the LPGA will be in January, but it still feels far away," said Green. "I'll have some down time to get rest and then get back into practicing. The schedule fits in really well."