UltraFuze™ Heats Up the Chase54 Fall Collection with Advanced Technology
Details

Category: Inside Golf
Published: 2016-01-11
CHASE54 has introduced an advanced fabric concept to uphold its reputation as a technology leader in the apparel industry. As seasons change, the company empowers golfers to embrace the elements, offering its Hoffman Jacket, with a signature UltraFuze™ technology. The Hoffman Jacket is now available at retail and also online at chase54.com.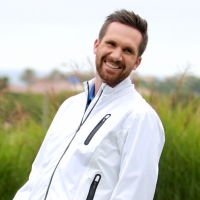 "We are striving to remove climate barriers for people who love the game of golf," says Lulu Faddis, Chief Designer and Creative Director for CHASE54. "Because of our 35 years of experience creating apparel, we bring the most cutting-edge fabric technology to the golf industry before it is available to other brands and even other industries," Faddis says.
The Hoffman Jacket ($120.00)
The Hoffman Jacket features CHASE54's signature UltraFuze™ technology. The fabric is made of an ultra lightweight three-layer soft shell bonded fabric. Its secret ingredient is the fusion of a high-performance membrane and an ultra high-gauge knit. The jacket is waterproof and windproof offering protection from all elements. Key features include a drawcord detail at the hem for cinching and a mesh inner lining. Elastic cuffs pull up easily and stay in place. The jacket is protective, yet breathable with a soft hand and offers incredible mechanical stretch.
UltraFuze™ was introduced as part of CHASE54's FUSION54 family of signature technologies at the 2015 PGA Merchandise Show. The company is currently developing new technologies to launch for 2016 at this year's show. Scientists have been working in the lab to unveil more possibilities to enhance the game of golf.
For more information on CHASE54's Fall Collection and its fabric technologies, visit www.chase54.com.
About Chase54
Based in New York and with a design room and showroom in La Quinta, CA, Chase54 is a lifestyle brand created by golfers for golfers and beyond. Founded and backed by 35 years of garment manufacturing excellence and more than 400 million garments produced, Chase54 offers golf apparel for both men and women with phenomenal styling and superior fabrics, all at an affordable price. To learn more about the brand, visit www.chase54.com.