Bette & Court Launches Spring 2016 Women's Golf Collection
Details

Category: Inside Golf
Published: 2016-01-11
DENVER, Colorado — Bette & Court has debuted its Spring 2016 women's apparel collection.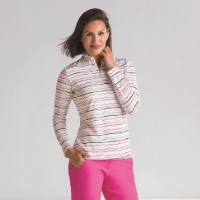 "Spring is all about options, which is why this collection is fresh in detail and loaded with color," says Justina Cordova-Bottomley, Senior Designer at Bette & Court. "There are styles and prints to suit everyone, with plenty of UPF built in. Simply put, we have you covered."
Bette & Court is our performance lifestyle brand, bridging the gap between active and everyday apparel. It's where athleticism meets fashion. It's not only functional, but practical and multisport. It's ever-changing and that process of constant renewal drives us. Exciting new designs, fabric innovations and cutting edge technology are the result of our focus. We understand what our customer wants in her apparel and what she expects of ours. She is our mission.
The new collection's Swing Polo is at the brand's core. We made the Original Sun Protection shirt with mesh under the sleeve. It's made of Cool Elements fabrication that's cool to the touch and inherent in the yarns. The lightweight texture and simple mesh underarm produce a hefty UPF50 while maintaining body temperature. It's offered in two collar choices and 14 color choices.
Enhancing the Swing Polo category is a collection of prints offering bright color combinations, graphic digital prints, florals, geos, subtle patterns and more. As a collection, these are powerful and certainly designed for multiple options in dressing.
The new Swing Crew long-sleeve crewneck features fashion mesh detailing and thumb holes in the sleeves — perfect for reaching a younger audience or athletic feel.
Introduced last season with great success, the Swing Skirt shows a flirty feminine side to the Cool Elements fabric with mesh overlays. It's now expanding with fresh, new colors and our signature logo print.
Also new is the Twist/Twister 14" pleated skirt with ribbon seaming and mesh under-pleat detailing. Offered in solids and prints, it's a perfect tennis-inspired find.
Smooth Fit bottoms — our popular pull-on models — have expanded to include a shorter short with zip front and accent detailing. Offered in several colors, this new addition is sure to give customers new options in the planet's most comfortable short.
All of the new groups offer unique pieces for each color story:
White Night – No big surprises here, as black and white are always musts with the essential shades of grey accents.
Blue Crush – The rise in women playing all sports has led to the introduction of more refined shades. The hues of Blue Jay and Sky Blue are mixed with neutrals, for understandable and always popular styling.
Red Hot – Sport chic...heather greys mixed with black and white are popped with Crimson for a Red Hot effect.
Pink Lady – A twist of retro with Hot Pink and Green, a nod to preppy look, and a hint of tennis and the courts.
All of these pieces give you smart and focused groupings to enhance your shop's Swing collection. "The landscape is changing — we are smarter and more deliberate in our apparel choices," says Cordova-Bottomley. "We want it all. Our color ranges are adapting to this new market of fashletics, where athletic meets every day. Bette & Court brings a functional side to a feminine fashion approach. We are performance lifestyle at its best. We are Bette & Court."
About Bette & Court
Bette & Court, a division of Sport Haley, Inc. is a premier women's golf apparel company committed to the active woman interested in fresh, sporty, modern and easy-to-wear clothing at an affordable price point. Offering effortlessly stylish and interchangeable pieces, Bette & Court's clothing is designed with attention to quality, detail and fit that performs beautifully on and off the golf course.
Bette & Court and Sport Haley are located in Denver, Colo., and sold online and at private and public golf shops throughout the world. Sport Haley/Bette & Court is a wholly owned subsidiary of Sport-Haley Holdings (OTCBB:SPOR), a publicly traded company. For more information about Bette & Court and Sport Haley, please visit bette-court.com and SportHaley.com.