Remembering And Honouring Two BC Golf Legends: Alvie Thompson And John Russell
Details

Category: Inside Golf
Published: 2017-11-27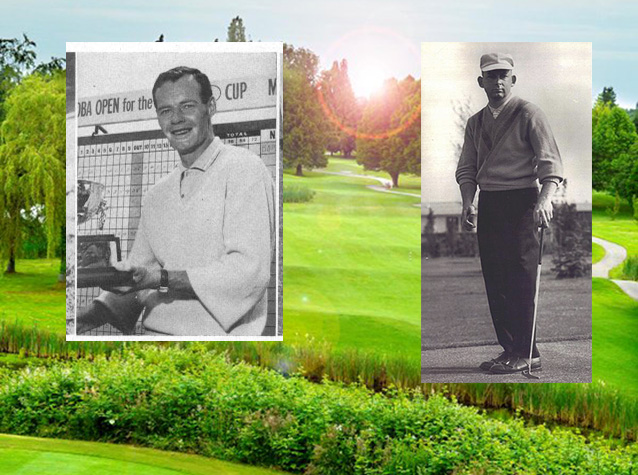 British Columbia Golfing Legends Alvie Thompson (L) And John Russell (R) Will Be Remembered Always For Both Their Skill And Grace In The Game Of Golf. (Photo/BC Golf House) 
Golf in British Columbia has a very rich history and our province has had no shortage of outstanding players over the years both at the amateur and professional level.
Recently the golf community as a whole, and here in British Columbia in particular, has been saddened by the loss of a few of those legendary players with two of them leaving us very close together at the end of October and early in November.
As a tribute to those two fine gentlemen we'd like to present here an overview of the accomplishments and contributions to the game by Alvie Thompson and John Russell. Our game and our community are better for having had them here and being able to call them our own.
Alvie Thompson
Born in Unity, Sask., in 1936, Thompson became a Professional in 1957 and spent the majority of his career based in British Columbia. First working as an assistant at Marine Drive Golf Club in the late 1950s, Thompson moved on to postings in Ontario and Quebec before returning to Marine Drive as Head Professional in 1972 for a four-year stint. He then spent 18 years as Head Professional at McCleery Golf Club before retiring to the Sunshine Coast in 1994.
Thompson was an accomplished player as weli. As a Marine Drive junior member Alvie Thompson honed his skills watching the legendary Stan Leonard pound the ball on the course range. "From the time I was 15 I saw almost every practice shot Stan ever hit at Marine. Nobody ever hit the ball any better than he did. It was his encouragement that got me going," said Thompson.
When Stan left for the tour he arranged for the 21-year old Alive to commence his apprenticeship in Bill Thompson's pro shop. Alvie got his playing career really under way in 1962, two years after he left BC to join Bill Mawhinney's staff in the east. Playing in his first national championship Alive, the pupil, shot 64 to defeat Stan and George Knudson in a play-off to capture the 1962 Canadian Professional Golfer's Association Championship. The following year he burned the course in 27-under par to capture the Miller Cup Match Play Event.
In the decade playing the Canadian Tour, the Caribbean Tour and the PGA TOUR, Alive recorded 7 wins and 8 seconds. Alvie's big break seemed to come in 1968 when he finished 10th at the PGA qualifying school. H played the fall tour winning $700 at Hartford, $1000 at Doral, and $550 at Orlando. A group of Toronto businessmen decided to sponsor Alive full time on the tour the following year. "I was on top of the world," he said. Then for some reason his tour card was cancelled. Several inquiries never really solved the problem so Alvie decided to concentrate his energy playing Canadian Tour golf.
In 1972 after playing the Alberta Open Alvie decided to return to his roots – the head professional job at his home club Marine Drive.
Thompson's legacy in BC continues through the many Golf Professionals who looked up to him early in their careers. Much in the way Leonard was a major influence on him, Thompson passed on his knowledge and expertise to several esteemed PGA of BC Professionals, including Jim Pringle, Mike Smedstad, Norm Jackson, Derek Thornley, Pat Dunn and others. He also had a major impact on the playing career of Richard Zokol, who was a junior at Marine Drive while Thompson was the club's Head Professional.
Thompson received a Lifetime Achievement Award from the PGA of BC in 2014 and was inducted into the PGA of Canada Hall of Fame earlier this year. He was also named to the Golf Hall of Fame of BC in 2015. The PGA of BC's Teacher of the Year Award is named in Thompson's honour.
PLAYING RECORD
BC junior 2nd 1954
PNGA medallist 1955
BC Assistant Pro Champion 1959
Ontario Assistant Pro 2nd 1960
CPGA Champion 1962
Manitoba Open Champion 1962,'64,'68
Manitoba Open 2nd 1963
Miller Cup Open Champion 1963
CPGA Championship 2nd 1964,'65
Caracas Open 2nd 1967
BC Open 2nd 1966,'68
Ontario Open 2nd 1968
Fredericton Open Champion 1968
St John Open 2nd 1969
TEAM RECORD
John Russell
Growing up in the Vancouver suburb of Kerrisdale, Russell attended Magee High School and graduated as a Mechanical Engineer from UBC. As a small 5'9'' University of British Columbia Engineering student, John Russell decided early a change in sports was necessary.
John reminisced during his interview for the BC Golf Hall of Fame Induction dinner that, "I was heavily into basketball at Magee and when I got to UBC I could see myself, a five foot nine guard, parked on the bench. That's when I decided to try an individual sport. A lot of my buddies thought I was a wimp for choosing golf," he said.
His brother, Charlie, enjoyed telling about John's first round at Langara Golf Links. "John was just along for the walk and with no one pressing us, I convinced John to try a few shots when we got to the fifth hole. I had a Stan Leonard Pro-Made wood. John hit a fair drive, drilled a three iron, and then topped an eight iron. The ball rolled on to the green. Then, he sank the putt for a birdie. John's response: Was that any good?"

From that first experience, John became hooked on the game. He joined Point Grey Golf & Country Club. The towering Doug Bajus, Point Grey's star player, became Russell's mentor. Doug encouraged the fledgling star to study the book Power Golf by Ben Hogan. John, a quick learner, soon lowered his handicap to single digits.

During his prime from 1965 - 1972, John placed first or second in five BC Men's Amateur Championships. He began his run of eleven consecutive British Columbia Willingdon Cup appearances in 1964. Five times John and his teammates raised the Willingdon Cup, the symbol of provincial supremacy in Canada. John also represented British Columbia on the 1956 and the 1976 Willingdon Cup teams. In all, John played on 13 Willingdon Cup teams, second only to Doug Roxburgh.
To recognize John's brilliant year in 1967, the Royal Canadian Golf Association named him to Canada's 1967 America's Cup. The RCGA press release stated: "John Russell, a manufacturer's agent and graduate in Engineering from the University of British Columbia has had his best year in golf during 1967. He won the BC Men's Amateur Championship, the BC Invitational Championship, and the Vancouver & District Championship. He sparked BC's come-from-behind victory in the Willingdon Cup Matches recently played at the Royal Colwood G&CC in Victoria, BC. With his success he is rated as the #1 men's amateur golfer in BC for 1967."
For the three-country America's Cup competition, teams from Canada, the U.S., and Mexico competed over the Guadalajara Country Club in Guadalajara, Mexico. John won two out of three of his matches. 

The fifteen-time Point Grey G&CC club champion beat Don Gardner in the final to win the 1966 City Match play title. John captured the BC Men's Amateur Championships and the Vancouver & District Championships in 1967 and 1968.

The 1968 BC Men's Amateur Championship at Gorge Vale presented an altered format for the competitors. First, the 144-man field played 72 holes of stroke competition to reduce the field to eight competitors. Dave Mick, the medallist, joined John Russell, Art Donaldson, Tom Moryson, Cec Ferguson, Ross Ellison, Laurie Kerr, and Brian Field.
John Russell commented about the marathon week and the key to his win. "Gorge was a tough course and it took me a while to figure it out. The greens demand firm putting and the most important thing there was in club selection. It took me three rounds to figure it out." After John's victory, Art Donaldson, John's opponent, commented "John had all the shots when he needed them. I got careless on a few shots and no one beats John Russell unless he is playing his best." 

Although John Russell's career has many highlights, he felt the most impressive was; "I am most proud of the fact (that) at one time I held 10 course records including a 62 at Point Grey." From 1955 - 1980 John shot nine-hole scores of 28 twice and 29 once. He equalled or lowered the course record for the following courses: Bellingham G&CC (64), Jasper Park Lodge (65), Meadowlands G&CC (67), Chilliwack G&CC (65), Richmond CC (68), Chilliwack G&CC (64), Nanaimo G&C (67), Point Grey G&CC (62), Carnoustie G&CC (66), Quilchena G&CC (64).

At his 2005 Golf Hall of Fame Induction Ceremony, John commented; "My goal to win more championships after 1969 came to an end when my eighteen-year old neighbour, Doug Roxburgh, appeared in the men's championships."
John Russell will be sorely missed on the local golfing scene. He represented the best aspects of a golfing gentleman.
---
With contributions from Mike Riste (BC Golf House) and The PGA of BC.