Only Sandbaggers Need Apply
Details

Category: Inside Golf
Published: 2018-02-10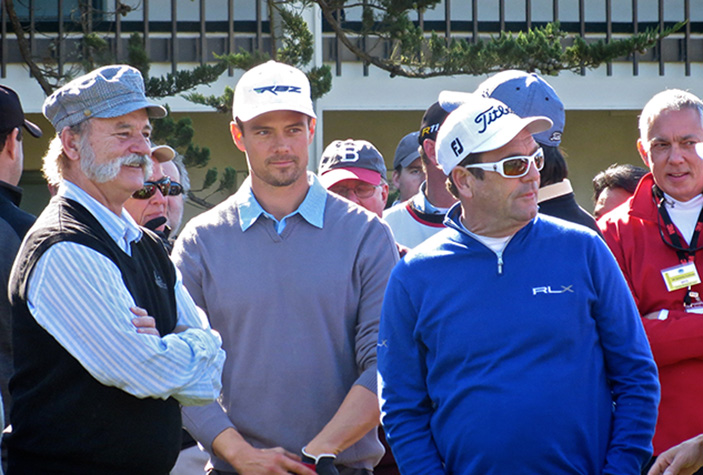 Bill Murray, Shown Here With Josh Duhamel And Huey Lewis At The 2013 AT&T Pebble Beach Pro-Am, Counts His Win In The 2011 Event With D.A. Points As A Career Highlight - Image Credit Christina Lauren/Flickr
By Alfie Lau
Ask Bill Murray what his greatest achievement is and he won't name a movie he was in. He'll fondly talk about the 2011 AT&T Pebble Beach Pro-Am title he won alongside D.A. Points.
Points, who used to have Richmond native Mike Darby on his bag before making a change just before Christmas, is thus a protected species at Pebble Beach: As long as Murray is part of Pebble Beach, Points will be a part of it as Murray's professional partner.
The amateur title is a pretty big deal for the 156 amateurs who are spraying, hosel rocketing and chopping their way around the Monterey Peninsula. You need equal measures of good luck, good golf and yes, one more element in your favour if you want to win the title.
No less an authority than defending champion Jordan Spieth weighed in on what it takes for him and his amateur partner, country singer Jake Owen, playing off a 2 handicap, to add the Amateur title to his 2017 title at Pebble Beach.
"It's tough for us to win because he's only getting two pops," said Spieth. "And he's a good player, but you kind of need a sandbagger in order to win this thing as a team, so -- and he keeps losing strokes when we make cuts."
Yup, you must hulk many bags of sand around here if you want to cart away a crystal trophy.
It's the conundrum the rich and famous face here at Pebble Beach: Play with pride and maybe some false bravado and go with the lowest handicap you've probably ever attained and forgo any chance of winning the amateur title OR go with a sandbagging handicap, only your worst recent scores, to maximize your chances of winning the prestigious title.
Heck, even making the three-round cut and playing Sunday means you get a gift, which last year, appropriately enough during the rain-marred event, was an umbrella with this phrase printed on it: "We made the cut at Pebble Beach"
Well, the sandbagger of the first two days (allegedly) is undoubtedly Arizona Cardinals wide receiver Larry Fitzgerald, who plays off a 13 handicap index out of Whisper Rock, the exclusive Phoenix area club.
Fitzgerald's pro, Kevin Streelman, is T5 in the tournament at (-9) after two rounds, just three strokes off the lead. But with his ham-and-egging partner contributing 16 strokes, the duo have a commanding six stroke lead in the amateur competition, a pretty sweet amateur total of (-25) 118.
And while we won't impugn Fitzgerald's index, we will take note of Streelman's words about Fitzgerald. "Yeah, we're both members at Whisper Rock so we play a fair amount there. And we play, I mean, in two-and-a-half hours, super fast."
And presumably, super good, especially when Fitzgerald can contribute seven points to the team cause.
Let's compare that to, say, actress Kelly Rohrbach, playing to a 7 out of Winged Foot. Let's forget the fact Rohrbach plays from the up tees and she would have to give Fitzgerald three strokes a side if they were to play a competition. Rohrbach and her professional partner, Gary Woodland are at (-5) 20 strokes behind Streelman/Fitzgerald while Woodland, at (-2) for the tournament, is going to need a good round Saturday just to be able to play on Sunday. For all of Rohrbach's shots, all she could contribute to the team was three strokes. Now if she were a 13, we'd have a real competition on our hands.
As for Spieth and Owen, they won't be winning the amateur competition because Spieth, at (-5) for the tournament, is getting seven strokes of help from his two-popping partner, but at (-12), they can't even see Streelman and Fitzgerald's tail lights.
Another player playing above his head is Houston Astros pitcher Justin Verlander, a four handicap. It's hard to say Verlander is sandbagging because all he would lose is four strokes, but with his partner Russell Knox at (-2) for the tournament, it's hard to believe Knox/Verlander are at (-18) T3 and just 7 strokes behind Streelman/Fitzgerald. Yes, Verlander has contributed 16 strokes to his team's cause but he's not a 13 handicap like Fitzgerald.
One person who surely isn't lying about his handicap is CBS football analyst and former Dallas Cowboys quarterback Tony Romo. Playing to a zero – you can't expect amateurs to do any more than this – Romo does get the advantage of hitting from the white tee boxes. With his length, that means he often outdrives both pros in his group, but you still have to make the putts to register the low scores he and partner Will Zalatoris are carding.
Zalatoris is in contention, at (-7) and his no-popping partner has contributed 8 strokes for their (-15) total, which is still 10 strokes behind Streelman and Fitzgerald.
Next month, when Romo accepts his sponsor exemption to play a PGA TOUR event in the Dominican Republic, he'll find out just how "true" his zero handicap is. Here's to hoping he doesn't replicate the 105 Julio Bell carded as a sponsor exemption to this week's Web.com event in Colombia.
As for the actual tournament, Dustin Johnson is tied with Beau Hossler at (-12) after an easy 64 at Monterey Peninsula. Johnson missed a couple of short birdie putts and made several long bombs on a day when 64 was the highest score he could have shot at MPCC.
The six Canadians will have a lot of work to do to make the weekend. Abbotsford's Nick Taylor and Listowel, ON's Corey Conners are best placed, at T99, even par, while Ben Silverman and Mike Weir are just one stroke back at (+1). Weir has to be the revelation, shooting a (-4) round of 67 at MPCC to get himself within shouting range of making the cut on the PGA TOUR. Mac Hughes is at (+2) while David Hearn is another two strokes back.
The best thing about Friday afternoon at Pebble Beach: There's no cut until after the third round and everybody has played each of the three courses.
About The Writer:
Alfie Lau has been a contributor to Inside Golf for several years and is making his annual pilgrimage down the coast for the PGA TOUR's West Coast Swing. He can be reached at www.twitter.com/AlfieLau