BC Provincial Titelist Performance Camp Brings Out The Best In Young Players
Details

Category: Inside Golf
Published: 2018-03-16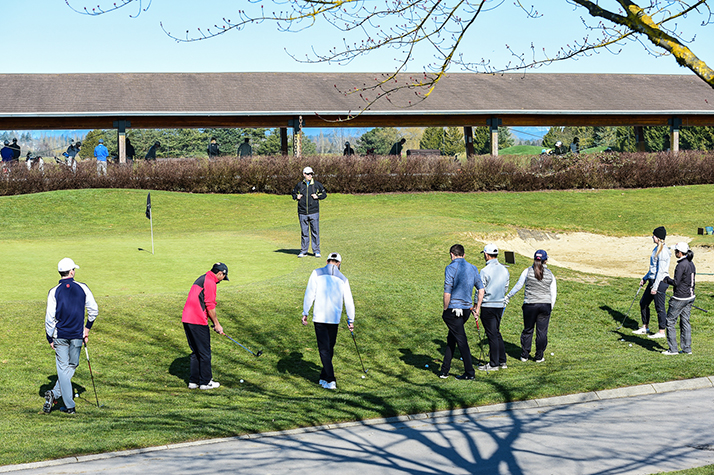 BC Provincial Coach Colin Lavers Addresses A Group Of Young Players At The BC Provincial Titleist Performance Camp Held Recently At Northview GC In Surrey. (Photo/Jurgen Kaminski of JKam Photos for British Columbia Golf)
Brad Ziemer, British Columbia Golf
Like a lot of golfers, Dustin Franko is guilty of getting a little down on himself when things aren't going his way on the course. "I feel like I am not as mentally strong as I need to be," said Franko, a 17-year-old North Delta resident. "It is probably the weakest part of my game. I find myself getting mad at myself quite a bit."
Franko left the recent two-day B.C. Provincial Titleist Performance Camp at Northview Golf Course in Surrey feeling like he is now better equipped to deal with some of those inevitable challenging moments on the golf course.
The 20 talented juniors who attended the camp not only were run through drills that measured their skills in chipping, putting, wedge play and long game. They also were treated to a two-hour classroom session by mental performance coach Dave Freeze.
Mental Performance Coach Dave Freeze Works With The Young Players Assembled In A Classroom At Northview GC. (Photo/Jurgen Kaminski of JKam Photos for British Columbia Golf)
Freeze's keep-it-positive message seemed to resonate with his teenage audience. "Don't beat yourselves up over a bad shot," Freeze told them. "Your most difficult shot will bring you the greatest joy. When you are positive we are going to find the best golfer in you.
"And for all of you who have tried to beat yourself into higher levels of performance for any number of years all I can tell you is, that's not actually working. Your skills will never abandon you. What happens is you abandon your skills. Your skills will always be inside you. They are not going anywhere."
West Vancouver's Phoebe Yue, a 17-year-old who is heading to southern California this fall to play collegiate golf at UCLA, found Freeze's suggestions on how to handle adversity on the course invaluable. "I don't know much about the mental game and I think many junior golfers focus a lot on the swing and the short game, but not on the mental game," Yue said. "So I think that was really helpful."
Coaches Kathy Stecyk (L) And Jennifer Greggain Chat With Kathrine Chan As Players Prepare To Head Out Onto The Course. (Photo/Jurgen Kaminski of JKam Photos for British Columbia Golf)
This spring's performance camp was blessed with great weather. That wasn't the case at last year's camp at Mayfair Lakes Golf Course in Richmond. "It snowed and we were building snowmen on the driving range, which was fun," Franko recalled with a laugh. The 20 participants ranged in age from 13 to 17 and none has a handicap factor higher than 4.1. More than 40 had applied for a spot in the camp.
Debbie Pyne, the managing director of player development with British Columbia Golf, said camps like this one provide valuable information for the players as well as the coaches. "We are trying to give them the knowledge and expertise to help them improve their game," Pyne said. "We want to gauge where they are and then we want to be able to move them up the competitive pathway, mostly prep them for Canadian championships.
British Columbia Golf Managing Director Of Player Development Debbie Pyne Makes A Point With Phoebe Yue During The Classroom Session With The Players. (Photo/Jurgen Kaminski of JKam Photos for British Columbia Golf)
"We put the responsibility back on them. It is their responsibility. We provide the opportunities, the knowledge and resources, but they need to learn it, practise it and train with it. At the end of the day it is their effort that will get them where they need to go."
Richmond's Michael Crisologo (Red Jacket) Works On His Short Game. (Photo/Jurgen Kaminski of JKam Photos for British Columbia Golf)
Pyne noted that coaches also learn some things about the players during these camps. "We very much observe them," she said. "Who comes in late, who does what, how they interact with other players. That's all part of the camp. There is not one thing we are not looking at.
Coaches at the camp included provincial boys coach Colin Lavers, provincial girls coach Jennifer Greggain, Matt Palsenbarg, Kerri Moffat, Kathy Stecyk and Lindsay Manion. "Getting the best players together is always a good idea," Lavers said. "They are going to push each other, they are going help each other learn. That is something we are always trying to do."
BC Provincial Coaches Jennifer Greggain And Colin Lavers. (Photo/Jurgen Kaminski of JKam Photos for British Columbia Golf)
A good portion of the first day of the camp was spent in the classroom, where in addition to Freeze's talk on mental preparation the participants also discussed stat collection and received tips on developing effective warm-up and execution plans before their competitive rounds. In the afternoon, they played the back nine on Northview's Ridge course.
Yue said she tried to implement some of Freeze's suggestions during her nine-hole round. "When I was playing I tried to focus but not get too caught up in score or a bad shot," Yue said. "It felt really nice to kind of golf care-free. I am excited about how this can help my game."
Following Classroom And Skills Work The Players Headed Out To The Course For A Nine-Hole Round. From L-R: Chaewon Baek Of Langley , Will Tindle Of Coquitlam , Natasha Kozlowski From Prince George And Maple Ridge's J.P. Kahlert. (Photo/Jurgen Kaminski of JKam Photos for British Columbia Golf)
Yue and three other participants at the performance camp — Kathrine Chan of Richmond, Claire Lovan of Surrey and Angel Lin of Surrey — will join Tiffany Kong of Vancouver and Akari Hayashi of Victoria as British Columbia's six-member team at this spring's North Pacific Team Matches. That match-play competition features teams from Idaho, Washington, Oregon and B.C. It will be held May 25-27 at Rock Creek Country Club in Portland, Ore.
The second day of the performance camp was spent mainly running through Golf Canada's National Testing protocols on putting, pitching and chipping, wedge play and long game. Ball speed was measured and each of the participants also went through a physical assessment conducted by strength and conditioning specialist Lindsay Manion.
Coach Lavers Films One Of The Players Teeing Off At Northview GC During The  Camp. (Photo/Jurgen Kaminski of JKam Photos for British Columbia Golf)
Results were recorded and entered into a database that is shared with Golf Canada, whose coaches use the information when selecting national teams. Coaches can compare the player's scores with those of past and present national team members and they get an indication of where their games need particular work.
"It offers a great snapshot of the current status of your game," said Greggain, who once competed on the LPGA Tour. "Those start to reveal trends in your game over time and that's a really revealing moment. Hopefully, they will take that information away and start to put that into their practice plans for this season."
Camp Sponsors Titleist Had Their Premium Products Distributed As Competition Prizes For The Players. (Photo/Jurgen Kaminski of JKam Photos for British Columbia Golf)
Franko, for one, plans to do just that. "These camps are of great value," said Franko, a Seaquam Secondary student who will play collegiate golf for Douglas College this fall. "You get to see all the aspects of your game that you need to work on.
"You get all the stats and data you need to improve your game and we get feedback from some of the best coaches around. You come out of it as a better golfer. This is the best thing for my game to start my season off."