Juvenile Boy Tops Field At MJT Humber College PGM Classic Presented By TaylorMade Golf In Banff
Details

Category: Inside Golf
Published: 2018-05-23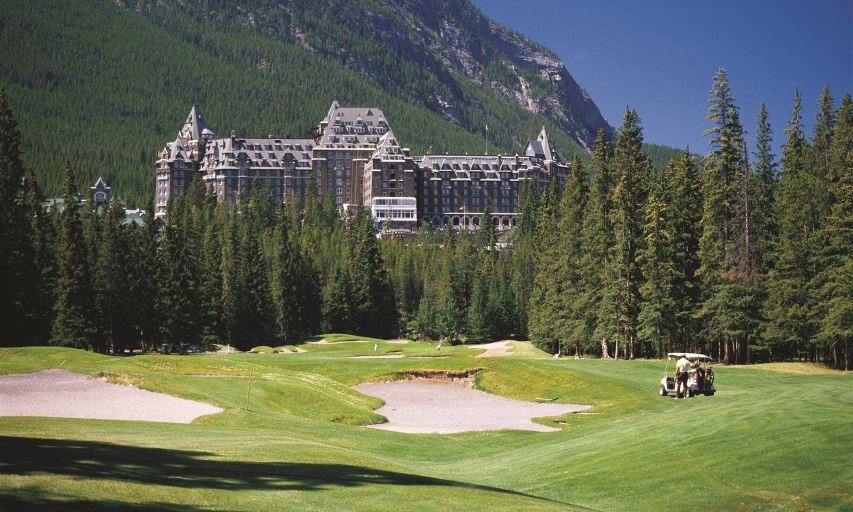 Fairmont Banff Springs Golf Course
BANFF, Alberta (MJT) – The Boston Pizza presented Maple Leaf Junior Golf Tour's Humber College PGM Classic presented by TaylorMade Golf series shifted to the Fairmont Banff Springs Golf Course in Banff, AB, on May 20 and 21, where a full field of 102 juniors were competing for the Hoselton trophy in seven divisions as well as short-list positions for the IMG Academy Junior World Championships, US Kids Golf Teen and World Championship, as well as a direct exemption into the 2018 Alberta Golf Junior/Juvenile Provincial Championship.
MJT Collegiate Boys 19 – 23: Michael Harrison, 23, of Camrose, AB took home the Hostleton trophy in the Collegiate division with an impressive two-day total of 142 (73, 69). "My best hole of the tournament was number 18," said Harrison, "I gave myself two great looks at eagle there." Nine shots back after shooting 151 (79, 72) was Lucas Wu, 19, of Vancouver, BC.
MJT Junior Boys 17 and 18: The fine scores continued into the Junior division as medalist honours in this division went to Brady McKinlay, 17, of Lacombe, AB. McKinlay was consistent across both rounds shooting 71 and 72 for a two-day total of 143, good enough for a five-shot victory over Callum McKay, 17, of Calgary, AB. McKinlay was proud of his win and his great start to the season saying, "winning your division always feels great, also it's a great way to start the season."
MJT Juvenile Boys 15 and 16: Ryan Hodgins, 15, of Medicine Hat, AB was crowned medalist for the Juvenile Boys division after firing back-to-back rounds of 69 (138). His two day total of -4 was also the tournament low. Hodgins, when asked about his thoughts coming up 18 said, "both days I was one-under par, so I really wanted to make birdie to break 70, and I was able to do that." There was a four-way tie for second place between Tommy McKenzie, Cooper Lindberg, Thomas Sluka and Caleb Kinch at 148. Kyle Mayner, 15, of Kelowna, BC had the highlight of the tournament by recording a hole-in-one on the 165-yard fourth hole during round one on his way to a 72.
MJT Bantam Boys 13 and 14: In another tightly contested division, Cooper Humphreys, 13, of Kelowna, BC was able to hold off Nicholas Sebjanic, 14, of Calgary, AB by one shot. Sebjanic recorded the round of the tournament with a second round 66 (-5) to challenge Humphreys, but Humphreys was also impressive shooting 69 (-2) to solidify the victory.  
MJT Peewee Boys 12U: William Tu, 12, of Vancouver, BC carved his way around the Banff Springs layout shooting 74 and 72 (146) 16 shots clear of runner-up finisher Graysen Collins, 12, of Calgary, AB. Tu said he is "very excited about his win and qualification to be on the short-list for the IMG Junior World Championship."
MJT Girls U15: In the Girls U15 division, Georgia Barr, 13, of Calgary, AB and Brooke Frerichs, 13, also of Calgary, AB went into a playoff after a two-day total of 185. "I've never played in a playoff before. I was very nervous" said Barr after making a par on the third playoff hole to secure the victory.
MJT Girls 15 – 18: Taylor Stone, 18, of Calgary, successfully defended her 2017 title at this event by shooting consecutive rounds of 76 totaling 152 which was one stroke better than Bobbi Uhl, 18, of Erickson, MB. When asked how she felt about winning her division, Stone commented "I am very excited to have started my final junior season with a win and proud to have defended my title at this event."
In addition to the division champions featured above, overall event highlights are posted on the MJT website here showing winners of the PLYR Long Drive, PLYR Closest-to-the-Pin and MJT Comeback Award, as well as the current Academy Order of Merit standings.
The next two Maple Leaf Junior Golf Tour stops in the province are the MJT Alberta Series presented by Red Deer College Athletics at River Bend Golf Course in Red Deer on June 9 and 10, a qualifier for FCG World Championship and the JNJG International Junior Classic. This is followed by the MJT Ford Series / Edmonton Junior Championship at Derrick Golf and Winter Club which will be a qualifier for the Nordic Team Matches and International Players Championship (IPC) presented by Miura. For more information or to register, please visit  www.maplejt.com or call 1-877-859-4653.
---
About Humber College PGM Program
The 3-year Professional Golf Management diploma program at Humber College is recognized as Canada's premiere golf business program and is partnered with the best facilities for you to gain work experience. As you interact with the movers and shakers of the sport, you'll gain a better understanding of the trends and opportunities in the golf business. 
About the MJT
The non-profit Maple Leaf Junior Golf Tour presented by Boston Pizza is Canada's number one-played Junior Golf Tour as well as the only national junior tour run exclusively by PGA of Canada Professionals and the 'Road to College Golf' in Canada. The organization is presented nationally by Boston Pizza and supported by valued Premier, Tournament and Product Partners. The MJT hosts more than 70 events across Canada, including free Ford Go Golf Junior Clinics, the MJT Mini Tour for 7-12 year olds, the Collegiate Tour for 19-23 year olds, and multi-day events for competitive players aged 11 to 18, which are also qualifiers for international competitions. The program offers annual awards, scholarships, and frequent player incentives to help reward player's performance and participation throughout each season. MJT alumni include many Professional Tour players and PGA of Canada Professionals, as well as Canadian Amateur, National and Provincial Junior Champions. The MJT aims to develop champions, in golf and in life, promoting the game from grassroots through to provincial, national, university and professional level. For more information on the Maple Leaf Junior Golf Tour, please visit www.maplejt.com