PGA Of BC Tournament Of Champions At Tobiano Opens 2018 Schedule
Details

Category: Inside Golf
Published: 2018-05-25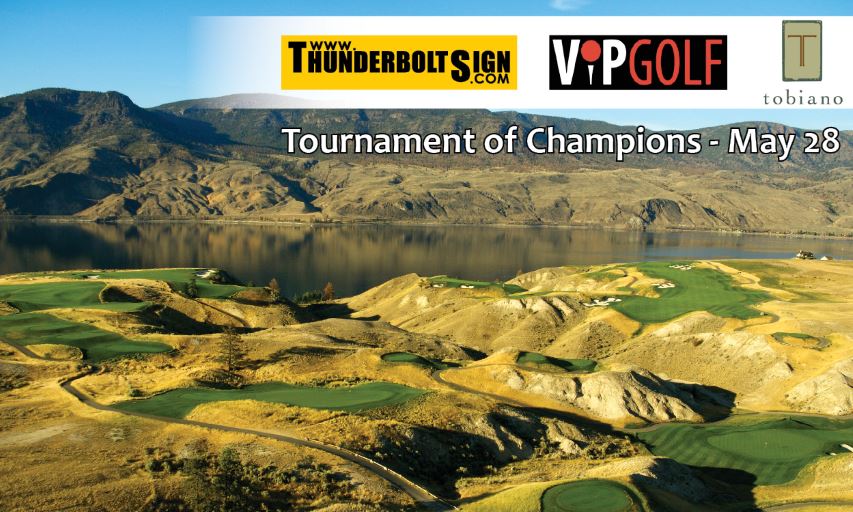 RICHMOND, British Columbia (PGA of BC) — Returning to Tobiano Golf Course for the first time in 10 years, the PGA of BC Tournament of Champions presented by Thunderbolt Sign & VIP Golf will kick off the Association's 2018 championship schedule on Monday with a deep and talented field vying for the title.
The Tournament of Champions is a unique team event that sees a PGA of BC Club Professional pair up with a club champion or other designated amateur from their facility to compete in an 18-hole best-ball format. Thirty-seven teams representing PGA of BC facilities across the province will tee off in the tournament Monday. 
Despite enduring a harsh winter, host Head Professional Shannon McGeady said Tobiano has been in excellent shape in the early part of the season and she's eager to exhibit the facility to her peers. The Tournament of Champions, last held at the Kamloops-area course in 2008, also arrives at Tobiano during an important chapter in the club's history. 
"I'm really excited to be able to showcase this amazing piece of property that I'm lucky enough to work at," said McGeady, now in her fourth season at Tobiano. "We've got great staff, a brand-new head chef who's getting amazing reviews, and a new owner. This whole year has been super exciting and to have this event is (a bonus.) Our new owner was all for it, and it makes me happy to know that he's on board with the PGA of BC and everything that comes with it."
Tobiano will be hosting an inaugural club championship later this season, but determined McGeady's amateur teammate through a qualifying tournament in recent weeks. It produced a very capable competitor in Adam Kernan, a past runner-up in the BC Mid-Amateur Championship.
Although it's the Tournament of Champions debut for both and they've never competed as a duo, there will be no lack of familiarity in the McGeady-Kernan partnership – they've been partners off the course, too, for the past 10 years.
"I'm excited to have this opportunity with him," said McGeady, who won't be focusing too much on where Team Tobiano lands on the leaderboard. "It's about being able to showcase the facility and having an opportunity to play with Adam, who's the love of my life. Not a lot of people get to have that experience."
Last year's Tournament of Champions at Nicklaus North Golf Course featured a record-setting performance from the Victoria Golf Club team of Head Professional Lindsay Bernakevitch and accomplished amateur Craig Doell, who won an unprecedented third title for the club with a 9-under 62, which was also the event's all-time low score.
Bernakevitch, now a two-time winner of the Tournament of Champions, will be back to defend Victoria's title this year with Peter Jawl as his partner. He described Jawl as an "insanely good athlete" – the 29-year-old was once a member of Canada's U20 national rugby team, and earlier this month helped British Columbia to a second-place finish in PNGA Cup play at Seattle Golf Club.
"He's been a very good member here for a long time and was by far our best player at the club all of last summer," added Bernakevitch. "It was no surprise that he played well enough to win our club championship."
Although Bernakevitch will have a chance to claim a third Tournament of Champions title in four years, he said that securing another victory will be a secondary priority.
"We're going to try to play well, don't get me wrong," he said. "I always like to win. But to me, this event is far more about celebrating our club champs … the camaraderie of the event, seeing other club pros hosting their club champs and trying to have a great time."
Another team to watch will be Royal Colwood Golf Club's Jason Giesbrecht and Kevin Carrigan, who captured this event as a duo in 2014 at University Golf Club. Carrigan is the lone amateur past champion in the field and has formed a competitive Tournament of Champions team with his Head Professional multiple times. Fairview Mountain Golf Club Executive Professional Brian McDonald, a runner-up by one stroke last year and a past winner, will also be back, this time with Clay Shultz in tow as his partner.
If history is any indication, Tobiano will be a tough test even for the top Professionals and elite amateurs in the field. The 2008 event still holds the record for the highest winning score – in both total strokes and relative to par – when two teams shared the title with a 3-under-par 69 in difficult conditions.
However, McGeady said she won't be surprised to see teams find the formula to go low on the Thomas McBroom layout once play is underway.
"This course relies a lot on course management and being able to keep the ball in play. It's about keeping yourself in the fairway and giving yourself every opportunity to putt for birdies," she said. "I think that's going to make the difference because there's a lot of trouble you can find out here if you're spraying the ball a bit or not playing smart."
Click here for the tournament page to view full event details. 
TOURNAMENT OF CHAMPIONS FAST FACTS
A tight finish seems guaranteed in this event every year. Since 2005, the Tournament of Champions has ended in a playoff or with a one-stroke margin of victory for the winning team eight times, and only once with a margin of more than two shots. 
 
The full list of past champions in the field includes Bernakevitch (2015 & 2017 winner), Giesbrecht and Carrigan (2014), Mark Thirtle (Capilano Golf & Country Club, 2013), Mark Anderson (Mission Golf & Country Club, 2008 & 2012), Bill Kelly (Glacier Greens Golf Course, 2011), McDonald (2010) and Rob Anderson (Kelowna Golf & Country Club; 2004 winner representing The Harvest Golf Club).
 
Among the amateurs competing on Monday, other notable names include 2015 BC Junior Boys Champion Jake Scarrow (Northview Golf Academy, with Matthew Palsenbarg), Simon Fraser University men's golf team assistant coach Jarad Boddy (The Vancouver Golf Club, Randy Smith), 2015 BC Mid-Master Men's Champion Lance Lundy (Big Sky Golf Club, Corry Butler) and former Calgary Flames goaltender Leland Irving (The Rise Golf Course, Chad Scott).
 
This year's tournament features seven amateurs who are representing their club in consecutive years -- Lundy, Carrigan, Rob Olson (Bear Mountain Resort Community, Justin Ford), Ryan Redekopp (Black Mountain Golf Club, Russ Latimer), Mike Porter (Eaglepoint Golf Resort, Ian Henson), Donald Miyazaki (Quilchena Golf & Country Club, Victor Vianzon) and Morgan Day (Williams Lake Golf & Tennis Club, Tyler Brouilette) all competed at the 2017 event.
 
Professionals in the field will be playing for a cash purse of approximately $6,000, while amateurs will be eligible for a share of prizing and gifts with a combined retail value of $13,000.
 
Tobiano will become just the second course to host the Tournament of Champions multiple times, joining Predator Ridge Golf Resort, which was the venue for the 2006 and 2011 competitions.
 
Another distinction Tobiano shares with Predator Ridge in this event is that the two facilities have hosted the only two instances where co-winners were declared. The Kelowna Golf & Country Club team of Greg Pidlaski and Jason Monteleone tied with Mission's Anderson and Stu Dunaway at Tobiano in 2008, while the 2011 edition at Predator Ridge ended with Glacier Greens' Kelly and Barry Norris splitting the title with Two Eagles Golf Course & Academy's Dean Claggett and Curtis Pannell. Play was suspended due to darkness in both instances, which shouldn't be an issue in the event of a tie after 18 holes this year thanks to a morning start. If a sudden-death playoff is needed, the remaining teams will switch from best ball to alternate shot to determine a winner.