Oliver Tubb Wins PGA of BC Assistants' Championship Presented By Irene Strong
Details

Category: Inside Golf
Published: 2018-06-11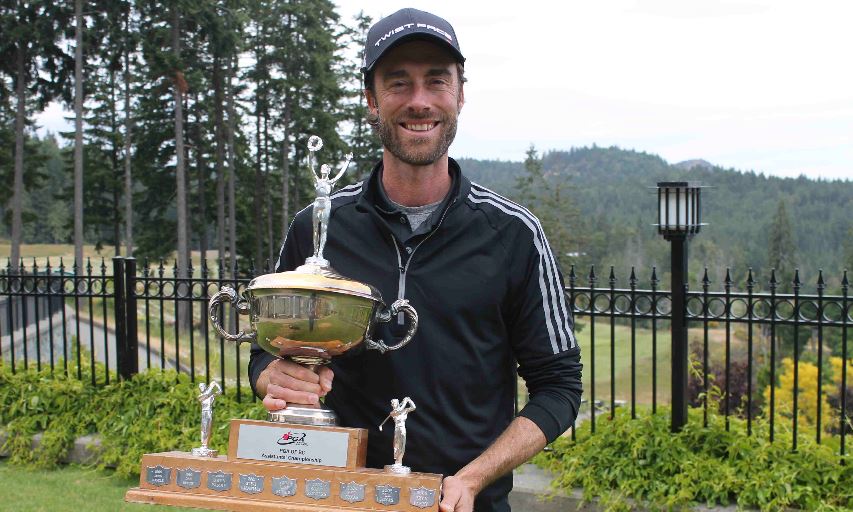 Oliver Tubb (University Golf Club) Holds The PGA of BC Assistants' Championship Trophy After Defeating Brad Clapp On The Third Playoff Hole To Win His Third Title In The Event Since 2014. (Photo/PGA of BC)
VICTORIA, British Columbia (PGA of BC) — Oliver Tubb won his third title in the PGA of BC Assistants' Championship presented by Irene Strong, Mortgage Professional, getting past Brad Clapp on the third playoff hole on the Mountain Course at Bear Mountain Resort Community.
Norm Jarvis, meanwhile, won the PGA of BC Seniors' Championship for a second time, earning a four-shot victory powered by his tournament-low 72 in Tuesday's final round of the 36-hole event.
Tubb (University Golf Club), who also claimed victories in the Assistants' Championship in 2014 and 2016, was the lone player in the field of 70 PGA of BC Professionals to post two sub-70 rounds, as he followed up Monday's 2-under-par 69 with a final-round 68 to finish at 5-under.
"This was hard work," Tubb said. "Five-under-par around this golf course for two days with the wind was pretty special, so I'm pretty proud of that and thrilled to get the win."
Tubb birdied each of his last two holes to force a playoff with Clapp (Chilliwack Golf Club), who rocketed up the leaderboard Tuesday with a bogey-free, 6-under 65. Tubb, 36, also had to fend off a challenge from Kevin Stinson (Cheam Mountain Golf Course), who held a share of the lead on the back nine before falling back into a tie for third spot with Conner Kozak (Okanagan Golf Club) at 2-under.
"There are a lot of good golfers in our Association," said Tubb, who took home $3,000 for the victory. "You've just got to keep going and you've got to play good golf."
Clapp had a birdie putt to win on the second playoff hole that just slipped by, and couldn't recover on the third extra hole, finding the hazard with his second shot while Tubb closed it out with a birdie.
"Golf happens. You're not going to go 100 holes without making a bogey, but it just came at the worst time," said Clapp. "On a long day like this, you're going to make mental mistakes … especially at Bear Mountain, on a tough, tricky course with elevation changes and wind."
Clapp was playing his first PGA of BC Assistants' Championship since his victory in the event in 2012, and said it was great to be back competing amongst his fellow Golf Professionals.
"This is the stuff that I missed – when you're out playing tour golf, you don't get the tight-knit community that you do at PGA of BC or PGA of Canada events," said Clapp, a past Mackenzie Tour winner.
Defending champion Bryn Parry (Point Grey Golf & Country Club) finished fifth at even-par, while 2017 PGA of BC Champion John Shin (Northview Golf Academy) secured sixth place.
Click here to view results from the Assistants' Championship.
In the Seniors' Championship, Jarvis (Nico Wynd Golf Course) started the day three strokes off the lead but was able to take advantage of some early mistakes from his playing partners in the final group, and strung together three birdies and an eagle through the middle portion of his round to pull away.
Jarvis, whose first Seniors' Championship win came in 2010, finished at 8-over while Philip Jonas (Philip Jonas Golf Academy) earned runner-up honours at 12-over.
"It's fabulous," Jarvis said of hoisting the Ben Colk Trophy once more. "As you get older, you think you're really getting old, so it's always nice to get a victory – it makes you feel younger."
The 67-year-old earned $1,400 for claiming the title, plus the tournament's $150 Super Senior bonus for the top-placing player aged 60 and older.
First-round leader Jim Goddard (Cordova Bay Golf Course) didn't get off to the start he wanted Tuesday but made three birdies over his last six holes to lock up third place.
Click here to view Seniors' Championship results.
---
About Irene Strong, Mortgage Professional
Mortgages are the single most powerful wealth-building tool available to Canadians. There are few Canadians who don't dream of owning a home – and who don't dream of owning a home mortgage-free the moment they do. Irene Strong leaped at the chance to buy her first home a few months after graduating from university, even selling her car to be able to make payments. She eventually became a mortgage broker, inspired to help her clients access similar opportunities. Her book, Own Your Piece of the Earth, is her way of putting that tool in your hands. For more information, visit www.irenestrong.com.