Ziemer's B.C. Golf Notes: 116th B.C. Amateur Championship Set For Rivershore; Women's Championship Goes In Golden; New Canadian Open Date Could Help Shaughnessy Land Event
Details

Category: Inside Golf
Published: 2018-07-11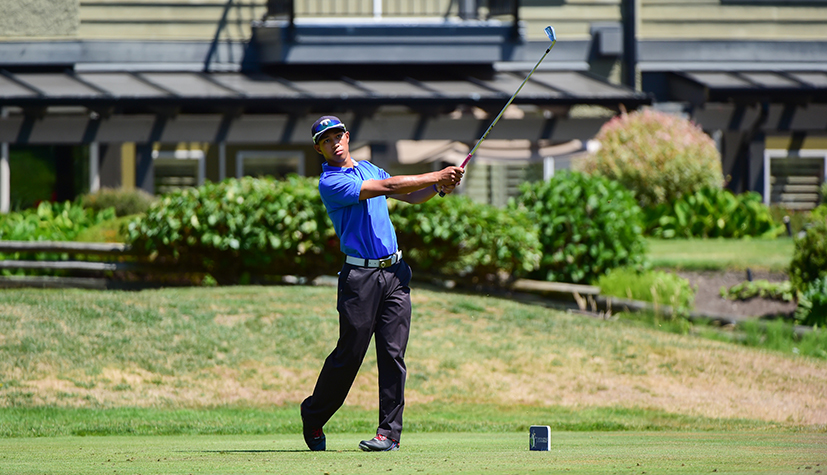 Richmond's Chris Crisologo will be One to Watch at the B.C. Amateur Championship at Rivershore Golf Links In Kamloops. (JKam Photos/Jurgen Kaminski via BC Golf)
By BRAD ZIEMER, British Columbia Golf
A new champion will be crowned at this week's 116th playing of the B.C. Amateur Championship at Rivershore Golf Links in Kamloops. A strong field has been assembled for British Columbia's premier amateur golf event, but it does not include 2017 champion Jake DuVall of Victoria, who turned pro earlier this year.
Favourites at Rivershore include recently graduated Simon Fraser University standout Chris Crisologo of Richmond, two-time Canadian Mid-Amateur champion Kevin Carrigan of Victoria, current B.C. Mid-Amateur champion Jay Snyder of Vancouver and recently reinstated amateur Dan Swanson of Abbotsford.
Thirteen-time champion Doug Roxburgh of Vancouver will play in his 52nd straight B.C. Amateur championship. Roxburgh, the current B.C. Senior Men's champion, recently won the annual Overlander tournament at Rivershore.
Play begins Tuesday and the 72-hole competition concludes Friday, with the champion receiving the historic Bostock Trophy.
This is only the second time that Rivershore, a classic Robert Trent-Jones Sr. design located east of Kamloops on the Thompson River, has played host to the B.C. Amateur. It co-hosted the event with Kamloops Golf & Country Club in 1987 when Gary Puder of Vancouver Golf Club beat Steve Berryand Roxburgh, both of Marine Drive Golf Club, by two shots.
---
WOMEN IN GOLDEN
A new champion will also be crowned at this week's B.C. Women's Amateur Championship at Golden Golf Club. Maddie Szeryk, the Texas native who won last year's event at Vernon Golf Club, is not in the field this week.
Favourites include Port Alberni's Christina Proteau, who won the recent B.C. Mid-Amateur Championship at Hyde Mountain Golf Club in Sicamous, Mary Parsons of Delta, Hannah Lee of Surrey and Richmond's Kathrine Chan.
---
OPEN CHANGES
The new date the PGA TOUR has given the RBC Canadian Open starting next year -- the week before the U.S. Open in early June -- means it will be played opposite the Mackenzie Tour-PGA Tour Canada event in Victoria.
The Mackenzie Tour hasn't said how it will determine its three exemptions into the Canadian Open each year. Presumably, they will now be based on the previous year's money list.
One would hope the new date for the Canadian Open might persuade the tournament to head west on some occasions when the U.S. Open is being played on the West Coast. That would allow players who like to play the week before the U.S. Open to stay in the same time zone and have a short flight down the West Coast.
Next year's U.S. Open is at Pebble Beach in California, but Golf Canada has already announced it will hold the 2019 championship at Hamilton Golf & Country Club.
Perhaps Shaughnessy Golf & Country Club, which most recently held the Canadian Open in 2005 and 2011, might get the nod in either 2021 or 2023. Torrey Pines near San Diego has the 2021 U.S. Open, while Los Angeles Country Club will play host to it in 2023.
---
TOP 10 FOR ROWE
Victoria's Lawren Rowe finished tied for eighth at the Sahalee Players Championship in Sammamish, Wash. Rowe completed the 72-hole event at Sahalee Country Club at one-over par. That was eight shots behind winner Cole Madey of West Lin, Ore.
Victoria's Jeevan Sihota tied for 24th, Henry Lee of Coquitlam tied for 34th and Victoria's Nolan Thoroughgood finished 63rd.
---
HOGAN TEAM
Cole Wilson of Kelowna, Zach Ryujin of North Vancouver, Michael Crisologo of Richmond and Sean Buckles of North Vancouver have been selected to represent British Columbia at next month's Hogan Cup team matches.
The Hogan Cup 36-hole team matches pit top junior golfers from the Western United States and Canada against each other in a team format. The three lowest scores each day determine the team total.
This year's competition marks the 50th anniversary of the event and goes Aug. 11-12 at Riverside Golf & Country Club in Portland, Ore. The event is held in honour of Eddie Hogan, the longtime Riverside pro who died in 1968. 
---
CLOSE SECOND
Surrey's Aram Choi finished tied for second at the PGA Women's Championshipof Canada at the Ladies' Golf Club of Toronto. Choi finished the 36-hole event at three-under par, one shot behind winner Jessica Porvasnik of Hinckley, Oh. Choi, the 2009 B.C. Junior Girls champion, earned $6,925 for her runner-up finish.
---
BACK TO DEFEND
Defending champions Brian McDonald and Rob Tadey of Fairview Mountain are among 44 teams scheduled to compete in this week's PGA of B.C. Pro-Assistant Championship at Black Mountain Golf Club in Kelowna.
Each two-man team features a Club Professional paired with an assistant from the same facility. The teams compete in a best-ball format in the first round and a scramble in the second.
---
GOOD AND BAD
Abbotsford's Nick Taylor made the cut at the Greenbrier tourney and finished tied for 56th place at two-under par. But Taylor dropped four spots to 128th on the PGA TOUR's FedEx Cuppoints list. He must finish inside the top 125 to remain fully exempt next year. Taylor is in the field for this week's John Deere Classic in Silvas, Ill.
---
BIRDIE BINGE
Roger Sloan's hot Saturday did not carry over to Sunday's final round of the Web.com Tour's LECOM Health Challenge in Findley Lake, N.Y.. Sloan made seven straight birdies on his back nine Saturday en route to a third-round 64. He fired a one-over 73 on Sunday and finished tied for 20th. He is 52nd on the Web.com Tour money list. West Vancouver's Seann Harlingten tied for 67th.
---
CHIP SHOT
Kimberley's Jared du Toit tied for 26th place at the inaugural Windsor Championshipon the Mackenzie Tour-PGA Tour Canada circuit. Du Toit finished at 14-under par, 10 shots behind winner Mark Anguiano of Bellflower, Calif. The Mackenzie Tour is in Thunder Bay, Ont., this week for the Staal Foundation Open.