Greywolf's Tough Start Doesn't Detract From Fun Factor
Details

Category: Inside Golf
Published: 2018-07-16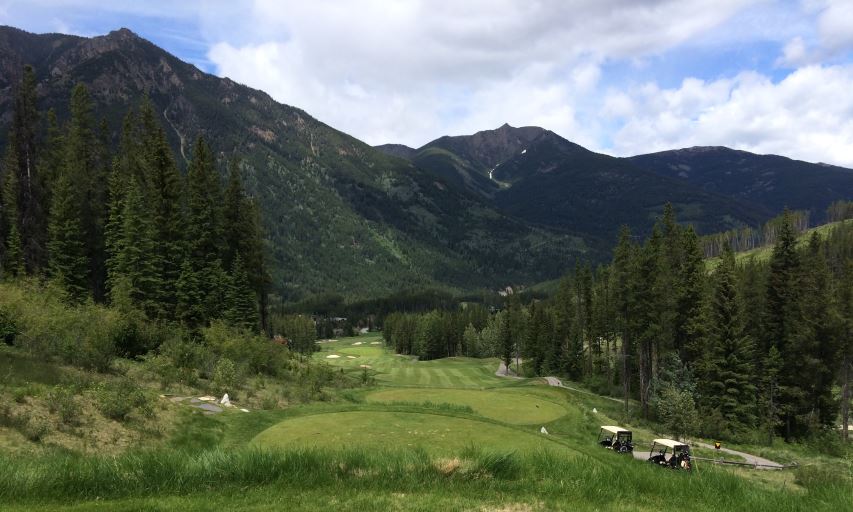 After A Trio Of Demanding Uphill Holes To Start Your Round At The Scenic Greywolf GC In Panorama, B.C., The Fourth Offers You A Much Needed Downhill Tee Shot As The Course 'Softens' A Bit. (Photo/Gord Montgomery) 
By GORD MONTGOMERY, Inside Golf
PANORAMA, British Columbia — Picture this: A well-struck tee shot soaring high against the bright blue sky, then plummeting back to earth against the majesty of a tree canopied mountainside.
As your majestic drive touches down, it bounds along the manicured fairway finally coming to rest in the middle of the landing area awaiting your second shot into the green.
That scene, as beautiful as it projects when you visualize it, is played out time and time again at the Greywolf Golf Club in Panorama, B.C. And regardless of where every shot ends up, in a hoped-for locale or not, this is one of those places when you put the finishing touches on No.18 you want to go play it again. And again.
The thing here though is this - after the first three holes you may not be quite sure of what you've gotten yourself into. The trio, referred to as Hopeful Meadow, Brewer and Pica's, play to a combined par of 13 (4-4-5) and a distance of 1,134 yards … and it's all uphill!
Getting through that stretch is tough but the reward for hanging tough is what follows - the scenario you pictured in the first paragraph, time and time again.
"I think the biggest thing is it's kind of deceiving on your tee shots because it looks like they're coming off pretty low but you're going up a pretty big grade," Dane Thorogood, general manager of Totem Golf, the course ownership group, pointed out in regard to that opening trio. "They're actually not too hard of holes when you get around the green. You just have to take an extra few clubs, and long is never bad on those holes."
Once you've turned the corner after that third hole, and you've regained your composure, it's all downhill from there … well, sort of.
The fourth tee is where you get that first glimpse of the ball floating in the air, with that phenomenal backdrop coming into play. Yeah, Descent is a 400-yard plus par-4 and what a par-4 it is! After smashing your tee ball into the horizon, you're left with a short iron into a large green and the birdie chase begins.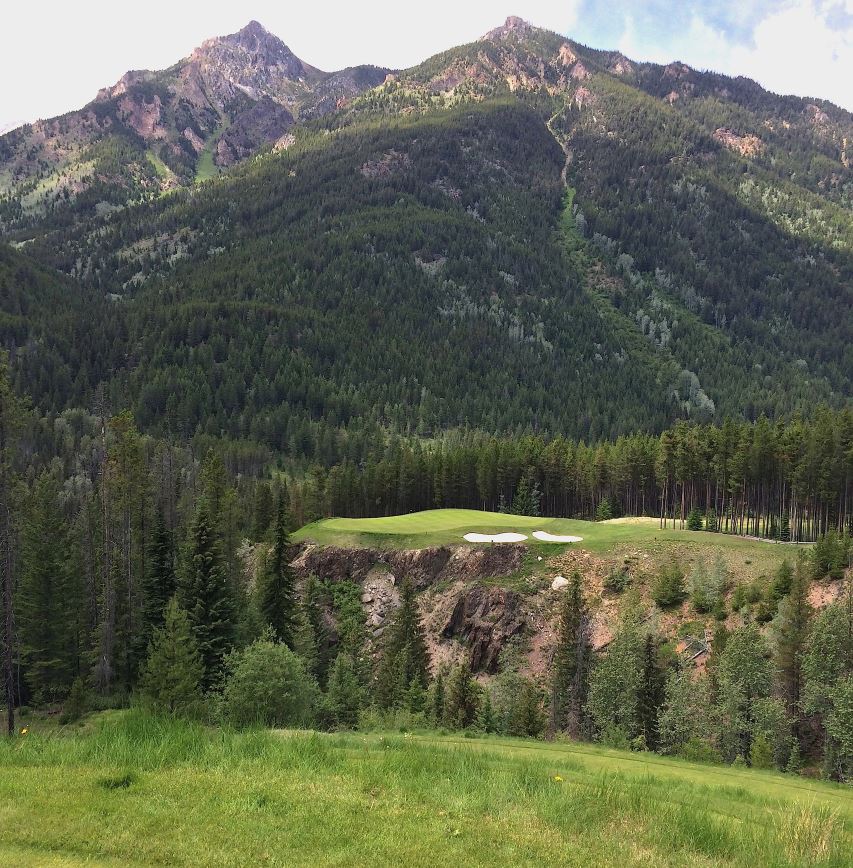 Probably One Of The Most Photographed Holes In All Of Canadian Golf, The Cliffhanger, The Challenging Cross-Canyon Par-3, Offers Not Only A Stunning Visual Off The Tee But Plenty Of Challenge To Walk Away With A '3' On Your Card. (Photo/Gord Montgomery)
This Doug Carrick design, one of his very few designs in Western Canada, continues to amaze and delight players as they wend their way around the property. Of course, the most famous, and most photographed test here is The Clliffhanger, which is No. 6 on your scorecard.
At 155-yards from the Blue deck, this test doesn't appear that stern … on paper at least. It's not quite all carry across a massive canyon but when you step up to the plate to take your initial swipe, it may as well be because that craggy precipice is all your eyes want to look at. Again, the green here is huge but at the same time it's well protected by bunkers in front. That being said, a sand shot is much better than re-teeing and hoping for a bogey at best if you come up short with your drive.
Thorogood, who is a strong player himself, said there aren't any tricks out here on Greywolf. You simply have to play to your strength, and from the right tee, to enjoy what this scenic track has to offer.
"It's all right in front of you," he commented. "There are a few doglegs but if you can keep the ball in front of you, and in between the trees, it's a very gettable golf course in my mind. Most people that come here are coming for the views and for the whole experience of having a fun day out in the mountains," and that's more than true at Greywolf.
Now, a little more about those hanging beauties that were discussed earlier.
The 9th hole, Wolf's Lake, is another downhill par-4 beauty where if you can bomb it, you can leave yourself with a shot at eagle by driving the green. Misfire with that big stick though and you cam pay the price by dropping into the beautiful water hazard to the left of the fairway. Again, this is a mesmerizing tee shot, where the ball takes forever to land, hopefully centre cut, if not 20 feet from the pin!
Of such tee shots, Thorogood relishes in those views as does anyone playing here.
"One hundred per cent!" he enthused about not only those eye-catching, memory-building beauties framed by the brilliant blue sky but also by the dark green canvas of the forested hills . "I think that's our biggest asset. We have spectacular holes, good conditions. Take Cliffhanger. I think it's just as nice to see your ball go up against the mountain in the background as a backdrop and see where it falls. It's the anticipation of where it's going to fall. It looks like you're hitting it right into the middle of the mountain!"
Where you're hitting your shot, any shot, at Greywolf is of course entirely up to you and your swing. But be assured of one thing - every swing and every shot your take here is certain to be stored in your mind's eye for a long, long time, just as those first three holes seem to be ever so long as you trek up the mountainside.
For more on the Greywolf Golf Course, go to their website at greywolfgolf.com or call them for a tee time at 1-888-473-9965.
---
About the Writer
Gord Montgomery is a retired sports editor of two weekly newspapers in the Edmonton area and is a member of the Golf Journalists Association of Canada. He is now in his 10th year of writing for Inside Golf.
He can be reached at This email address is being protected from spambots. You need JavaScript enabled to view it.. He's also on Twitter at @gordinsidegolf and on Instagram at gordinsidegolf2.