The Serge Surge
Details

Category: Inside Golf
Published: 2018-08-13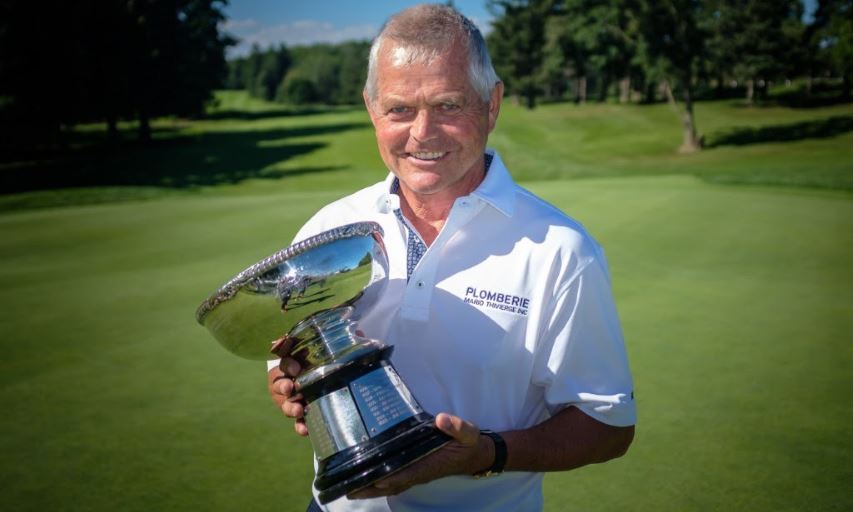 By PGA OF CANADA
COPETOWN, Ontario — Serge Thivierge cruised around Beverly Golf and Country Club, posting a bogey-free 5-under-par 65 en route to his first PGA Seniors' Championship of Canada victory.
The 62-year-old from Longueuil, Que., finished the 54-hole national championship at 8-under par, clipping his good friend and fellow Quebecer Jean Laforce by a shot.
"At my age, I'm very proud of myself and to have beaten the young guys who are 50-years-old is quite the accomplishment," Thivierge said. "I felt very confident in my game out there today — I was hitting it great off the tee, striking my irons well and making putts too."
The win capped off an exceptional week for Thivierge, who also won the Super Seniors' Division title this week as well. His career PGA of Canada national titles includes three PGA Assistants' Championships, a PGA Head Professional Championship of Canada and this week's double-dip of the PGA Seniors' and Super Seniors'.
"I'm in absolute heaven right now," he admitted. "These were the two national titles I'd been missing for so long."
Danny King rounded out the top three at 6-under, while five-time PGA Seniors' Championship of Canada winner Jim Rutledge finished at 5-under in solo fourth.
For the full leaderboard, click here.
Laforce, who has now finished second three times in the last four years at the PGA Seniors' Championship of Canada, started the day five-shots clear of Thivierge said he's not upset about the day's outcome, but happy to see his longtime friend succeed.
"For Serge to make five birdies and not a single bogey is absolutely incredible. With the wind blowing from a completely different direction, the golf course played much more difficult," Laforce said. "I'm so very proud of him because he's been working so hard on his chipping and he definitely deserves the praise."
All of Thivierge's short-game work paid off in spades at Beverly's 18th. After pulling his approach to the last well left into a group of trees, he was faced with an impossibly tough pitch under tree limbs to a pin precariously perched on the top shelf of the green.
"I must admit, the pitch I hit here on 18 was maybe the best shot I've hit all week long," Thivierge said. "I had it make sure to hit it low enough not to clip the tree, but high enough as well so that it would stay on the green."
He did. The pitch settled to less than three feet, setting up a birdie at the last.
The PGA Seniors' Championship of Canada was first played in 1938 as a division of the Canadian PGA Championship. In 1973, the championship became an independent event and has stayed that way since.
Among the Canadian golf legends to win the PGA Seniors' Championship of Canada are Stan Leonard, Moe Norman—who won a record seven straight years from 1979-1985—Bob Panasik, Al Balding—who wowed the golf world by winning at age 76 in 2000—Jim Rutledge, Ray Stewart, Dave Barr, Bob Panasik, Murray Tucker, Bill Kozak, Gar Hamilton and Remi Bouchard who won at Beverly in 2014.
To follow the PGA Seniors' Championship of Canada online, visit pgaofcanada.com, twitter.com/pgaofcanada, instagram.com/thepgaofcanada and facebook.com/pgaofcanada
The next PGA of Canada national championship takes place Sept. 16-19 at The Winston Golf Club in Calgary for the PGA Assistants' Championship of Canada presented by Callaway Golf Canada.