Long Drive a Fun Hobby as Opposed to a Way of Earning a Living
Details

Category: Inside Golf
Published: 2019-03-25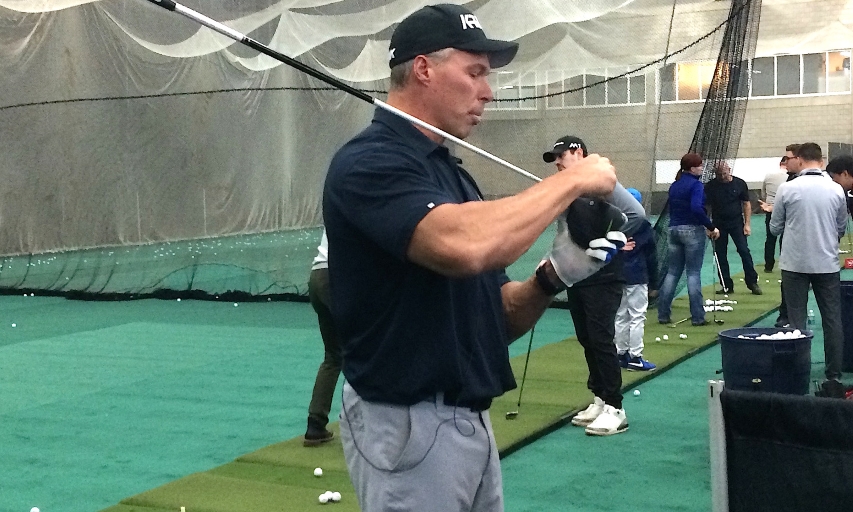 By GORD MONTGOMERY, Inside Golf
EDMONTON, Alberta — Once looked upon by professionals as a quirky part of the game of golf, the art of the long drive is slowly, but surely, making inroads into the sport.
Speaking at the PGA of Alberta's Consumer Golf Show in Edmonton, native son Kevin Blenhorn, a 20-plus year veteran in the big hitters' game, noted that this brand of golf is becoming more recognized all the time. As such, that has had a big impact on both the sport and the athletes that partake of it.
"I think the sport's growing. It's growing slowly. I still consider it kind of an underground sport like arm wrestling, but it is growing," as evidenced by the fact Golf Channel now carries broadcasts of the championship events, whereas before they totally ignored it.
The one problem with the game right now, at least in Blenkhorn's opinion, is that not enough premium is placed on landing those big drives in the grid. As a result, he noted, there is a slight revolt beginning against the present scoring system.
"We need to put more emphasis on hitting the grid," a 50-yard wide area, said Blenkhorn. "Last year you got points even for going OB, which I don't agree with. The players are trying to get Golf Channel to cancel that. OB is OB. You should get zero points."
That aside, things are looking up for this genre of the game.
"We are getting more people involved, especially with the exposure from Golf Channel. The Morning Show has guys on there and they talk about Long Drive, so yeah, it's getting more exposure, for sure."
There is still a difficulty in growing the game because of the lack of regional competitions for people to give the big hitting game a try. Blenkhorn himself picked it up after an Edmonton TV sports announcer suggested he try his hand at a Re/Max qualifying event.
"I finished third in that and then in 2000 (his second year competing) I qualified for Worlds," explained the guy who describes himself as "a hockey player, not a golfer." At the World championship he ran into a guy named Jason Zuback, the Canadian who owned the Long Drive championship belt for several years.
"I was thinking on the tee, 'Who am I taking on Jason Zuback?' and then I went and beat him by 12 yards," laughed Blenkhorn, who was then in the Open Division but now competes in the Masters. Unfortunately he broke his driver in another round leading to the finals, and not having a replacement bowed out. He did eventually reach the Final 8 and finished second overall in 2002.
As for bringing newcomers into the sport, much like he did way back when, there is a movement afoot in Canada to open the doors to more hopefuls.
"In the Canadian Long Drive Association we're giving guys a chance to get in. Now that there's so many indoor facilities that are accurate,"  for distance, spin rate and other swing factors, it lets people know if they do in fact have a legitimate shot at competing in such events. "We want to have guys come out and try it, and make it cheap, 25 or 30 bucks (to enter). That's how I started."
While the Edmontonian doesn't make a living from Long Drive, noting "It's a hobby," it's something he loves doing so he won't be stepping away from it anytime soon. "If I can make enough to pay for our trips (to competitions), we're happy. This year, I'll probably only do two events."
As to what draws him to this end of the game, which is certainly the most solitary element of the game of golf, Blenkhorn simply said it's a thing of beauty to him.
"What I love about Long Drive is that it's just me, the golf ball, and the three guys beside me," who are looking at bashing the ball farther than anyone else on that particular day. 
---
About the Writer
Gord Montgomery is a member in good standing of the Golf Journalists Association of Canada. He is now in his 10th year of writing for Inside Golf. He can be reached at This email address is being protected from spambots. You need JavaScript enabled to view it.. He's also on Twitter at @gordinsidegolf and on Instagram at gordinsidegolf2.