Seen At The PGA Of Alberta Show: Day Two
Details

Category: PGA of Canada
Published: 2018-10-17
Technology is making waves at the Show...
GOLF IN UNIT TO COME THE HIGHLANDS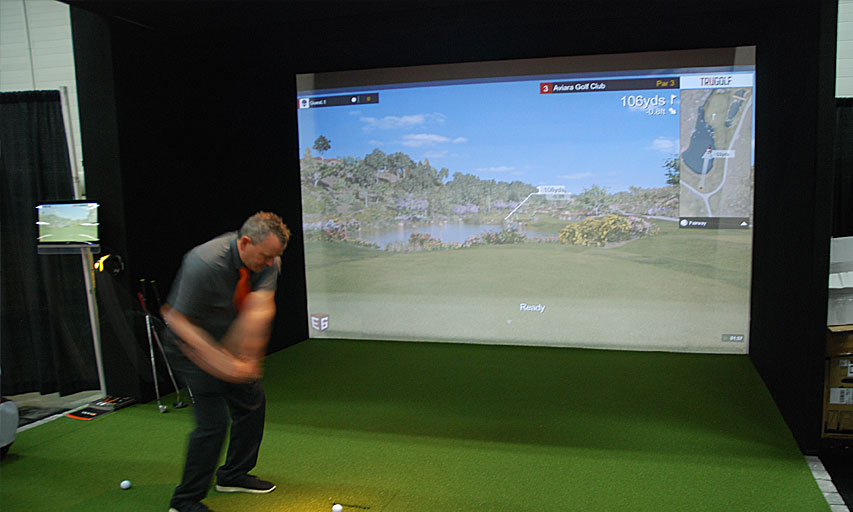 Over the past decade plus, this Quebec based company has developed some state of the art golf simulators. One of their units has been in place at Stony Plain GC in Edmonton for more than a year now (they are putting it back up for use over the winter as we speak) and now another area course is joining the club. The unit destined for the Highlands GC is being road tested at the show with the company giving away closest to the pin prizes each day of the show. Shown above is
Peter Kennedord
from TaylorMade Golf Canada who hit this 139 yard shot to a-foot-and-a-half. While the units which can be leased - or bought for around $36,000 - come all the usual bells and whistles you'd expect, one area where this company really excels is in the accuracy of their sensors. Owner
Carl Fortin
recently did some tests where they compared themselves to a Trackman unit and results were very close. You can see a youtube video from Carl
HERE
CHRONOGOLF IS NOT WASTING ANY TIME IN GROWING BIGGER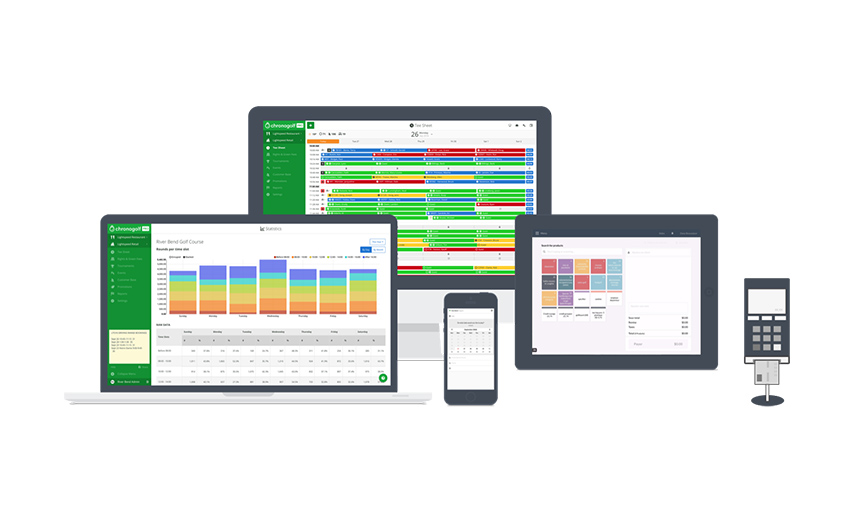 Canadian Based CHRONOGOLF is making huge strides in placing their tee time management systems adding 125 new facilities in the past year alone. But another thing that places them apart is ease of use and ease of integration by using 'Best In Breed' third party partners like Quickbooks. Add in features like dynamic pricing and it is easy to see why they are doing so well. Visit them
HERE
NEW TECHNOLOGY GPS SYSTEMS COMING TO A COURSE NEAR YOU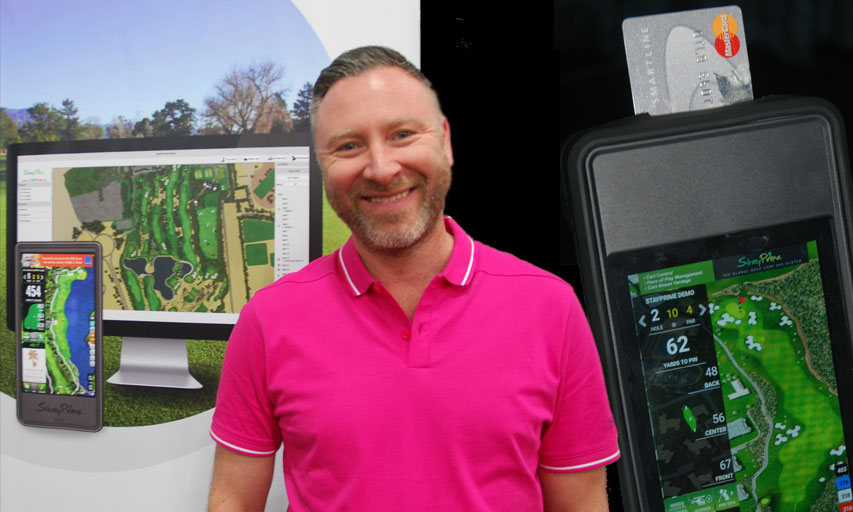 Another tech innovator is actually an Alberta based company called StayPrime who made their world product launch at the Alberta Buying Show. Headed by Edmonton born Shane Yawrenko, (shown above with unit right) they have developed a state-of the-art cart GPS system that breaks a lot of new ground.
Aside from the usual hole graphics, each 7" unit also offers free wi-fi and USB ports for phone charging. But that is just the icing for a cake that makes each unit a credit card processing device.  So when you are on the 4th tee, you can insert your card, order a burger and that order automatically appears in their kitchen and soon after, the cart girl will appear with your piping hot meal. There is a flat fee for the delivery (think Skip The Dishes). 
The company started in 2006 initially tested their units in taxicabs and will soon have 50,000 units in cabs in Peru but Yawrenko saw golf as a great opportunity as well.  "We partnered with GolfLan, a world leader in GPS cart systems and then integrated their software with our technology,  so our units have all the usual full cart control and management but with food ordering and credit card processing capabilities." And courses can actually get these systems with no up-front cost. "While we do have the usual lease options," affirms Shane, "We have also options where courses can get the units at no charge."
The company principals have already seen interest expressed by one of the major golf resort players in the U.S. so it's likely you will be seeing this soon.  Visit them HERE 
www.golflan.com
ASSOCIATION PARTNER PROFILE
FOSTER PARK MAKES HOLE IN ONE WITH INSURANCE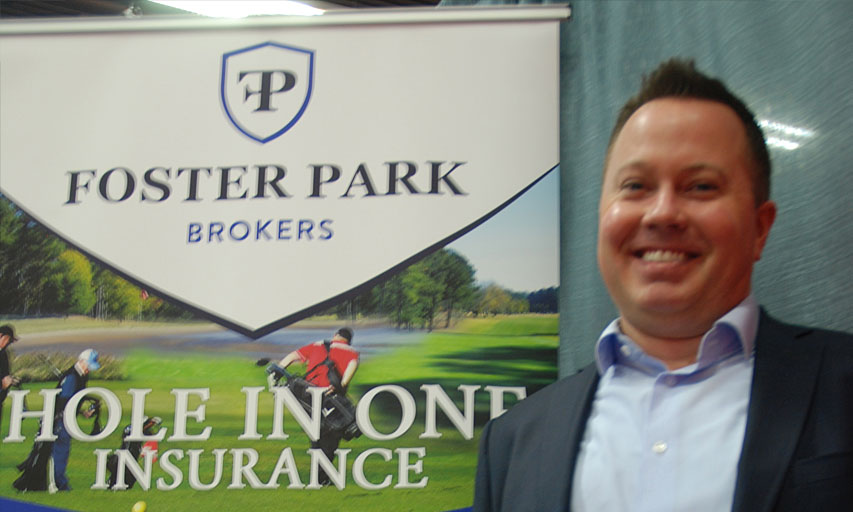 If there is one type of insurance where the course is happy to have a golfer make a claim, it would have to be for a hole-in-one. For courses with an Alberta PGA member on staff, the broker likely will be well-regarded Foster Park Brokers who provide ace insurance on more than 1600 par threes every year. Says Foster Park's
Ian Vik
(shown above), "We can do hole-in-one insurance at the same price whether your group is 32 or 199 for any length hole over 150 yards. What people may not be aware of is that we have a program where a course can get hole-in-one insurance for just a $500 prize... This means you can run a hole-in-one prize for a men's night for just $17." Visit them
HERE
FACILITY NEWS
THE NEW FORT MAC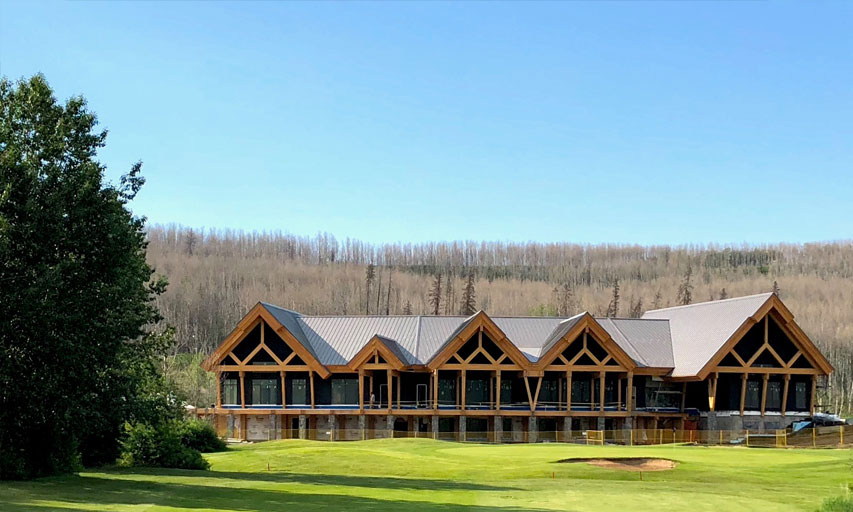 If there is one thing that will not be under the radar for much longer, it is the rebuild taking place at the Fort McMurray GC. Their new clubhouse is simply astounding... 24,000 square feet of great architecture. Plus the course has undergone major renovations as well. Assistant Professional
Michael Pike
took the photo above and we will be uploading all the great images he has provided in a slideshow for the upcoming show edition of the PGA of Alberta digital magazine, "The Scorecard." Stay tuned! Visit them
HERE