Scotty Cameron Adds New Futura 5.5M To The Family
Details

Category: Inside Golf
Published: 2017-08-03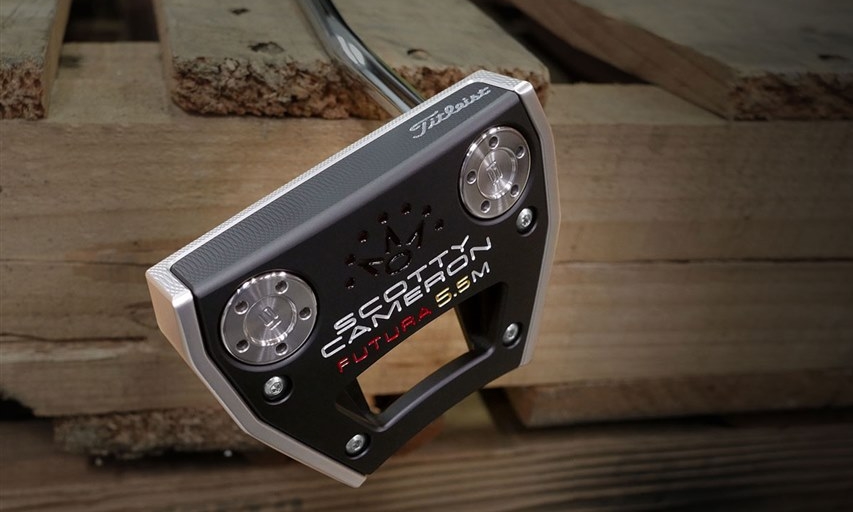 Inspired by his work with players on the worldwide professional tours, Scotty Cameron has added a new high-MOI mallet with enhanced toe flow to his Futura line of putters – the Futura 5.5M. This new model combines the forgiveness of a mallet with the feel of a blade and features a neck configuration that promotes a flowing, arced putting stroke more commonly associated with blade style putters.
"The idea for the Futura 5.5M began as a prototype when Titleist Brand Ambassador Justin Thomas came to the Putter Studio looking for a new option," Cameron said. "He wanted a smaller mallet that he could align easily, but one that also promoted the arced putting stroke he preferred. We welded a flare neck to a Futura X5 Tour putter and sent him on his way. He went on to win three events, reporting back that some of his buddies wanted a putter like his. The wheels started turning from there."
As the buzz continued to build, Scotty continued to concept and sketch out different model ideas that would extend the innovative features found in the Futura line.
"In addition to Justin's visit, I'd also received requests for a smaller version of the Futura 7M. So, in thinking about this new entry in the world of mallet putters, I was able to blend my MOI and toe flow thoughts into this new model, the Futura 5.5M. To achieve this, I created a leaned over, stainless steel half-neck spud off the topline that accepts a single bend shaft," added Cameron.
"This is an elegant way to give the player a full shaft of offset and also offer a clean view of the entire leading edge of the topline. The proportion is right. The weight is right. And now we have a mallet with more toe flow for players who like that arcing feel in their stroke, but want more forgiveness."
And with this latest addition to the family, the end result is a cohesive lineup of tour-proven shapes and configurations – Futura 5CB, 5MB, 5W, 5S and 5.5M; Futura 6M and 6M Dual Balance; and Futura 7M – with enhanced stability and forgiveness, improved alignment features, and responsive feel and feedback.
Futura 5.5M putters will be available on Friday, Aug. 25 in North America (Friday, Sept. 22 worldwide) through Titleist authorized golf shops. Visit ScottyCameron.com for more details and to view the entire family of the Scotty Cameron putters.
FUTURA 5.5M DESIGN & TECHNOLOGY FAST FACTS:
• The compact mallet—about 10 percent smaller than the similarly-shaped Futura 7M—is designed for easy alignment with built-in toe flow.
• Shorter single bend shaft configuration for additional toe hang, promoting an arced path and flowing putting stroke.
• Multi-material technology – featuring wrap-around face-sole construction milled from lightweight 6061 aircraft grade aluminum, integrated with precision-milled 303 stainless steel – moves weight back and to the perimeter, allowing for a larger putter head with enhanced high-MOI performance (resistance to twisting during the stroke).
• Tour-proven heel-and-toe sole weighting technology increases stability and forgiveness.
• Mid-milled face with vibration dampening technology offers soft feel with 3.5 degrees of loft to deliver optimum roll characteristics.
{youtube 2UvJG46FW88}