Book Release: Confessions Of A Golf Slut
Details

Category: Book Reviews
Published: 2016-01-10
Trailblazing sports journalist Susan Fornoff breaks new ground with controversially titled memoir "Confessions of a Golf Slut"
OAKLAND, Calif. – Susan Fornoff broke locker room barriers as a sports journalist.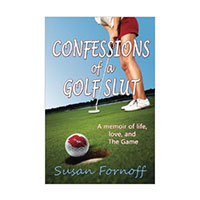 Now she is taking on golf's conservative establishment with the title of her new book, "Confessions of a Golf Slut: A Memoir of Life, Love, and The Game."
In "Confessions of a Golf Slut," Fornoff shares the story of how golf became her warm blanket during heartbreaking losses of divorce and death, her compass for a hilarious journey through online dating, and her guiding light in the tunnel of a midlife career change.
A "golf slut," she says, will play anywhere, anytime, with anyone.
"I'm getting backlash from conservative golf types who find the term offensive," Fornoff said. "But 'golf slut' has no more to do with sex than 'golf widow' relates to death. And, so what if it does? C'mon people, loosen up those ties!"
Fornoff's engaging book is for women age 25 and up who either play golf or have an interest in the game and who enjoy memoirs such as "Julie and Julia" and "Eat, Pray, Love."
"Confessions of a Golf Slut" will be available in limited release beginning November 22 via Amazon.com and GottaGoGolf.com, and through all online bookstores and select golf shops beginning on December 2.
Advance Reviews
"What a fine and fancy ramble through the front nine, the back nine and all the bunkers of life that have to be managed in between." – Lesley Visser, Hall of Fame Sportscaster
"With this fun and engaging read, Susan artistically paints the landscapes of some of the best golf courses in the country – and, through her real-life stories and adventurous spirit, transports the reader through the fairways of life with humor and humility, navigating work, on-line dating, marriage, and more. Can't wait for the sequel!" – Debbie Waitkus, author of "Get Your Golf On!"
Title: "Confessions of a Golf Slut: A Memoir of Life, Love, and The Game"
Author: Susan Fornoff
Publisher: GottaGoGolf
Print Edition ISBN: 978-0-9899540-0-6 ($16.95)               
Ebook Edition ISBN: 978-0-9899540-1-3 ($7.99)
About the Author
Susan Fornoff went to work as a sportswriter for the Baltimore News-American while finishing work on her degree in Journalism at the University of Maryland, College Park.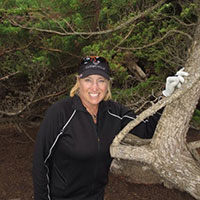 She wrote on numerous sports for USA Today and covered the Oakland A's for the Sacramento Bee before settling in for a long stint writing and editing at the San Francisco Examiner and Chronicle.
In 2010, she founded GottaGoGolf as a media company advocating for women who play golf for fun. "Confessions of a Golf Slut" is her fourth book.
Fornoff, who lives in Northern California, co-captains the Sharp Park Business Women's Golf Club, is a member of the EWGA San Francisco Chapter, and serves on the board of directors for Women in the Golf Industry.