Book Release: Rory's Club
Details

Category: Book Reviews
Published: 2016-01-10
(November 18, 2013) - Released worldwide today, Rory's Club is a new, full colour hardback book documenting the life and times of Rory McIlroy MBE, one of Northern Ireland's most popular sporting heroes.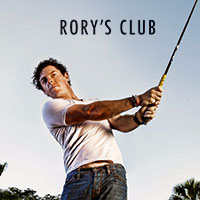 Rory's Club follows Rory's remarkable sporting  journey, which began when he first picked up a golf club at the tender age of eighteen months with his father Gerry McIlroy at Holywood Golf Club, in Belfast, Northern Ireland.
With a personal foreword by Rory and hitherto unpublished photographs supplied from private family collections, Rory's Club explores the early developments of the game and the unfolding career of one of our most popular golfing icons.
From his roots in Northern Ireland, to the cutting edge of the international game, the book includes golfing tips and techniques, pocket anecdotes and stories from around the world - including Great Britain, Ireland, USA, Asia and the Middle East - with over 180 photographs from Rory's early years to the present day.
Rory's Club was launched in Northern Ireland's at Rory's home golf club, Holywood, Belfast. Howard Hastings, Chairman of the Northern Ireland Tourist Board says, "This book is a tribute to our history and Northern Ireland's passion for the game of golf.  With a wealth of golfing talent concentrated in our small country, Rory has proved himself to be one of our finest ambassadors.
He inspires many golfers to come and visit Northern Ireland, from all corners of the world. His work with our younger members in particular, reminds us of the importance of a positive influence, which can inspire golfers of all generations."
For this reason, the royalties will be dedicated to juvenile golf programmes.
This book is published in the spirit of Rory's own words, "I love being from Northern Ireland, and I never get tired of telling people how great it is. It's a great country with so many great places to see. For the budding golfer it hosts some of the finest courses in the world and they simply have to be seen to be believed. I'm delighted to support our golfing heritage wherever I am in the world." Rory's Club is now part of that legacy. 
Digital preview pages of the book can be viewed online at www.rorysclub.com where it can also be purchased. The book can also be purchased online from Amazon, www.holywoodgolfclub.com and selected retailers across the island of Ireland and the UK.
For further information please contact: 
Dr. Claude Costecalde             Gwynneth Costecalde          
Tel: +44 (0)7403781529          +44 (0)7403154077     
Email:   This email address is being protected from spambots. You need JavaScript enabled to view it.     This email address is being protected from spambots. You need JavaScript enabled to view it.