Plugged In The Hazard: Golf's Changing Of The Guard
Details

Category: Plugged In The Hazard
Published: 2016-01-10
by Andrew Penner - Let's take a walk to the very exclusive We've-All-Got-Something-Stuck-In-Our-Rear-End Country Club, shall we.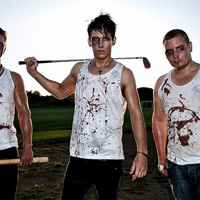 Image Caption : Is Golf Ready For A Changing Of The Guard?
The club, located in a hushed and heavenly setting on the edge of town, is going through a bit of a rough patch these days.
It seems membership is down a wee bit and a lot of the younger folk would like to see a few things changed.
To top it off, Old Man Underhill - he was closing in on 73 years as Club President - was recently stuffed into a wood chipper (he had ties to the mafia, or something) and has taken up residence inside a brown wooden box.
And now, surprise surprise, the $#%@! is really starting to fly.
Of course, there were a lot of people who claimed to see this all coming. Well, perhaps not Underhill's unfortunate ending, but, as far as "stuff" at the club goes, the writing, they said, was on the wall. 
Things were brewing. The natives were getting restless. The old school boys were definitely taking some heat. And the winds of change were blowing.    
(Interestingly, at the 'We're-Losing-Our-Shirt-Because-We-Charge-$300 per round-So-You-Can-Blow-Your-Brains-Out-And-Lose-A Dozen Balls-On-Our-Swanky-8,000-Yard-Course Club', things aren't all that rosy either.
It seems the bunkers rarely get raked anymore. The $22 burgers aren't very satisfying. And the doctors and lawyers – or anyone else for that matter - aren't coming out that much anymore.)
Funny enough, though, at the 'Everyone-Is-Welcome-And-Just-Wear-Whatever-The-Hell-You-Want-And-We-Won't-Take-Your-First-Born Course' in the heart of town, things are humming along pretty good.
People are smiling. The staff – many wearing jeans and, good Lord, sporting tattoos – aren't taking things too seriously. It seems they've grown tired of pretending to be something they're not.
And the GM, God bless him, really doesn't mind as long as they're friendly and treat everyone like gold. 
Over at the first tee the starter, a weird dude with a nose ring and mutton chops, is telling stupid jokes and has Led Zepplin blasting through the speakers. It seems to make everyone relax a little in what is, traditionally, a fairly intimidating situation.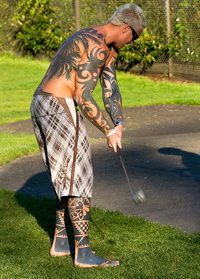 Image Caption : Man You Really Tattooed That One....
On the third green a kid in high tops and a Shaun White-like mop high-fives his buddy after sinking a four-footer. They grab their sack of five clubs and beat it to the next tee. 
On the fifth fairway an elderly couple with a souped-up cart rocket to the 150-yard marker to tee off. They're playing the course their way. No one bats an eye. 
On the 12th hole a foursome of fun-loving thirty-somethings have putted out and are calling it a day.
They've paid for twelve and they're putting the sticks away. They've got just enough time to swill a quick beer on the patio and get the babysitters back home.  
On the 17th hole a foursome of staunch, business-type men are pretending to be PGA Tour wannabes.
To be honest, with their oversize tour bags and collared shirts, they're labeled losers by most of the crowd.
But, hey, it's their right. And nobody is paying much attention. Other than looking for a lost ball for twenty-five minutes (in their defense, they let two groups go through) on the 14th hole, they haven't really bothered too many people.
And, of course, they paid their $40 bucks like everyone else. 
Over at the driving range fifty inner-city kids are milling around because tonight, thanks to the local PGA chapter, it's free range balls and free hot dogs for everyone.
To top it off, the first kid who smashes the windshield on the old VW bug sitting at the 100-yard marker gets $100 bucks and a free range pass. 
Back on the clubhouse patio the starter, now shifting gears, has a banjo and smoke going and is ripping through an old Earl Scruggs tune. Funny enough, the kid in high-tops has joined him on stage with his kick-ass mandolin. It seems he's some kind of bluegrass – or make that "newgrass" – specialist.
At any rate, the duo smokes through an energetic set of foot-stomping classics and the boisterous crowd eats it up. The elderly couple with the souped-up cart have cleared away a few tables and most of the hairiest people in the vicinity are now dancing. The locally-brewed IPA is disappearing fast. But no worries, another keg is on its way. 
At around 11 pm the happy-go-lucky cook exits the kitchen and leads everyone in a line dance. The GM, who always sticks around for the live music, is Tweeting like mad and posting plenty of ridiculous pictures on Facebook.
It seems he's developed a cult-like following. Unquestionably, his initiatives – namely the night golf events, the wildly popular Garden Tool Long Drive Championships, ugly shirt freebie days, and, of course, the regular celebrity appearances – have bolstered "the cause" immeasurably.
Of course, tonight's banjo festivities aren't hurting much either. At around midnight things finally simmer down. It is midweek, after all.   
And thus ends another normal day at the course. The game of golf, it appears, is alive and well here. Mr. Underhill, well, not so much.
But at least he's getting a little bit of exercise rolling around in his grave.