Industry News
Inside Golf Announces New Associate Publisher For Alberta
Details

Category: Industry
Published: 2015-12-07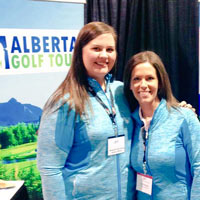 Inside Golf, Western Canada's largest golf media company is proud to announce that highly regarded Alberta golf industry professional Leah Bathgate has joined Inside Golf as their Alberta Publisher...
Ms. Bathgate brings a well rounded background to her new role.
Since its inception three years ago, Leah has been the President of the Alberta Golf Tour, a flighted amateur golf competition running events throughout the province.
Concurrent with managing this rapidly growing enterprise, she has also held marketing related positions with a number of golf facilities from Priddis Greens to, more recently, Country Hills Golf Club.
Says Inside Golf Publisher, Jeff Sutherland, "iG has been considering bringing on board the right person for this job for the past couple of years. With the establishment of our relationship with the PGA of Alberta and the publishing of their "Golf Report" digital magazine added to the upcoming launch of www.insidegolfalberta.com, it was a pleasant surprise to meet Leah at the PGA's Golf Consumer Show earlier this year. Her decade of experience in the Alberta golf industry joined with her expertise in marketing were just the start of a resume that meshed seamlessly with our needs."
Bathgate is excited about the opportunity, "I always strive to grow and learn more personally and professionally and I always look forward to pursuing more challenging work that gets me out of my comfort zone. Taking on the responsibilities associated with where Inside Golf wants to grow in Alberta was just too good to not jump at."
Leah will join an Alberta team that already includes Edmonton based journalist Gord Montgomery who has served as Inside Golf Senior Alberta Writer for the past eight years and Calgary based Lisa "Longball" Vlooswyk who has been iG's Senior Travel writer for more than a decade.
For more information Leah can be contacted at This email address is being protected from spambots. You need JavaScript enabled to view it./ (403) 200-2024 while Jeff Sutherland can be reached at This email address is being protected from spambots. You need JavaScript enabled to view it. / TF 800-764-6537
About Inside Golf... Inside Golf is the leading golf media company in western Canada. Established in 1993, its brands include the Golfers Guide Scorecard company, Inside Golf print magazine, and the web site www.insidegolf.ca. "iG", as it is known, also has well established publishing partnerships with the Western Canada Turfgrass Association, British Columbia Golf, and the PGAs of both Alberta and BC. For more visit www.igdesign.ca