Park Under Par Plus A Playoff Highlight MJT Mini Tour Ford Series At Olds
Details

Category: Inside Golf
Published: 2020-08-14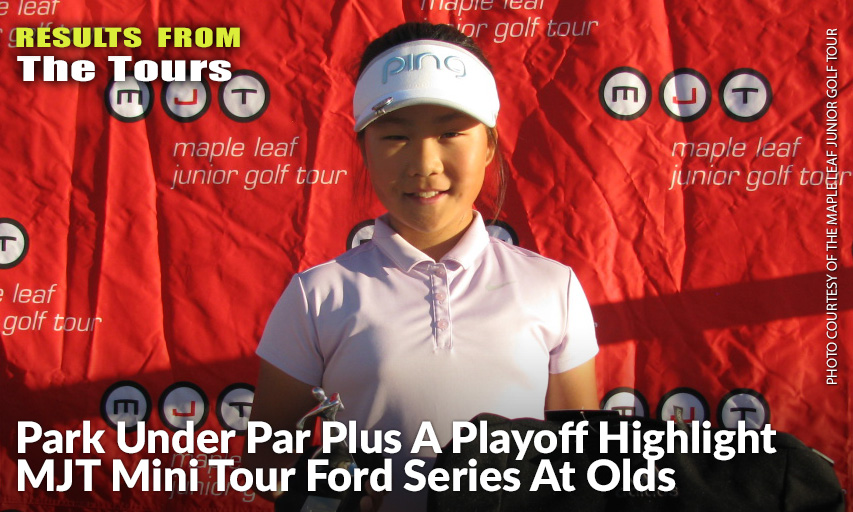 OLDS, Alberta — Olds Central Highlands Golf Club in Olds, Alberta, played host to two Maple Leaf Junior Golf Tour events on Sunday, August 9 - a Ford Go Golf Junior Clinic presented by Cam Clark Ford Olds, free for members of the community between the ages of six and twelve, and a MJT Mini Tour Ford Series for young golfers ages 12 and under. The latter was the final Mini Tour event in Alberta before the National Championship in BC on August 20 and 21, and players were vying for titles and national championship exemptions in six divisions.
11-year old Eileen Park, of Red Deer, AB, made her presence felt in the MJT Girls 11-12 Division. Park finish the round under par (71, -1), after beginning the event making five birdies in her first nine holes. "I tried to get as many birdies as I could," she commented. "It feels amazing to win." Park's score of 71 was the Low Overall Girls score for the event.
18 holes was not enough to determine a winner in the MJT Boys 11-12 Division. 11-year old Charles Greaves, 11, of Banff, AB, and Ryan Johnson, of Calgary, AB, both fired scores of 80. With a fantastic chip in the playoff, Greaves walked away with the division title. "I was focused on my own game and did not worry about anyone else," commented Greaves after the exciting finish.
The spotlight moved back to Jayden Arnold, 10, in the MJT Boys 9-10 Division. The Calgary, AB, rising star golfer fired a 73 with four birdies on the par 72 Olds Golf Club to win his division title in convincing fashion. "It was a bit of grind, but I'm happy with how I finished," commented Arnold, who made two birdies on his last two holes. "I just stayed positive and focused on what I had practiced."
MJT Mini Tour past champion Serin Girard, 10, carded an 83 in the MJT Girls 9-10 Division to win her second career MJT Mini Tour title. The Red Deer player continues to impress on the MJT Mini Tour and still has not finished outside the top five in any event on the MJT since beginning to compete in 2018. "Everything is good about the MJT," mentioned Girard. "Winning makes me feel confident."
Craik, SK-resident, Dalton Stephens, inched away with the win in the MJT Boys 8U Division. The eight-year old golfer carded a score of 83 to take home the title by a single shot. "I hit some good shots onto the greens," commented Stephens, who was happy with his approach game at Olds Golf Club.
Coming out to shoot 92 in the MJT Girls 8U Division was seven-year Sedona Weitz, of Calgary. "I've spent a lot of time working with my coach and practicing every day," commented Weitz. "I feel very happy and excited."
Full results can be viewed here. The MJT Mini Tour National Championship will take place on August 20 and 21 at Tsawwassen Springs in Tsawwassen, BC. More information on that event can be found on the MJT website, www.maplejt.com.
---
About the MJT
The non-profit Maple Leaf Junior Golf Tour is Canada's number one-played Junior Golf Tour as well as the only national junior tour run exclusively by PGA of Canada Professionals and the 'Road to College Golf' in Canada. The organization is supported by valued Premier, Tournament and Product Partners. The MJT hosts close to 90 events across Canada, including free Ford Go Golf Junior Clinics, the MJT Mini Tour for 12U and multi-day events for competitive players aged 11-19 which also offer qualifiers for international tournaments. The program has annual awards, scholarships and incentives to help reward performance and participation throughout each season. MJT alumni include many Professional Tour players and PGA of Canada Professionals, as well as Canadian Amateur, National and Provincial Junior Champions. The MJT aims to develop champions, in golf and in life, promoting the game from grassroots through to the provincial, national, university and professional levels.