Waiting Was The Hardest Part Said PGA Of Alberta Assistants' Championship Winner
Details

Category: Inside Golf
Published: 2017-08-09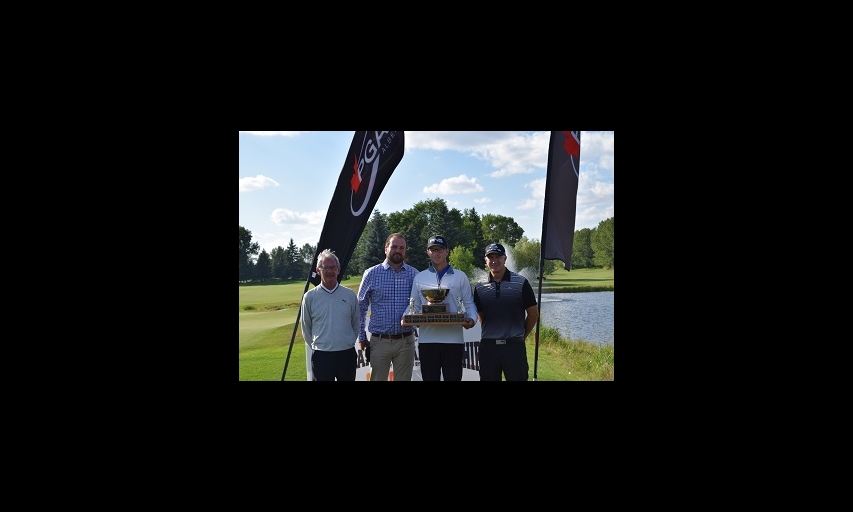 Winner Craig Gibson (Sirocco GC) With Sponsors Rick Lea & Bob Soutar (Cobra Puma Golf) And Host Professional Ryan Tofani. (Photo/PGA of Alberta)
CALGARY, Alberta (Gord Montgomery/iG) — It's not the actual playing that gets Calgary pro Craig Gibson nervous, it's the sitting around waiting to play that gets his nerves vibrating.
The Sirocco GC assistant overcame those twinges though, as he waited in the clubhouse for the final pairings to come in off the Cottonwood G&CC, on his way to the title in the 2017 PGA of Alberta Assistants' Championship sponsored by Puma Cobra Golf.
Sitting in a tie for 16th place after the first day of the two-day, 36-hole event with a 2-over 74, Gibson said "My goal for day two was to simply sneak into the top-5."
As it turned out he did much better than that.
While Gibson said he didn't putt overly well on the opening 18, he made up some ground in a hurry on the second day by eagling the first and fifth holes, holing out from 110-yards on the latter,  plus adding birdies on six and seven to put pressure on the leaders.
While you'll hear many competitive players say they don't look at scoreboards, that's not the case for Gibson. He admitted when he came across a standings board he was looking to see what was going on.
"I knew where I stood through nine holes; I think I was one behind at that time. Then, on the 14th hole there was a scoreboard and I think I was tied for the lead there. I always watch. I say I try not to watch but I have to. If I try not to watch then my mind just goes somewhere else. I guess I'd say I'm a scoreboard watcher, for sure."
Knowing where he was late in his round Gibson stuck to what got him to where he found himself at that time.
"I definitely stick to my game plan. Pretty much the only thing I wanted to do was get to 3-under, 4-under, just keep making birdies."
Following his round, Gibson had to sit tight in the clubhouse after posting a score of minus-2 for the championship (firing a 66 for the final round) waiting for the final groups to roll in. As he waited, he saw his name stay at the top of the leaderboard where when the two rounds were finished he and fellow Calgary pro, Eric Locke (Priddis Greens G&CC) were tied for the lead. So, it was off to a playoff where it took only one hole to decide things.
"Probably the most nervous I was, was just waiting to see what was going on," Gibson said of playing the waiting game. "That was probably the only time I was nervous during the day. I have a fairly good record in playoffs throughout my golfing career so playoffs aren't that nerve-wracking."
Locke and Gibson teed it up on No. 18, a hole the latter noted, "If I go to any playoff hole that's definitely not the one I want to do. I doesn't fit my ball shape or the way my eye sees how I want to the golf ball to fly."
Turns out that this time around, that didn't matter.
Both players put their drives on the fairway on the par-4 475-yard hole. Gibson hit first from 188-yards and landed his approach on the green, rolling to about eight feet thanks to "a little cut 6-iron."
With the pressure on, Locke's shot found the green but skittered off the left side and into a water hazard, meaning Gibson simply had to two-putt from where he was to claim the title. That's exactly what he did and for the win he pocketed $2,800 while Locke earned $1,750.
About the win, Gibson said it meant a lot to have his name etched on the trophy alongside some other great pros from around the province.
"It's easily my biggest win, by far. I'm just proud my name will be on the same trophy as (Mike) Belbin, Jamie Kureluk, even (Dustin) Risdon. If there's one guy I want to be with every tournament, that's the guy. If I'm near Risdon, then I'm near the lead. Just to have my name on the trophy with those guys means a lot."