Carrington Roars From Behind To Take Alberta Sr. Ladies Title
Details

Category: Inside Golf
Published: 2017-08-09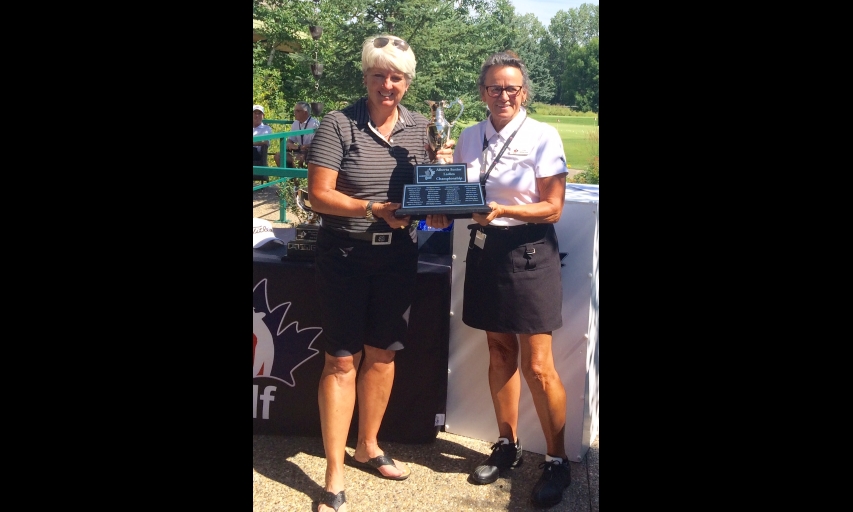 Lois Gilbertson (R) From Alberta Golf Presents The 2017 Alberta Senior Ladies Champion Kim Carrington The Championship Trophy. (Photo/Gord Montgomery) 
EDMONTON, Alberta (Gord Montgomery/iG) — What a difference a year makes.
Last summer, all Kim Carrington could do was think about swinging a golf club and winning major tournaments. You see, she couldn't actually do any of that after some major surgery to her foot put her on the shelf for the entire 2016 golf season.
This summer though she came back in a big way, capturing the 2017 Guardian Capital Alberta Senior Ladies' Championship by coming from behind. The Calgary golfer trailed the leader, Jackie Little from B.C., by four shots entering the final day of the 54-hole tourney, but after nine holes of the last round, everything was even.
That's when Carrington put her foot down and sped away to a four-shot win.
In regard to overcoming that deficit, Carrington said it was all about sticking to her game plan which was sticking to the short grass all the way around the pristine host club, the Edmonton Petroleum G&CC.
"The plan was 18 pars," she began, the emotion of winning still evident in her voice. "I knew if I could hit fairways and greens in regulation, get 18 pars," she'd be in the driver's seat.
"In 2015 when I won (the same title), I shot 69 to win. That's what I drew from today, coming into today. Not worrying about being four back; just making 18 great pars."
The major turning point for Carrington was pulling alongside Little after recording a birdie on No. 9.
"I had nervous energy starting on one. That's good energy so right from the get-go, that got me in a good rhythm, making good swings. I think the turning point was coming off nine even with Jackie and I thought, "OK. Now we can start," because you really have to play your own game."
Holding onto a one-shot lead with four holes, to play Carrington saw that doubled when Little bogeyed No. 14 and she earned a par. After both players parred the short 15th, the Calgary player got a bit of a fortunate bounce, off a tree, on the next hole.
"I hit a 4-wood off the tee just to play safe, not come anywhere near the trees. I got a little excited because I'd hit it perfectly, 220 down to the bottom by the mound, the last three days, including the practice round. I just got a little bit excited today, tried to hit it a little harder, thinking I could maybe get a little extra out of it and have a shorter iron in. I hit that tree and it dropped down," but landed in the fairway.
From there, Carrington hit a lay-up and then a wedge to about 20 feet,  while Little put her second shot on the green, about 30 feet from the hole. Little missed the birdie putt but made par and for the moment looked like she had a great chance to pull within one shot with two holes left, as Carrington studied her putt which she calmly walked up to and drained.
"I was playing it as a par 5, take bogey and be happy with it," she said of the immediate thought after meeting that tree head-on. "But I hit it close on my third shot and made a great putt!" she recalled.
On No. 17 Carrington parred another tough par 4 while Little bogeyed, meaning the leader held a three shot advantage headed to the home hole. There, she wrapped things up with another birdie on the par 5, to Little's par.
A big key to her win, Carrington, who plays out of the Cottonwood G&CC said, was having her mom, Shelly, on her bag.
"She gave me confidence, helped read putts, and repeated the key words of commitment and strength. She was phenomenal in helping me read greens."
As for that time off last year, Carrington said she "pouted" about the surgery for a short while but got over it and focused on her return to action this year, which so far has brought her another provincial title.
Warrington now joins Lynn Kuehn and Joan Wilson as the reps for Team Alberta for the Canadian Senior Women's Championship in Newfoundland to be held from August 22 to 24.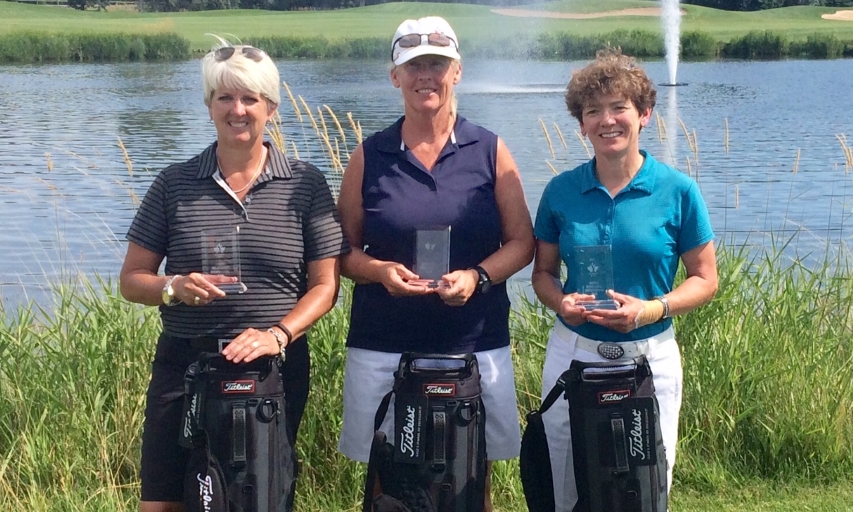 The 2017 Alberta Senior Ladies' Interprovincial Team Of Kim Carrington (R), Lynn Kuehn, And Joan Wilson. (Photo/Gord Montgomery)