Gilbart, Garant Go Back-To-Back With Wins In MJT Mini Tour Summer Series At Turnberry
Details

Category: Inside Golf
Published: 2020-08-19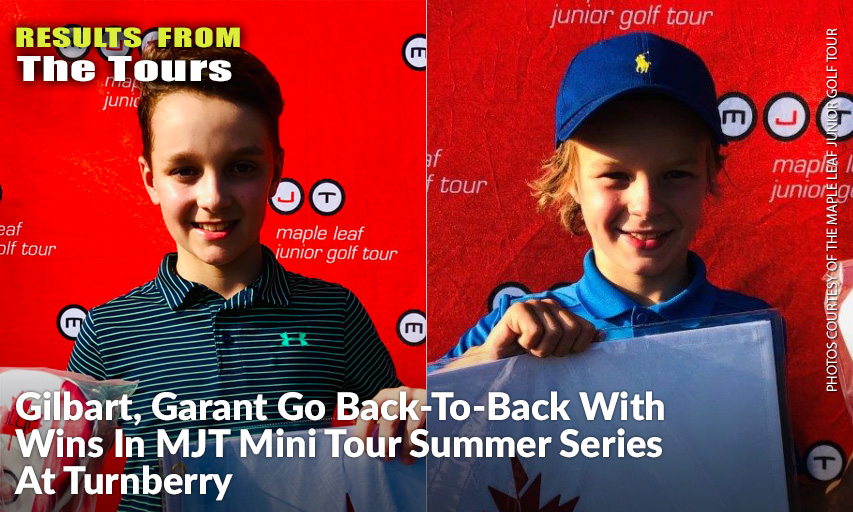 BRAMPTON, Ontario — The MJT Mini Tour Summer Series at Turnberry Golf Club played out in Brampton, ON, where a full field of young golfers between the ages of six and twelve competed for titles in six divisions on the Maple Leaf Junior Golf Tour.
Lucas Gilbart, 11, of Toronto, ON, made it back-to-back wins in the MJT Boys 11-12 Division. Gilbart, who came off an impressive win at the MJT Mini Tour at Beaverdale Golf Club, fired a 64 at Turnberry to pick up his third career MJT Mini Tour title. "I was hitting greens in regulation and getting up and down when I needed to," commented Gilbart.
The MJT Boys 9-10 Division witnessed Karuna Doulat, 10, acquire his second MJT title at Turnberry Golf Club. The Brampton-resident shot 66 to win the division by three shots. "It feels amazing to win at Turnberry again," commented Doulat, who has a liking to the facility.
Eight-year-old Mason Garant, of Windsor, ON, also made it back-to-back wins with his performance. Garant fired a round of 68 to win the MJT Boys 8U division in convincing fashion. "I had a really good back nine," commented Garant, who was proud of his ability to rally back during the round. "It feels great to win because the competition was really strong."
10-year-old Nobelle Park won the MJT Girls 9-10 Division after the Oakville, ON, junior golfer carded a score of 62 to take the title by two shots. "I was picking good targets and hitting good shots," commented Park. "It's always exciting to come first after you've tried your best!"
The MJT Girls 11-12 Division saw 11-year-old Michelle Chu pull away from the field shooting a score of 66. The Markham, ON, MJT Mini Tour rookie entered the winner's circle earning her first win since beginning to compete earlier this year. "The MJT is a great tour," mentioned Chu. "I feel very happy to win."
In the Girls 8U division, Kaeleigh Chung, 8, of Richmond Hill, ON, won the title over Charlotte Black, 6, of Paris, ON, calling it a match after 12 holes of play for the youngsters.       
Full results can be viewed here. The next two MJT Mini Tour stops in Ontario both run at Wyndance Golf Club in Uxbridge, on August 11 and 18. These will be the final opportunities to qualify for the MJT Mini Tour National Championship at Tsawwassen Springs in Tsawwassen, BC., to be held August 20 and 21. More information can be found online at www.maplejt.com.
---
About the MJT
The non-profit Maple Leaf Junior Golf Tour is Canada's number one-played Junior Golf Tour as well as the only national junior tour run exclusively by PGA of Canada Professionals and the 'Road to College Golf' in Canada. The organization is supported by valued Premier, Tournament and Product Partners. The MJT hosts close to 90 events across Canada, including free Ford Go Golf Junior Clinics, the MJT Mini Tour for 12U and multi-day events for competitive players aged 11-19 which also offer qualifiers for international tournaments. The program has annual awards, scholarships and incentives to help reward performance and participation throughout each season. MJT alumni include many Professional Tour players and PGA of Canada Professionals, as well as Canadian Amateur, National and Provincial Junior Champions. The MJT aims to develop champions, in golf and in life, promoting the game from grassroots through to the provincial, national, university and professional levels.