Lew Holds On For Third Title In MJT Mini Tour Presented By ClubLink At Wyndance
Details

Category: Inside Golf
Published: 2020-08-19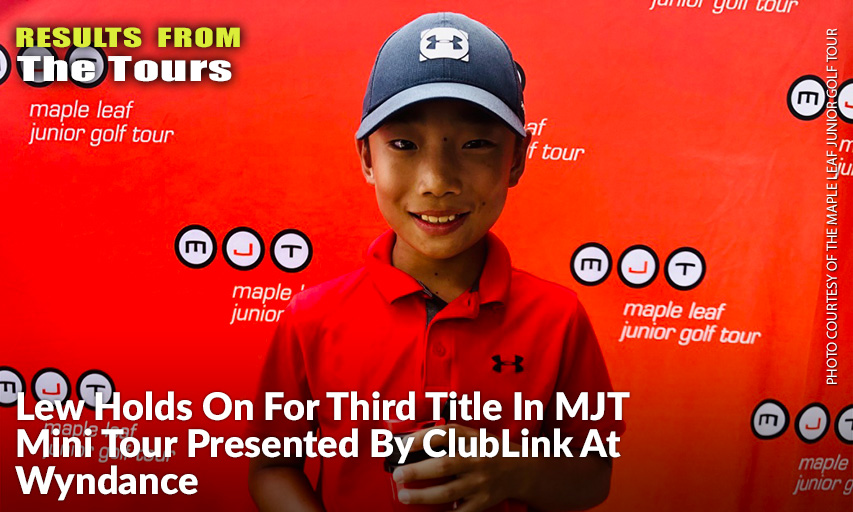 UXBRIDGE, Ontario — The MJT Mini Tour presented by ClubLink at Wyndance Golf Club ran in Uxbridge, ON, on August 11, where young golfers on the Maple Leaf Junior Golf Tour competed for titles in six divisions as well as valuable Order of Merit points and spots in the MJT Mini Tour National Championship at Tsawwassen Springs to be held on August 20 and 21 in Tsawwassen, BC.
The MJT Boys 11-12 Division witnessed Dawson Lew, 11, earn his third 2020 MJT Mini Tour title with a score of 58. The Markham, ON, rising star held on to the very end to win the division by just a single shot. "It feels great to win on my home course," commented Lew after winning the competition. "I made very [few] mistakes on the golf course."  
10-year-old Andy Dai, also of Markham, took home the title in the MJT Boys 9-10 Division with a score of 59. "The key to my victory was I putted and chipped well," mentioned Dai. "I feel very proud of myself for winning."
Maple, ON, junior golfer Shauna Liu picked up her first 2020 MJT win with her performance at Wyndance Golf Club. Liu, who has hovered near the top of the leaderboards all year long, broke through with a score of 62 to win the MJT Girls 11-12 Division by six shots. When asked about the competition, Liu mentioned her father and caddie whom she credits greatly for the support both on and off the golf course, saying, "The key to my victory was probably my caddie; I would have hit the ball into the fescue many more times if it weren't for him."
Edging out the victory in the MJT Girls 9-10 Division was Oakville, ON, resident Nobelle Park. The 10-year-old golfer fired a score of 63 to win the division by a single shot. "It feels exciting. I am grateful to have won," commented Park. "I really like the [MJT events] because they're lots of fun."
Seven-year-old Weijan Lu, of Markham, ON, came out to shoot a 73 in the MJT Boys 8U Division and commented, "Golf is a great game and I had lots of fun." Lu, who shows so much potential at a young age, also said, "These make me practice harder!"
Eight-year-old Kaeleigh Chung, of Richmond Hill, ON, fired a round of 74 in the MJT Girls 8U Division. Chung's game continues to impress all as she has made a name for herself this year on the MJT Mini Tour in Ontario. "I kept my routine on every shot," commented Chung. "I was very happy."
Full results can be viewed here. The next MJT Mini Tour presented by ClubLink at Wyndance Golf Club will take place back in Uxbridge on August 18. More information about the event can be found online at www.maplejt.com.
---
About ClubLink Corporation
ClubLink is engaged in golf club operations under the trademark, "ClubLink One Membership More Golf." ClubLink is Canada's largest owner and operator of golf clubs with 53.5 18-hole equivalent championship and 3.5 18-hole equivalent academy courses at 41 locations in Ontario, Quebec and Florida.  A ClubLink membership gives you access to every course in the ClubLink family. Simply choose a Home Club that suits your needs from a location and lifestyle perspective. It's where you will enjoy preferred access to tee times, participate in club events and play the majority of your golf. But no matter which Home Club you select, you've opened the door to every course in the ClubLink family. Click here to visit the ClubLink website.
About the MJT
The non-profit Maple Leaf Junior Golf Tour is Canada's number one-played Junior Golf Tour as well as the only national junior tour run exclusively by PGA of Canada Professionals and the 'Road to College Golf' in Canada. The organization is supported by valued Premier, Tournament and Product Partners. The MJT hosts close to 90 events across Canada, including free Ford Go Golf Junior Clinics, the MJT Mini Tour for 12U and multi-day events for competitive players aged 11-19 which also offer qualifiers for international tournaments. The program has annual awards, scholarships and incentives to help reward performance and participation throughout each season. MJT alumni include many Professional Tour players and PGA of Canada Professionals, as well as Canadian Amateur, National and Provincial Junior Champions. The MJT aims to develop champions, in golf and in life, promoting the game from grassroots through to the provincial, national, university and professional levels.