Angela Arora Wins BC Girls Juvenile & Junior Championships To Complete Her 'Triple Crown'
Details

Category: Inside Golf
Published: 2020-08-19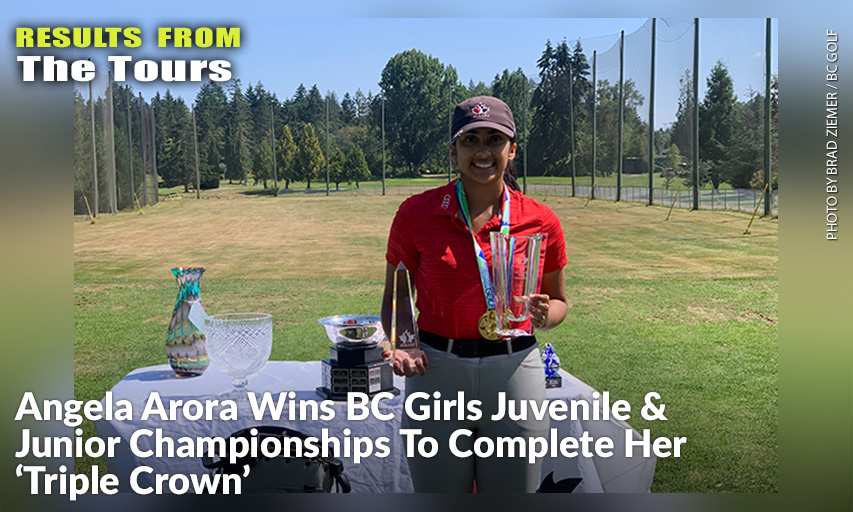 By BRAD ZIEMER, British Columbia Golf
DUNCAN, British Columbia — Surrey's Angela Arora knew she needed a birdie and some help. She got both on the 18th hole to win the B.C. Juvenile and Junior Girls Championships at Cowichan Golf & Country Club. After a bogey on the par 4 17th hole, Arora walked to the 18th tee trailing Luna Lu of Burnaby by two shots.
Lu put her drive into the right rough, while Arora found the fairway. Then things got interesting.
Lu's approach from about 125 yards went long, bouncing off the back of the green and into the parking lot out of bounds. Arora's approach settled about 12 feet behind the pin. Lu went on to make a double-bogey, while Arora drained her putt for a birdie and a one-shot win.
"All I wanted to do on 18 was make birdie," said Arora. "That is all that I had on my mind. That was a rough bogey on 17 and I just tried to stay calm and focus on my drive. I hit a good drive. That is a tough tee shot, especially because I hit a draw off the tee, I don't hit a fade. With a fade you can go around the trees, but with a draw you have to go over the trees and draw it. I was feeling pretty pumped with the tee shot."
Arora closed with a two-under 68 to finish the 54-hole event at three-over par. Lu, who had birdied the 17th hole to go two-up, closed with an even-par 70 to finish one shot back.
Arora hit three great shots on 18. "I had 120 yards left and it was 105 to carry the bunker and it was downwind so I was actually in between clubs," she said. "I took my 48 (degree wedge) and had a rip at it and it left me 12 feet behind the hole."
She knew the downhill putt was dropping the second her putter struck the ball. "It was left to right straight downhill," Arora said. "I knew it was in the whole way."
With the British Columbia Golf championship golf season condensed due to the COVID-19 pandemic, three titles were up for grabs at Cowichan: the Juvenile Girls and Boys Championships for players aged 16 and under and the Junior Girls Championship for players 18 and under.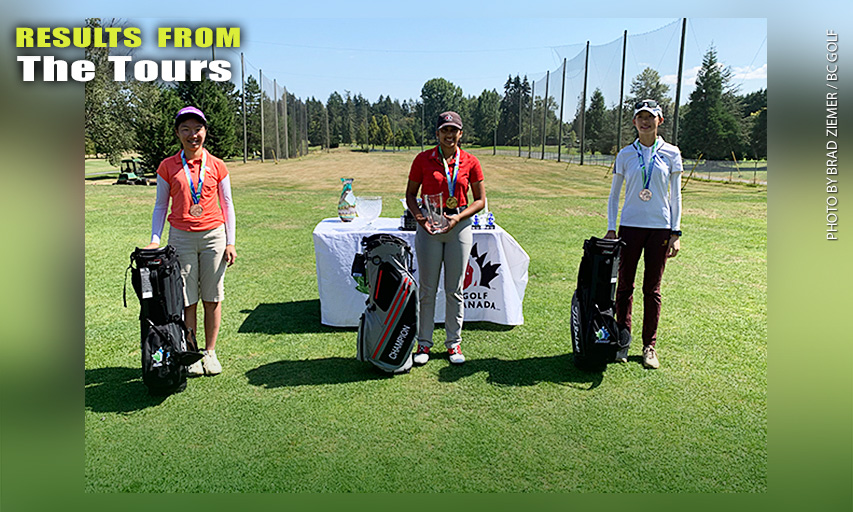 The BC Juvenile Girls Inter-Provincial Team: (From Left) Michelle Liu, Angela Arora, And Luna Lu.
The 16-year-old Arora, who plays out of Beach Grove Golf Club in Tsawwassen and attends Frank Hurt Secondary, won both the Juvenile & Junior titles to complete a triple crown of sorts. Arora, now a member of Golf Canada's national junior team, won the B.C. Bantam Girls Championship in 2017. "This was my last year as a juvenile, too, so this was clutch," she said. "It's nice to have won all three, Bantam, Juvenile and Junior. . .I definitely feel like my game is on the right track to do wonders."
Arora said her putter was the difference-maker in the final round. She began the day one shot behind second-round co-leaders Michelle Liu of Vancouver and Abby Chow of Coquitlam.
"My ball-striking was definitely on point this week," Arora said. "I was hitting a bunch of greens and giving myself lots of opportunities. The first two days I didn't make as many of those opportunities as I did today. Today the putting also clicked and that helped a lot."
Lu, a 13-year-old who plays out of Pitt Meadows Golf Club, was obviously disappointed with her finish. She made no excuses, saying in hindsight that she simply hit the wrong club with her approach shot into the 18th green. "I think I choose a club too much and maybe I should have taken more time to play the shot," Lu said. "I had 125 yards and I used my 9-iron. I think I should have used pitching wedge. I was in the rough and there was a little tree blocking and I tried to hit a little slice. I hit a pretty good shot. It was just too much club. I wish that I could have finished better, but there is always next time."
Liu closed with a three-over 73 to finish alone in third at five-over par. Surrey's Lauren Kim and Jennifer Gu of West Vancouver tied for fourth at six-over.
Click HERE for complete final results.