Many Contenders For PGA of BC Championship Title At Crown Isle
Details

Category: Inside Golf
Published: 2020-08-20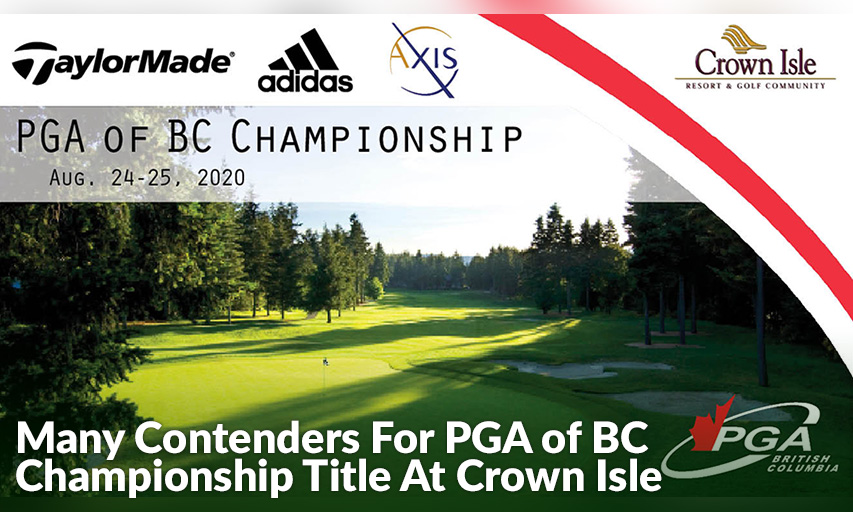 RICHMOND, British Columbia -– With no defending champion in the field and a number of new talents making their first appearances, the title is open for the taking at next week's TaylorMade & adidas Golf PGA of BC Championship presented by Axis Insurance Group.
A full field of 99 PGA of BC Professionals will be vying for the William Thompson Trophy and a share of the $35,000 purse over 36 holes at Crown Isle Resort & Golf Community on Monday and Tuesday in the Association's first individual stroke-play championship of the season.
The PGA of BC's flagship tournament will be conducted at the Courtenay facility for the third time, having been held at Crown Isle in 2009 and again in 2012. The Graham Cooke-designed layout is accustomed to hosting elite-level competition, having hosted Mackenzie Tour Qualifying Tournaments each spring for several years running.
"We're extremely excited to be hosting the championship," said resort Executive Professional Bill Kelly. "The course is playing fast and firm, and (superintendent) Colin Stairs and our crew here at Crown Isle have done a fantastic job of keeping the course in great shape."
The quality of the golf course is a vivid memory from the 2012 championship for Brad Clapp (Cultus Lake Golf Club), who won the event by four strokes after also capturing the Assistants' Championship earlier that season.
"The Assistants' was obviously huge, but (the PGA of BC Championship) was probably the biggest event that I had won to that point," said Clapp.
"A lot has changed since then."
In the eight years that have passed since that triumph, Clapp went on to become a winner on the Mackenzie Tour before returning to life as a PGA of BC Professional, taking on his first Head Professional posting at Cultus Lake last year.
Much like last month's Pro-Assistant Championship, the tournament will be conducted with some special COVID-19 protocols in place to safeguard all competitors, facility staff and volunteers. Although this year's public-health circumstances have resulted in fewer opportunities for Association members to compete this season, a reduced tournament schedule is an adjustment Clapp had already been making pre-pandemic.
"Taking on a new role and more responsibility and transitioning my life to being more of a Club Professional than a professional golfer was a focus last year," said the 33-year-old. "But I've definitely missed (the camaraderie) of PGA of BC championships."
Another past champion, Kevin Stinson (Cheam Mountain Golf Course) will be among the favourites at Crown Isle given his record of performance in PGA of BC events. In the 2018 winner's six previous starts at the PGA of BC Championship or Assistants' Championship, Stinson has played 10 of 12 rounds under par and has never placed outside the top five.
"I'm a single guy, so I still have a lot of time to work on my game compared to those with families and other obligations, so when I'm not working I do try to practice still quite a bit. That definitely helps me out a little bit," Stinson said of how he manages to elevate his game for PGA of BC tournaments.
"But I always kind of circle it on the calendar. It's like a major and something you try to peak for a little bit when you do get a chance to practice. We usually end up playing pretty good golf courses, too, so that also helps you get excited to get out there and play."
Clapp is among a bunch of past champions in next week's field capable of ascending to the title once again. Notably absent, however, is Bryn Parry (Seymour Creek Golf Centre), who cruised to a record-tying fourth PGA of BC Championship win by six strokes last year at Whistler Golf Club. In addition to the Association's all-time leader in victories sitting out, the complexion of the field is being shaken up by a number of first-time entrants for the event.
"There are a lot of young, talented guys coming up, which is awesome to see. For a few years there it seemed it was the Bryn Parry-Phil Jonas-Oliver Tubb Show for a long time," said Stinson, referring to the trio of Professionals who have combined to win each of the past three –- and 13 of the past 17 –- Stan Leonard Player of the Year Awards.
"So it's nice to see some fresh faces."
Among those fresh faces are two who made an instant impact at last month's Pro-Assistant Championship at The Okanagan Golf Club. Both in their first full year of membership, Quinn Vilneff (Northview Golf & Country Club) and Connor O'Dell (Chilliwack Golf Club) helped their teams to top-three finishes while making their PGA of BC tournament debuts.
O'Dell is one of a few recent products of the University of the Fraser Valley Cascades golf team making their first PGA of BC Championship appearance, including Cody Stewart (Cheam Mountain Golf Course) and Zach Olson (Chilliwack Golf Club). Another first-timer from Chilliwack Golf Club in the field is Jake Scarrow, who won the 2018 PGA of BC Tournament of Champions as an amateur with Matthew Palsenbarg (Point Grey Golf & Country Club) but has since turned pro after wrapping up his collegiate career with the University of Kansas Jayhawks.
Another player to watch in their PGA of BC Championship debut will be Lionel Taylor (Gallagher's Canyon Golf Club), who has quickly become a force on the Interior PGA Tour with multiple wins since becoming an Apprentice Professional, including last year's Interior Tour Championship. Meanwhile, Brady Stead (Olympic View Golf Club) has returned to Vancouver Island following a stint playing overseas and will make his first start since falling to John Shin (Northview Golf & Country Club) in a playoff at Capilano Golf & Country Club in 2017.
Part of the host facility's cohort, former Golf Canada National Junior Team player Mark Valliere will make his first PGA of BC Championship start as well. He'll be joined by Rod Prieto and Brian Wise as Crown Isle's representatives in the field.
Thinking back on the blueprint to his 2012 win at Crown Isle, Clapp said being in good position off the tee will be crucial.
"It's a very straightforward golf course from the middle of the fairway," he said. "Danger can definitely creep in on you … There's trouble lurking within one swing, so the key is going to be eliminating mistakes."
Kelly expects his facility to provide a tough but fair test for the field and is looking forward to an exciting finish on the back nine come Tuesday afternoon.
"I think the variety with which we can set the golf course up, along with the length and the pin positions, gives us a unique opportunity to challenge the Professionals at different levels," said Kelly.
"The field is so diverse that I think we'll have a lot of players near the top of that leaderboard and fighting it out until the last hole."
The Crown Isle community has once again stepped up to help make this year's Championship a premier event, with approximately 30 volunteers scheduled to assist with the tournament over the two days. 
"We have enjoyed tremendous support each time we have brought one of the PGA of BC's championship tournaments to Crown Isle, and this year will be no different," said PGA of BC Executive Director Donald Miyazaki. "We truly appreciate how Crown Isle members and residents always get behind our events as volunteers and spectators. Although it is unfortunate that spectators won't be able to participate this year due to COVID-19 protocols, we thank the Crown Isle community for its hospitality and know that its support will significantly enhance this championship."
Click here to access the tournament page and view all event details, including a list of confirmed competitors. 
PGA of BC CHAMPIONSHIP FAST FACTS
The full list of past champions competing at Crown Isle includes Stinson, Clapp, Shin, Gordy Scutt (Victoria Golf Club, 2014 & 2016), Lindsay Bernakevitch (Victoria Golf Club, 2011), Mike Haraguchi (Capilano Golf & Country Club, 2005), Philip Jonas (Philip Jonas Golf Academy, 2003).
Other notable past winners of the Assistants' Championship in the field include three-time winner Oliver Tubb (Lobb + Partners), two-time champion Palsenbarg and Kevin Maxwell, the 2009 Assistants' Champion who also finished as the runner-up to Clapp at Crown Isle in 2012 while playing in his hometown. Three-time PGA of BC Women's Champion Jennifer Greggain and recent Club Professional Champions Mark Kitts (Shadow Ridge Golf Club, 2019) and Dave Zibrik (Point Grey Golf & Country Club, 2016) help to fill out the talented field, as do past national championship winners Brian McDonald (Fairview Mountain Golf Club) and Kyle German (Bald Eagle Golf Club).
Next week's tournament will be the first PGA of BC Championship conducted in the Vancouver Island region since 2016, when Scutt was triumphant at Royal Colwood Golf Club.
Stinson and Parry won each of the past two championships with a total score of 135, which is the gross record since the tournament returned to a 36-hole format in 2013. Stinson's 9-under two years ago is the scoring record relative to par in that time. The overall scoring record in a 36-hole PGA of BC Championship still belongs to Al Kennedy, who captured the 1974 title with an 11-under 133 at Meadow Gardens Golf Club.
Parry's fourth title last year equalled Scott Minni for the most wins all-time in the event, a record that will now stand until at least next season.
The tournament will serve as the qualification event for the PGA of BC's Inter-Zone Teams for upcoming PGA of Canada championships, assuming they are conducted as planned. The top four finishers eligible for the PGA Assistants' Championship of Canada will be offered spots on BC's Inter-Zone squad for the event, while the top four players eligible for the PGA Head Professional Championship of Canada will receive similar invites to join BC's team for that tournament. 
This year's winner will once again receive a championship ring courtesy of title sponsors TaylorMade and adidas Golf in addition to the $6,300 winner's share.
---
About TaylorMade
Headquartered in Carlsbad, California, TaylorMade Golf is a leading manufacturer of high-performance golf equipment with industry-leading innovative products like SIM metalwoods, P790/P770 irons, TP5/TP5X golf balls, along with the newly launched P790 irons and Milled Grind 2 wedges. TaylorMade is the No. 1 Driver in Golf and also a major force on the PGA TOUR with one of the strongest athlete portfolios in golf, that includes Dustin Johnson, Rory McIlroy, Jason Day, Jon Rahm, Collin Morikawa and Tiger Woods. Learn more at www.taylormadegolf.ca
About adidas Golf
For over 80 years, adidas has been part of the world of sports on every level, delivering state of-the-art sports footwear, apparel and accessories. Today, adidas is a global leader in the sporting goods industry and offers a broad portfolio of products. Our strategy is simple: continuously strengthen our brands and products to improve our competitive position and financial performance. adidas golf partners with the top tour athletes who continue to win, including World No. 1 player John Rahm, No. 4 Dustin Johnson and recent PGA Championship winner Collin Morikawa. The company's products resonate with consumers thanks to industry-leading performance from TOUR360 footwear, the Ultimate bottoms franchise and much more. adidas Golf has a fully dedicated team that supports the Canadian marketplace with industry-leading products and service. Visit www.adidas.ca/golf.
About Axis Insurance Group
The Axis Insurance Group was formed in 2017 through a brand amalgamation of several BC-based insurance brokerages with roots tracing to 1928. The experience of its combined 150 team members is uniquely positioned to serve Canada with risk-management and insurance services. Contact Axis to find out what coverage is available to be customized for your facility, whether its protecting your commercial property, insuring a tournament's hole-in-one contest and everything in between. By partnering with the largest insurance companies in Canada, Axis Insurance Group has access to the best coverage solutions on the market. Consider them for your personal needs as well, including for auto, travel, homeowner or tenant insurance and more. Visit axisgroup.insure to learn more.