Canada's MJT Mini Tour National Champions Crowned At Tsawwassen Springs
Details

Category: Inside Golf
Published: 2020-08-27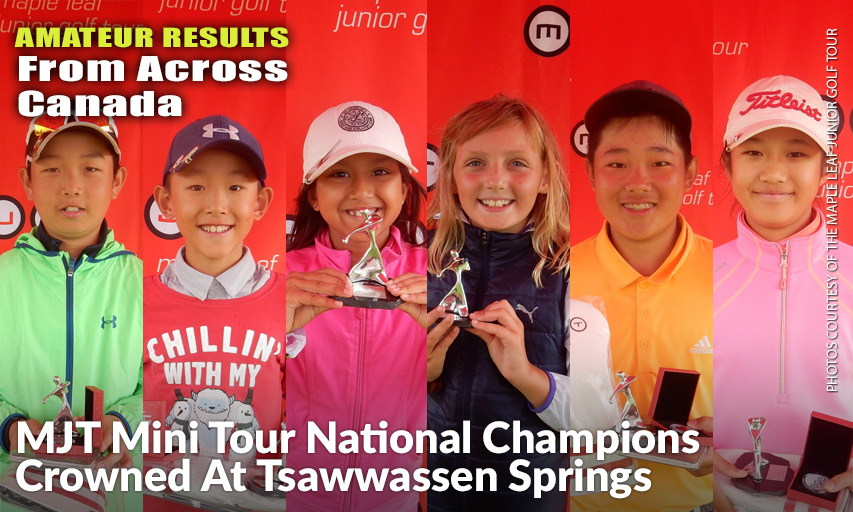 TSAWWASSEN, British Columbia — Canada's number-one played Tour for young golfers, the Maple Leaf Junior Golf Tour, hosted the prestigious finale in Canada for golfers aged 12 and under in Tsawwassen, BC, on August 20 and 21 - the MJT Mini Tour National Championship at Tsawwassen Springs. The event featured two days of competition with players qualifying from across the country based on their performances in their regional MJT Mini Tour circuits. Playing through rainy, windy conditions, the young athletes competed on the well-manicured Tsawwassen Springs golf course, all hoping to take home the coveted National Championship title in one of the six divisions, with the Low Overall Boy and Girl earning exemptions into the major-ranked MJT National Championship presented by TaylorMade and adidas Golf at Morgan Creek Golf Course in Surrey, BC, October 9-12. 
The MJT Boys 11-12 Division saw spectacular scoring from BC players who flooded the top of the leaderboard. Carding a pair of 69's (138) to win the division by one shot was 12-year old Jerry Li, of Vancouver, BC. Li recorded eight birdies over the 36 holes, managing to outlast an incredibly talented field of golfers. "My key to victory was my driving and getting the ball in play," commented Li. "I was also able to make my eight and ten-foot putts." Li, who won the first event on the 2020 BC Mini Tour circuit, returned to the winner's circle at the right time becoming the 2020 MJT Mini Tour Boys 11-12 National Champion. Finishing runner-up in the division with scores of 70 and 69 (139) was Surrey, BC's Sukhraj Singh Gill, 12.
The MJT Mini Tour Girls 11-12 National Champion was Vancouver-golfer Lucy Lin, 10, who fired rounds of 71 and 70 (141) to earn back-to-back National Championship titles after her Girls 9-10 victory last year. Lin, who had not finished outside the top five on the 2020 BC Mini Tour circuit, played very consistent golf at Tsawwassen Springs, making five birdies and many pars on her way to victory. "I had been working hard on my short game," she commented. "My putting today was also good." 12-year old Ha Young Chang, of Surrey, BC, fired rounds of 75 and 70 (145) to take home second place.
The MJT Mini Tour Boys 9-10 National Champion was 10-year old Jonathon Xia, of Surrey, who shot 69 and 76 (145) to win the title. Xia, who picked up two wins on the MJT BC Mini Tour season this year including at the recent MJT Harry White Little Masters at Kings Links by the Sea, showed why he deserved to be at the top of leaderboard making six birdies in total, five of them coming on the first day. "I had a great first day because my putting and chipping were good," commented Xia. "The second day was the opposite; my irons were good." Jayden Arnold, 10, of Calgary, AB, fired two rounds of 74 (148) to finish in second place.
The MJT Boys 8U Mini Tour National Championship title was captured by eight-year old Jackson Wang. The Surrey, BC-resident fired an opening round of 76 to take a one-shot lead and took it low on the second day shooting an excellent 67 (146) to win the division title by three shots. Wang, who earned his ticket to this event after an impressive win at the MJT Harry White Little Masters at Kings Links by the Sea, continued his momentum by putting on a solid performance at Tsawwassen Springs. "I hit my drives straight and that put me in good position," remarked Wang. "My putting was much better at this [event] and I'm happy to win." Eight-year old Mason Garant, of Windsor, ON, after firing a round one score of 77, made an excellent run at the title shooting 69 on the second day. Garant's brilliant efforts earned him a runner-up finish.
Becoming a Mini Tour National Champion in the MJT Girls 9-10 Division was nine-year old Kathleen Dunn. The Surrey, BC-player carded 85 and 82 (167) to earn the title by three shots. Dunn, who finished third in this competition last year, has had a tremendous 2020 season picking up two wins in BC this season and added to her success with a National Championship title. "I took many deep breaths," remarked Dunn, who was able to draw on her previous experience to come back and win this year's trophy. "I focused on my [round] and tried not to think about anything else." Port Moody, BC, golfer Lilian Zhao, 10, shot 84 and 86 (170) to finish in second place.
Eight-year old Riviera Lindholm, of Toronto, ON, was crowned the 2020 MJT Mini Tour Girls 8U National Champion after her winning scores of 86 and 85 (171). Lindholm's Mini Tour campaign has included one win last year and a runner-up finish this year. Her game came together at the perfect time as she now adds the National Championship title to her repertoire. "The key to my win was staying happy and calm," commented Lindholm. Lindholm, with her performance at Tsawwassen Springs, will be someone to watch over the coming years on Canada's number-one played junior golf tour.
Jerry Li and Lucy Lin both receive exemptions into the major WAGR-ranked MJT National Championship presented by TaylorMade and adidas Golf. For more information including on the upcoming MJT Mini Tour post-season events, please visit www.maplejt.com.
---
About the MJT
The non-profit Maple Leaf Junior Golf Tour is Canada's number one-played Junior Golf Tour as well as the only national junior tour run exclusively by PGA of Canada Professionals and the 'Road to College Golf' in Canada. The organization is supported by valued Premier, Tournament and Product Partners. The MJT hosts close to 90 events across Canada, including free Ford Go Golf Junior Clinics, the MJT Mini Tour for 12U and multi-day events for competitive players aged 11-19 which also offer qualifiers for international tournaments. The program has annual awards, scholarships and incentives to help reward performance and participation throughout each season. MJT alumni include many Professional Tour players and PGA of Canada Professionals, as well as Canadian Amateur, National and Provincial Junior Champions. The MJT aims to develop champions, in golf and in life, promoting the game from grassroots through to the provincial, national, university and professional levels.