The Stony Plain GC Has Its Biggest Defence Back
Details

Category: Inside Golf
Published: 2017-08-10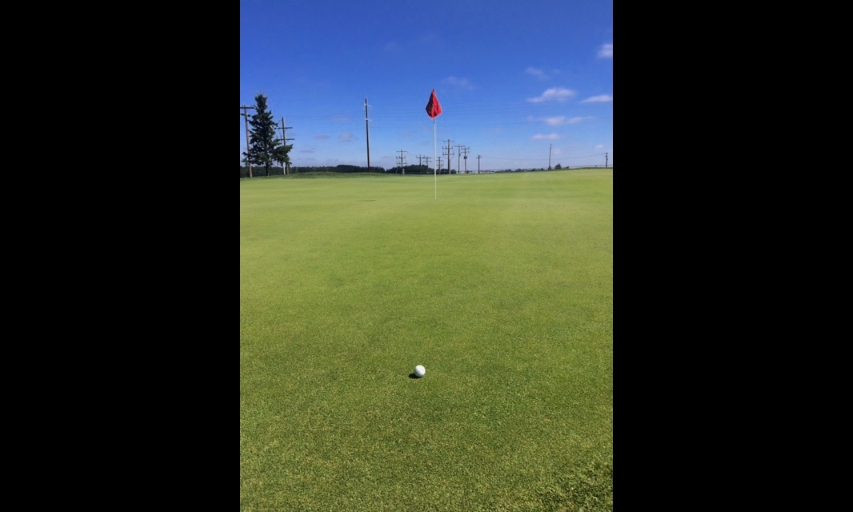 (Photo/Gord Montgomery)
STONY PLAIN, Alberta (Gord Montgomery/iG) —  They're baaack ... and as good as ever.
That's the word from the Stony Plain Golf Course, where a late season chemical reaction involving fungicide and fertilizer didn't sit well with the putting surfaces at the community owned 18-hole track. As a result, that caused a lot of grief for the layout, at least up until now.
Now, things are back where they should be because the putting surfaces are what this muni is famous for.
"We did have some chemical damage at the end of last season, and no, it absolutely wasn't malicious," Jeff Cuthbertson, the executive professional/manager at the course said to rumours that had been circulating. "Simply, it was a chemical reaction that didn't go our way, unfortunately. It ended up burning the greens (the leaf of the grass but not the crowns) and with the early winter and the colder temperatures this spring, things were just slow to get going."
Now though, things are going well all over the course, Cuthbertson continued.
"We're back now. We're pretty well at 100 per cent. The back nine is fantastic at this stage. The front nine, there's almost no damage left that you can see, or notice.
"Tee to green we've been real good all year long. Just the greens and some of the surrounds were a little slow to catch on and come back to what our standards are."
To remedy the early problems, a plan of action including lots of overseeding and verticutting were done, Cuthbertson continued.
"We probably put enough gass seed out there to seed three or four 18-hole golf facilities. Constant overseeding. top dressing to protect the new seed, and we've even gone as far as going back on a couple of greens to aerate. Basically rebuild the soil structure to give it a healthier structure for grass to grow."
While a lot of time, effort and money have been spend in fixing this problem, the golf course's reputation was at stake, said the manager. After all, Stony is, and has always been known first and foremost, for it's putting surfaces.
"These have always been some of the fastest putting surfaces on a public golf course in the Edmonton area and we're back to that. They've also been protection for the golf course. From tee to green, the course is pretty generous, relatively playable. The greens were always the equalizer with some pretty severe slopes, some tough spots where you could tuck pins and make it tough to play. The greens were really what the golf course is known for and really, that's what our reputation was, how good the greens have always been."
As for those who visited early on and didn't like what they found when putting, or who simply heard rumours of how poor the greens were, those have now been taken care of, said Cuthbertson.
"People need to come see for themselves. You hear the rumours, listen to the rumours and people think, "Well, I'm not gonna take my chances, spend my hard-earned dollars when there are so many great courses in Edmonton. It does take time for people to come back, see, and play and go, "That's the Stony golf course I remember!"
Social media has helped spur the number of rounds played as of late as the greens return to normal. The one thing not done during since the start of the season was taking advantage of unsuspecting customers.
"For fifty percent of our season, we ran a reduced rate," said Cuthbertson. "The key was being fair to our customers. We didn't want people to feel they were being taken advantage of. We wanted them to feel, "Yeah, it wasn't great but it (price) was still fair."
And with a couple of months of play left, if not more, there's more than enough time for everyone to get out and experience the Stony Plain Golf Course the way it was meant to be — with smooth, fast putting surfaces on each and every hole because yes indeed, they are baaack and as good as ever.