Little 9-Hole Track Holds An Amazing Spot In Western Canada Golf History
Details

Category: Inside Golf
Published: 2017-08-10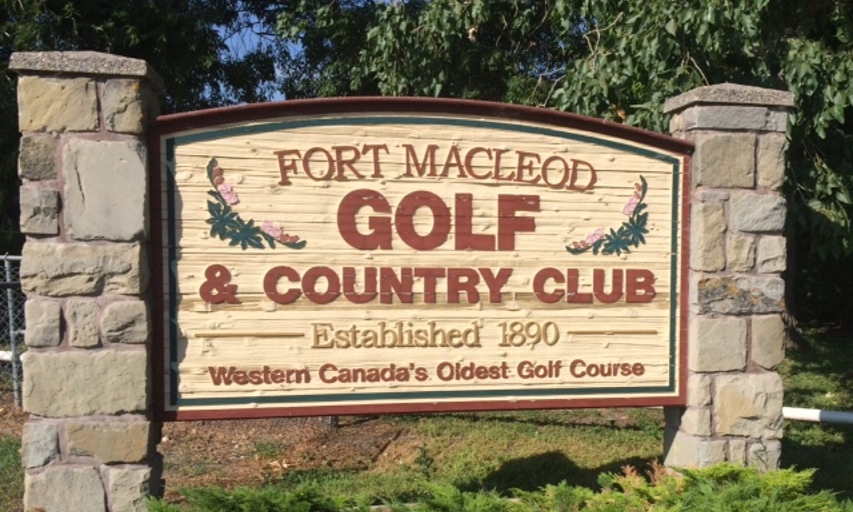 The Entry Sign At The Fort MacLeod Golf Course Pretty Much Sums Up The History Of This Place In One Simple Phrase. (Photo/Gord Montgomery) 
FORT MacLEOD, Alberta (Gord Montgomery/iG) — History was never this much fun in high school. Ever.
If you're ever in a pensive mood on your local layout and wondering where the first golf course in the wide open west between Winnipeg and the West Coast was built, wonder no more. We have the answer ... and no, it's not a big city track.
Rather, it's a fun and interesting 9-hole test in Fort MacLeod, the home of the North West Mounted Police and as it turns out, the home to the first course for miles and miles and ...  well, you get the idea.
Constructed in 1890 there are still remnants of its long ago past, including the odd shell casing from when the NWMP used what is now the first fairway as a shooting range. And when you wander down the fairway on hole No. 2, buffalo wallows (natural temporary watering holes)  are still visible. And, you may even come across the odd buffalo or cattle bone to boot.
You can't get much more hands-on history than that. Or, maybe you can.
On No. 9, the old wagon train trail that ran through Fort MacLeod up to Calgary to the north can still be seen. And oh yeah, the H.R.H. Prince of Wales (Edward VIII) teed it up here in 1924.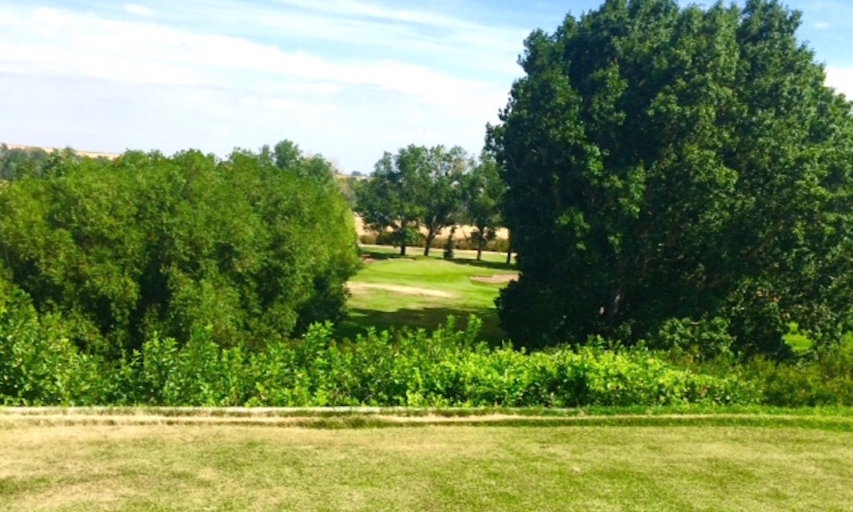 Yes, This Is A Tee Box, and Yes, That Is The Green Way Down Below On This Par 3 Test That Is Flanked By Not Only These Trees But OB To The Left. (Photo/Gord Montgomery)
Speaking toits extraordinary history, the club's General Manager of Operations, Shawn O'Sullivan, said he isn't exactly sure who was responsible for the construction of this first-of-its-kind facility.
"I myself am not sure who is responsible for the design as it was built so long ago any of the members or people that knew or had knowledge have since passed. I myself was told that the North West Mounted Police played a part in the design and have only been able to find that info as to the original builder. I have also found that the first ever recorded game of golf in Alberta was played in Fort MacLeod in 1885," he said via email.
As to the course as it now exists, where huge old trees line the fairways, O'Sullivan wrote: "The original course layout has changed a bit. At one point they had holes 2 and 3 on top of the hill. I am not sure if hole one was on top of the hill or not.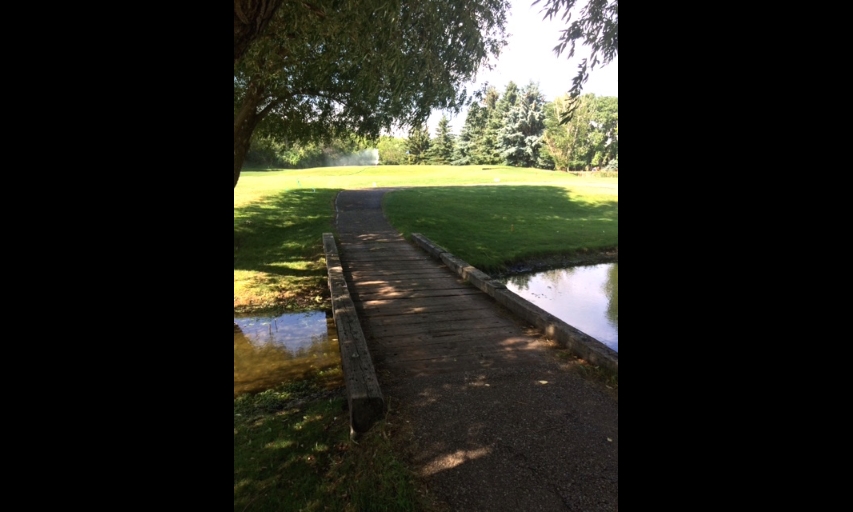 The Course Is Framed Everywhere By Huge, Beautiful Trees Which Truth Be Told, Can Be Really Tough To Go Over, Or Through, If You Get On The Wrong Side Of Them. (Photo/Gord Montgomery)
"The biggest improvements would be replacing the holes and then replacing sand greens with grass. Over the past 3 years the biggest improvements would be the clubhouse renovation, new patio, storage and cart sheds as well as the new No. 1 hillside tee box and the water pond and fountain to the north of green on 9. All of this has been done over the past few years and has been done with the help of some major supporters in our business community and countless volunteers."
While it seems that almost every small town on the Prairies has a golf course, or a course nearby, there is a real sense of pride of ownership of this little beauty.
"We pride ourselves on being a community down here and I think our members, staff, and board of directors do a fantastic job in promoting it," wrote O'Sullivan. "The golf club is very vital to the town of Fort MacLeod and as someone whose family and self grew up here, I can honestly say a large part of the town has spent countless hours down here, making long lasting friendships and memories. It has impacted many peoples' lives for the better. We are lucky to be in a unique area and we boast a historic, fun, and well kept course that brings people from all over to play."
So, if you're your wagon train is headed down the highway anywhere near Fort MacLeod, and you have your sticks rattling around in the wagon's bed, make sure you stop in and play this intriguing little beauty if for nothing more than its historical significance.
---
About the Writer
Gord Montgomery is a retired sports editor of two weekly newspapers in the Edmonton area and is a member of the Golf Journalists Association of Canada. He is now in his ninth year of writing for Inside Golf.
He can be reached at This email address is being protected from spambots. You need JavaScript enabled to view it.. He's also on Twitter at @gordinsidegolf and on Instagram at gordinsidegolf2.