Jamie Sadlowski Admits Learning Curve In Pro Golf Is Steep
Details

Category: Inside Golf
Published: 2017-08-18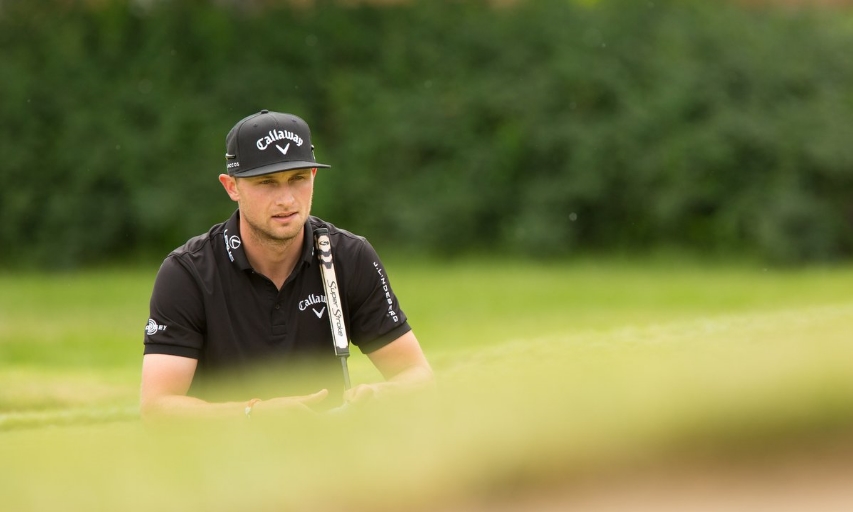 (Photo/Twitter.com/OilCountryChamp)
CALGARY, Alberta (Gord Montgomery/iG) — The learning curve for Jamie Sadlowski in going from hitting only one club to 14 has been steep. Then add the challenge of now having to set his big drives down in fairways of all shapes and sizes opposed to having to hit one that was always 60-yards wide and life has taken a turn for him, although not for the worst.
You see, this is the world now for Sadlowski as a professional golfer as opposed to that of his former life in the long drive world, but it is one he's slowly getting a handle on.
Coming off his strongest showing the year in Calgary, where he tied for 14th at the Mackenzie Tour - PGA TOUR CANADA's ATB Financial Classic in Calgary after a superb final day 64, the two-time World Long Drive champ acknowledged it's been a bit of a grind to this point of the season.
"It's a funny game," the young man who grew up in, and still has a home in St. Paul, Alta., began of that last round that followed a 3-over 74 the day before. "It's obviously been a learning experience to be thrown right into the fire but I don't think there's a better route. Not having full status this year — finishing 30th at Q-School really doesn't get you anything — I got some sponsors' exemptions," of which he's made the most of.
He made the cut in Kelowna on one of two B.C. stops before struggling as he headed further east, Monday qualifying in Winnipeg but "played terribly there," then missing cuts in Thunder Bay and Montreal, before making grade in Edmonton on the number and Calgary.
As a guy who's more used to hitting six shots at a time in competition opposed to somewhere around 70 now, there have been a few adjustments he's had to make, he continued.
"I think it's just trying to keep my focus. I've always been a bit of a scatterbrain, going every which direction," he explained of changing games, and game plans. "When you tee off on the first hole you have to be locked in. It's a long day. You're alone with your thoughts and knowing what you have to do and then doing it, so it's a matter of learning. Some days are good. Some days are bad. I think I learn more from the bad days than the good but you have to keep an even keel. That happened yesterday (Saturday in Calgary) where I hit some bad shots and it just kind of snowballed. Then today was a good day. Everything is a learning curve."
As to how his long game comes into play — after all he has hit a drive of 434 yards in his former job — it is something he makes use of, but not in the way one might imagine. These days he's not into driving greens that sit 400-plus yards away. Rather, he uses his length to his advantage with the scoring clubs.
"Length will always be a benefit but that doesn't necessarily have anything to do with hitting driver on every hole," he explained. "I think if I'm hitting a 9-iron on a hole where someone else is hitting a 6-iron, that's the length advantage I have. For example this week the golf course was playing to 7,200 yards and obviously there's some elevation in Calgary, but I think I used one driver a day, maybe two."
As to a timeline on his career shift, Sadlowski figures three years should tell the tale as to where he stands in this part of the world of professional golf. Right now though, he suggests, it's day-to-day, learn what it takes to succeed and then see how things stack up down the road.
"We'll see. We'll assess things once this year is over, see where I'm at and go from there. It depends on my quality of play. I think I'm gonna know if it will happen or not. I'm not someone who's going to be beating a dead horse at 40 years old. Three years is pretty fair. When you're 29 and playing kids fresh out of Div 1 schools who have been playing competitive golf all their lives, I'm kind of behind the 8-ball that way. I want to be fair to myself. So, I think that in a year and a half if I can't get my game going at least in the right direction to where I think it should be at, then we'll reassess. But I think that three years is a pretty fair time frame."
His place now in the World Golf Rankings, where he sits at 1,967 is a fair drive away from his former glory spot as the world No. 1 seed in Long Drive, is certainly a different spot for him. But then again, he wasn't ranked at the top in his former profession right away so this part of the game is a challenge Sadlowski's willing to chase, at least for a couple more years.
---
About the Writer
Gord Montgomery is a retired sports editor of two weekly newspapers in the Edmonton area and is a member of the Golf Journalists Association of Canada. He is now in his ninth year of writing for Inside Golf. He can be reached at This email address is being protected from spambots. You need JavaScript enabled to view it.. He's also on Twitter at @gordinsidegolf and on Instagram at gordinsidegolf2.