An Island In The Middle Of The Prairie
Details

Category: Inside Golf
Published: 2017-08-23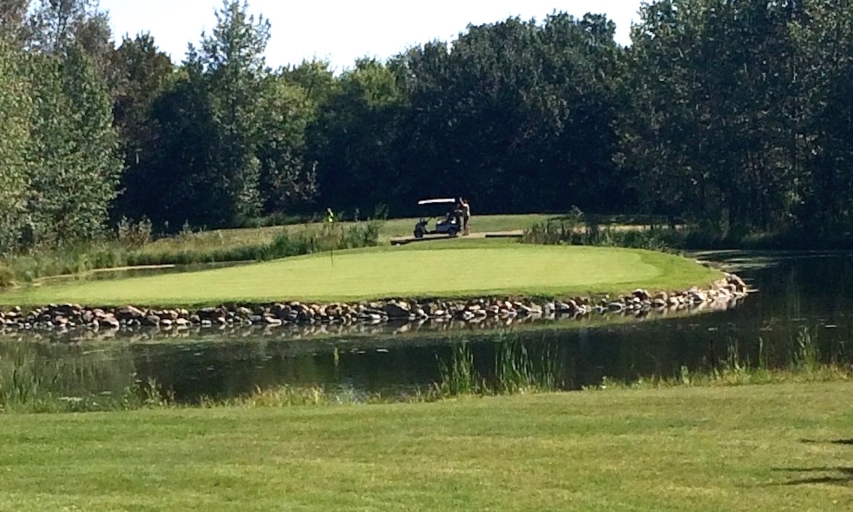 The Island Green At The 9-Hole Daysland Golf & Country Club Is As Picturesque As One Would Imagine And Comes Up Out Of Nowhere On This Small Town Course. (Photo/Gord Montgomery)
DAYSLAND, Alberta (Gord Montgomery/iG) — If you look hard enough you'll find unexpected things in the ocean of Alberta's prairie grain vistas, such as an island.
In this case, that island is situated at the Daysland Golf & Country Club, after a member-driven proposal set the works in motion for changing the face of their local layout by adding a unique hole to what one usually finds on grassland courses.
Club president John Levitt said the unique hole, measuring 120 yards, was brought about by the desire of the club's younger board members wanting something different. And thanks to volunteer labour they got it.
The hole comes out of nowhere it seems, tucked away behind some trees. You take a turn after the par 5 second hole and there it is, a rock- and water-surrounded putting area that is as eye-catching as a prairie sunset.
"This was finished three years ago, but it was a dream for 10 years," said Levitt, adding the club itself in the town of 800 has been in existence since 1948. Generational transitions have taken place first going from sand greens to grass and finally the island green which required some rerouting of other assignments here.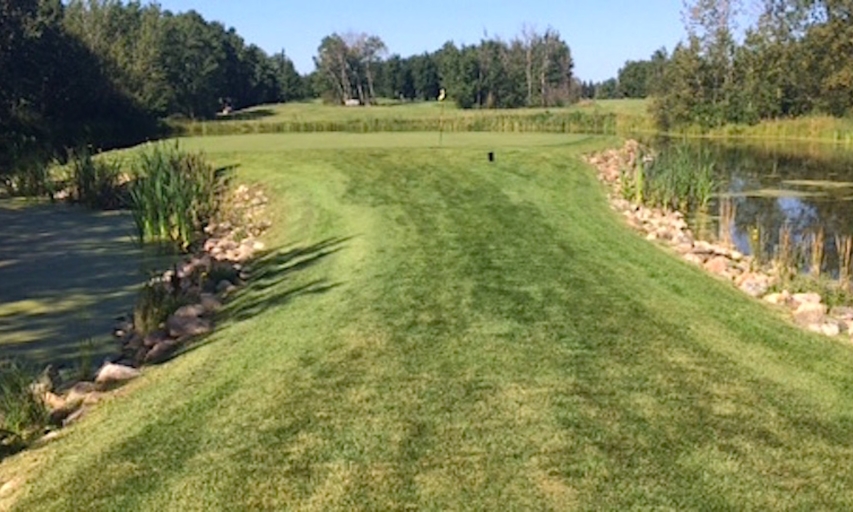 A Narrow Walkway Behind The Island Green Leads To The Putting Surface But Doesn't Afford A Player Much Of A Bailout Area For A Shot That's Too Long On The 120-Yard, Par 3 Assignment. (Photo/Gord Montgomery)
The cost of the newest addition was around $25,000 thanks largely to the volunteer labour that went into the project. That expenditure has likely been easily repaid by now, as Levitt noted, "People do come here to see it and then come back to play it again."
The person most likely wanting to play the hole again and again is local resident Kevin Weller who recorded the first ace on the island in its first year of existence. The story, as it goes, had Weller hitting a tee shot and figuring it was going to be short, which it was, turning away in disgust.
The thing is, his ball ricochetted off the stones fronting the green, flew high in the air and  — you guessed it — came down in the hole. So while Weller never saw the ball go in the hole, in a tournament round no less, he did see the end reward of that swing, a cheque for $5,000 going into this pocket for a shot that while he never saw it, he'll never forget.
As for how many water balls there have been at the now famous prairie island green, no one has a number, at least as of right now. Levitt noted the pond has yet to be cleaned out, but added,, "There are likely thousands in there!"
So as a result of wanting a prairie golf course with a bit of difference, the members at this little 9-hole course found it with their island green, a unique idea that through the efforts of volunteers became a reality.
---
About the Writer
Gord Montgomery is a retired sports editor of two weekly newspapers in the Edmonton area and is a member of the Golf Journalists Association of Canada. He is now in his ninth year of writing for Inside Golf. He can be reached at This email address is being protected from spambots. You need JavaScript enabled to view it.. He's also on Twitter at @gordinsidegolf, and on Instagram at gordinsidegolf2.