Bruce Steals PGA Of Alberta Championship On The 18th!
Details

Category: Inside Golf
Published: 2017-08-23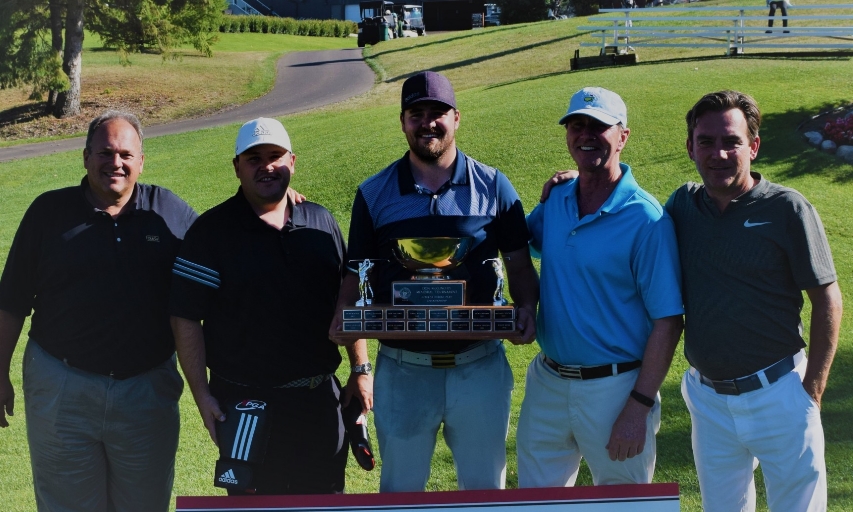 PGA of Alberta Champion Adam Bruce (Glendale G&CC) with Club Car Reps Art New & Phil McDonald, TaylorMade adidas Rep Jared Engel, and Host Professional Todd Fiske. (Photo/PGA of Alberta)
RED DEER, Alberta (PGA of Alberta) — The warm weather and ideal course conditions made for a perfect day at the River Bend G&RA as 97 competitors went into round two of the PGA of Alberta Championship, sponsored by Club Car - TaylorMade adidas.
Starting the day at 4-under, Adam Bruce (Glendale G&CC) was able to sneak passed day one leader, Albert Pistorius (Pinebrook G&CC) with an eagle on 18 to claim his first Championship title. Bruce has only won one other PGA of Alberta event being the Professional Series at Cardiff G&CC in 2016. He will now walk away with $5,400 in prize money for winning the Championship with a 68-68-136 (8-under).
Although Pistorius held off the majority of the field with his consistent game throughout the day, the 18th hole proved challenging for him as he lost the lead after hitting his tee shot into a hazard. Pistorius fell into second place and created a three-way tie with Wes Heffernan(Golf Canada Centre) and Blaine Kruger (Stony Plain GC), all carding a two day total of 7-under 137.
Keeping calm while under presser and rounding out the top five wasKeith Whitecotton (The Quarry) after scoring a two day 139 with a second round score of 5-under 67.
Next Championship on the schedule is the Senior Championship at Belvedere G&CC in Edmonton on September 6 & 7 which will see approximately 30 of the top senior Professional all over the age of 50.