Eagle Lifts Bruce To PGA Of Alberta Championship Title
Details

Category: Inside Golf
Published: 2017-08-25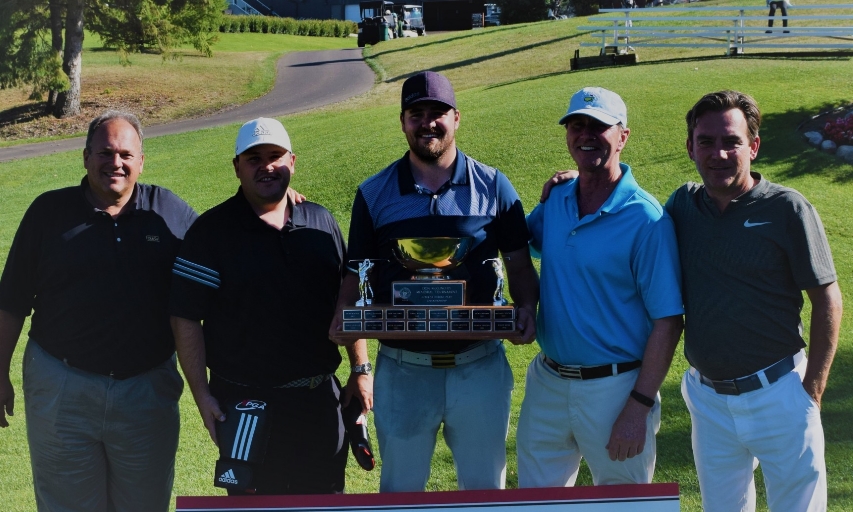 PGA of Alberta Champion Adam Bruce (Glendale G&CC) With Club Car Reps Art New And Phil McDonald, TaylorMade adidas Rep Jared Engel, And Host Professional From The Riveer Benc Golf Course, Todd Fiske. (Photo/PGA of Alberta)
 RED DEER, Alberta (Gord Montgomery/iG) — Sometimes tee box conversations with a playing partner can turn out to be a precursor to what's about to happen. Such was the case for Adam Bruce on the final hole of the 2017 PGA of Alberta Championship at the River Bend Golf Course where he, along with playing partner Blaine Kruger, joked they should go eagle-birdie to wrap things up and then meet in a playoff to decide the tournament winner.
Bruce, from Edmonton's Glendale Golf & Country Club and Kruger, from the Stony Plain Golf Course, trailed the leader Albert Pistorius (Pinebrook G&CC) by one shot at the time. As it turned out, half the conversation between the two pursuers came true.
Bruce nailed his second shot on the par-5 18th (normally the ninth hole) to within a few feet then calmly rolled in the eagle putt to pull out a one shot victory over Kruger, Pistorius and Calgary's Wes Heffernan to earn his first major PGA of Alberta title.
"Blaine joked with me we needed to get to eight (under par) because we thought Albert would probably birdie," said Bruce. "So, I said I'll make three and you make four."
From 240 yards out Bruce drilled his second shot on the 540-yard hole using a 4-iron noting, "It was probably less club than I'd normally use but I had so much adrenaline going and I only needed to fly it 215, 220 because the greens were really firm."
His intended final resting spot, the middle of the green, was passed by as the ball rolled to the back of the green leaving him "six, eight feet," for the eagle which he made. Then, the waiting began.
"I paced back and forth. Did everything but watch. I just heard everyone's reaction and then everyone came to shake my hand," said Bruce of the final few not being able to catch him.
That approach shot from the rough was something else, said Kruger.
"It was incredible! We were almost in the exact same spot; he was about five yards behind me so he hit first, and he just h it a golf shot. He stepped up and hit one of the best shots I've seen, really. Yeah, it was hard to follow that shot. That was a heck of a golf shot to hit!
"And he was one shot behind at the time so he needed to hit that shot and for him to step up with a lot of pressure, everybody watching, it was really impressive."
Bruce explained that the greens at the host club were large and he often found himself on the wrong side of the hole for most of the last day and "putting defensively," with the exception of the final hole. "Really, the only makable putt I had was that one on 18!"
The winner noted that with Kruger playing well he just jumped on that bus and both had great days. "I ran into him on the putting green before we started and jokingly said, "Let's got some mojo going!" which they did as both started with birdie. "We fed off each other all day."
Going forward, this magnitude of this win over a really strong field including Heffernan who finished second in the Calgary Mackenzie Tour event the week before and two-time champ Dustin Risdon — who had to withdraw due to car problems — is taking a while to register, said Bruce.
"It hasn't even really sunk in yet. I don't even know how I feel yet," he said the next day. "I definitely feel accomplished. The field was very strong this year and I couldn't be happier."
As to the manner in which he won, Bruce said, "I have never done anything like that to win before but I have eagled that hole in the past, so I kind of had some good vibes going in. When I scanned my yardage from the fairway and had 240, 245 in, it was, "OK. Let's hit a good shot."
"For him to come up with that kind of golf shot, he was deserving of the win, for sure," stated Kruger.
"This is by far the biggest one I've ever won," continued Bruce in closing. "Obviously there's pipe dreams to win but looking at the field, it was unlikely, that's for sure. I'm beside myself, very happy, that's for sure!"
For the win, Bruce collected $5,400 plus a skin on Day 2 worth $405 while Kruger, Heffernan and Pistorius all pocketed $2,816 for their efforts.
---
About the Writer
Gord Montgomery is a retired sports editor of two weekly newspapers in the Edmonton area and is a member of the Golf Journalists Association of Canada. He is now in his ninth year of writing for Inside Golf. He can be reached at This email address is being protected from spambots. You need JavaScript enabled to view it.. He's also on Twitter at @gordinsidegolf, and on Instagram at gordinsidegolf2.