Thomson & Wingnean Victorious At The Alberta Bantam & Novice Championships
Details

Category: Inside Golf
Published: 2017-08-28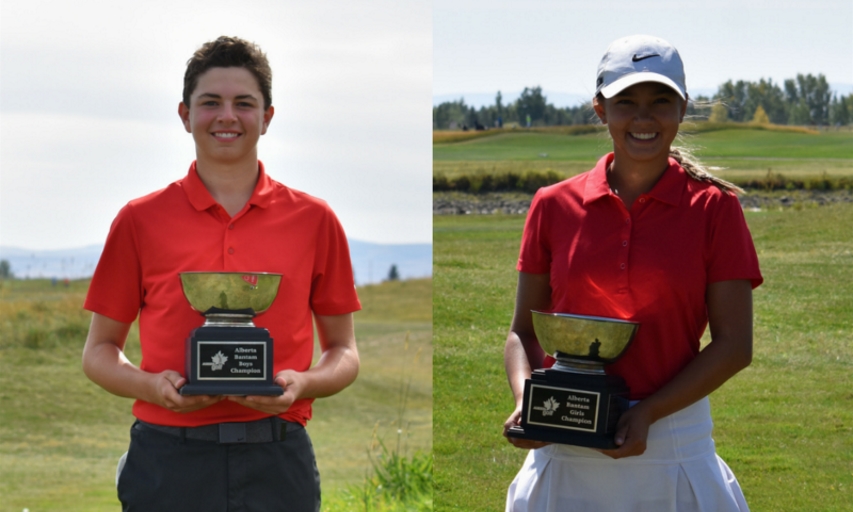 Hunter Thomson & Kaitlyn Wingnean (Photo/Alberta Golf)
CLARESHOLM, Alberta (Alberta Golf) — The 2017 Alberta Bantam & Novice Championships concluded at the Bridges of Claresholm GC. On the boys side, day one leader Hunter Thomson backed up his impressive opening 67 with a steady, even par 72 in the final round to win by five strokes over a trio who finished at even par for the championship.
Thomson played solidly in the final round commenting that "today's round was not that much different from yesterday. I just stuck with the same game plan that worked on the first day." He made a closing birdie to cap off an impressive week and finish at five-under-par for the championship.
Thomson added that "this win really means a lot. To see Ethan Choi's name on there twice and a few other successful golfers from Alberta… it really helps to have my name on there. It was a really good week. I am really happy."
It was a come from behind victory on the girls side for Kaitlyn Wingnean of the Derrick Golf & Winter Club. Back to back 76's was enough to win the Bantam Girls championship by two shots over day one leader Tillie Claggett.
Wingnean played well down the stretch saying after the round that "the front nine was not as good as I planned it to be, but on the back nine I stepped up my game." She added that "this is my last year (of age eligibility). This is what I have been working towards. I really wanted to win the Bantam this year and am extremely happy I was able to accomplish that."
Jace Shannon from Forestburg won the Novice Boys championship and Belle Brezovski from the Sturgeon Valley G&CC won the Novice Girls championship. Look for both next year as they compete in the Bantam championship.
TOP 10 LEADERBOARDS
MEDIA
---
About Alberta Golf
The Alberta Golf Association was incorporated as a society in 1912 and continues today as a not for profit Provincial Sport Organization (PSO) operating as Alberta Golf. As the PSO, we are commited to realizing the positive impacts of golf on individuals and communities across Alberta. Our vision is that through golf, Albertans will enjoy a high quality of life, improved health and wellness, a strong sense of community, economic benefits and personal fulfillment. Alberta Golf hosts 13 annual provincial championships in order to identify the best golfers in various age and gender catergories. A mix of nearly 1,500 pro and amateur golfers compete on high quality member facility courses across the province. Championships are hosted by a core team of staff and over 100 volunteers. The tournaments promote competition, build pride in the community, support charitable giving and inspire future generations of golfers. They also serve as an opportunity for golfers to qualify for national amateur championships.