GolfBC Takes Over Operations At Blue Ocean Golf Club In Sechelt
Details

Category: Inside Golf
Published: 2017-08-30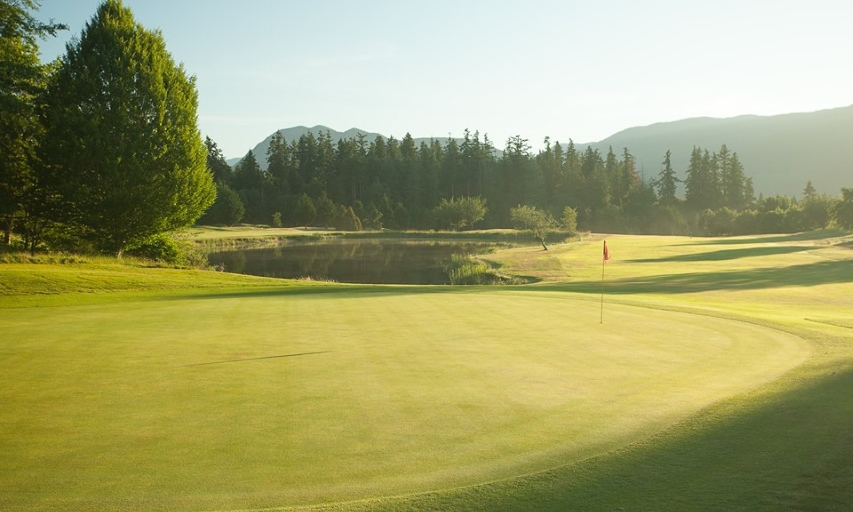 (Photo/Blue Ocean Golf Club)
SECHELT, British Columbia (Brad Ziemer/British Columbia Golf) — GolfBC, Western Canada's largest golf course owner and operator, is spreading its wings. The company, which owns and operates eight championship courses in B.C. and three more on the Hawaiian island of Maui, has recently entered into a management contract to run Blue Ocean Golf Club in Sechelt.
It's a first for GolfBC, whose vice president of operations, Andy Hedley, says the deal with Blue Ocean could be the start of a new venture for the privately owned Vancouver-based company.
Blue Ocean, formerly called Sechelt Golf Course, was acquired in 2014 by the Edison & Mira Group. Hedley met company president Edison Wang about 18 months ago through a mutual acquaintance and the two began talking about the golf industry.
"Over that last year or so we met a number of times and just talked about golf and golf operations," Hedley said in an interview. "And then as we came into the season, around April, we started talking again and the discussion got into management and would it be something that we would be interested in.
"We have thought about expanding into the management side of things. When this kind of opportunity came up I thought it was a pretty good chance to test ourselves in a management contract and see if we can be successful."
GolfBC brings plenty of expertise to the table. In British Columbia it owns and operates Nicklaus North in Whistler, Furry Creek near Lions Bay, Mayfair Lakes in Richmond, Olympic View in Victoria, Arbutus Ridge in Mill Bay, the Quail and Bear courses at Okanagan Golf Club in Kelowna and Gallagher's Canyon in Kelowna.
The company also owns and operates the Pinnacle, a nine-hole executive course at Gallagher's Canyon. On Maui, GolfBC owns and operates the Gold, Emerald and Blue courses at Wailea Golf Club.
I think people don't realize how much work it is to run a golf course," Hedley said. "In many cases you've often got 100 acres of land for an 18-hole golf course. You have a food and beverage operation, you have a retail golf operation and then you have administration and financial, so it is kind of like four mini-business there within one. There are a lot of moving parts and I think it surprises many people who have never been in the golf business before.
"At Blue Ocean we want to stabilize the business, grow the business financially, grow the rounds of golf, also implement some of our benchmarks we've created over the years through all of our golf courses and help improve the product, improve the customer experience, improve the team member performance and improve the financial accountability performance."
GolfBC has brought in Ken Langdon to serve as general manager at Blue Ocean. Langdon, a class A professional with the PGA of Canada, was formerly sales and events manager at Olympic View Golf Club.
Blue Ocean has its challenges. For starters, there's not a huge local population to draw from and there's another local course, Sunshine Coast Golf & Country Club, just down the road. Tourists must take a ferry to get to the Sechelt area and there aren't any large hotels to cater to groups.
"That is obviously a challenge," Hedley said. "One of the goals from the owners' point of view is to have accommodation on site. There is a great golf course down the road at Sunshine Coast Golf & Country Club, and it is a great product and we obviously feel there is an opportunity there to come over to the Sunshine Coast and play two courses, take in some of the region. There are some great breweries and artisans and a lot of things to see there, some beautiful beaches and parks. We think it is a product that can fit well with what we offer at GolfBC."
Hedley said GolfBC is still getting a feel for the facility and suggested it will take a bit of time before major changes are made. "Obviously, taking it over mid-season was not ideal in terms of being able to make serious changes because you are kind of in full operation at that time," he said.
"We are taking everything on, all the operations and the financial side of it, so it is a fairly large transition. It's probably going to take three to five months of work to really just get some solid financials and be able to make some calculated decisions for the future."
Hedley hopes the management contract with Blue Ocean might lead to other deals with courses in need of some golf industry expertise. "We are certainly using this as a chance to utilize our tool box of benchmarks and customer experience tools and see if we can use this to elevate maybe another side of the business," he said.