After Close Call At Canadian Mid-Amateur, BC's Steven Diack Looks Forward To A Pro Career
Details

Category: Inside Golf
Published: 2017-08-30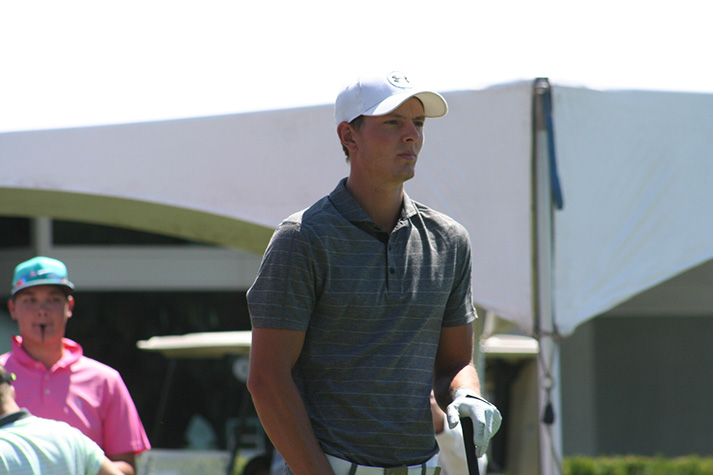 Coquitlam's Steven Diack, Shown Here Getting Set To Tee Off In The VGT Golden Ears Open At Pitt Meadows GC, Is Raring To Get His Pro Career Under Way. (BC Golf/Bryan Outram)
(Brad Ziemer/British Columbia Golf) — When Steven Diack decided he was going to turn pro, there was an obvious place to start the next phase of his golfing life. The Vancouver Golf Tour's Vancouver Open is being played September 22-24 at Northview Golf Club in Surrey, a place that has been good to Diack in the past.
"Once I saw the Vancouver Open was at Northview I was like, that is so good for me," Diack said in an interview. "I love that place and I can't wait to go out and start this new chapter in golf. I have actually won two tournaments out there. I won a MJT (Maple Leaf Junior Tour) tournament a long, long time ago and I won the VGT Spring Championship out there as well."
Diack's pro debut comes after he came so close to a storybook swan-song to his amateur career. The 25-year-old Coquitlam resident tied for second at the recent Canadian Mid-Amateur Championship in Regina, losing in a three-man playoff to Todd Fanning of Winnipeg.
Diack led the tournament right from the start and carried a five-shot lead into the final round of the 72-hole event. He didn't play his best golf that final day, but said he will take so many positives from the week that he thinks will pay dividends as he prepares for his pro debut.
"I've had leads before but obviously nothing that put that much pressure on me," he said. "To kind of be there four days in a row, I have never really experienced that before and I really learned about composure and being super-patient. I honestly can't wait to go to the next tournament and be in that position because I feel like I will have more of an edge than I did last time."
Diack was paired in the final round with Garrett Rank, the three-time defending Mid-Amateur champion who was also part of the playoff. "Playing with Garrett in the final round was such a blast, obviously knowing what he had done there the last three years. It was really cool. I really tried to enjoy every single minute of it. Obviously I was so happy with my play for three days and to be five shots ahead I never really would have dreamed to be there at that stage. It was a lot of fun.
"But those guys (Fanning and Rank) were not going to crack and it was impressive to watch. I obviously learned a lot from those guys. They played efficiently and once they made up their mind they just went for it. That's one thing that I honestly could have done a little bit better. Not think too much. Those guys, once they made their decision they went for it and good or bad, they went and found it and hit it again. It was pretty cool to be part of it and watch."
Diack missed out on an exemption to the 2018 RBC Canadian Open that went with the Mid-Amateur title. But perhaps it's just as well as that would have created a dilemma of sorts for him. Diack would have had to remain an amateur to use that exemption next summer.
Diack has just completed a solid collegiate career at Wayland Baptist University in Plainview, Tex. He ended up at the NAIA school when he was ruled ineligible by the NCAA after accepting an offer to play at Chico State University in California. "I stayed out of school for two years (after high school) and had talked to Chico and was ready to go there and the NCAA had changed some rules on when you stayed out of school and when you could play events so unfortunately I learned at the last minute I was ineligible."
Wayland Baptist offered him a spot and he decided to go, even though he knew very little about the school. "I didn't even get a chance to look at the website, I went down and signed all the papers and started school." It turned out great for Diack, who was a second-team All American in his senior year and is putting the finishing touches on a degree in business administration. 
Diack has had a full summer of elite amateur competition that he thinks has helped prepare him for his pro journey. He teamed with Chris Crisologo of Richmond and represented British Columbia at the Mexican Amateur Championship, where they finished third. He was sixth at the Glencoe Invitational in Calgary and also competed in the Pacific Coast Amateur at Chambers Bay in Washington state.
"This past summer was really just about getting as much experience in the big tournaments as I could," he said. "I wasn't solely focused on results. I wanted to play well, but really I just wanted to get some exposure playing with the best amateurs in the world and kind of seeing where I ranked with them and I think I did exactly that."
Diack plans to head to Arizona and play some mini-tour golf in the Phoenix area before returning home to try the Mackenzie Tour-PGA Tour Canada qualifying school next May at Crown Isle Golf Resort in Courtenay.
He can't wait to get started. "I have wanted to do this for a long time," Diack said. "I am just so excited."