Golf Central Alberta's Pro-Am A Great Way To Promote Business
Details

Category: Inside Golf
Published: 2017-09-06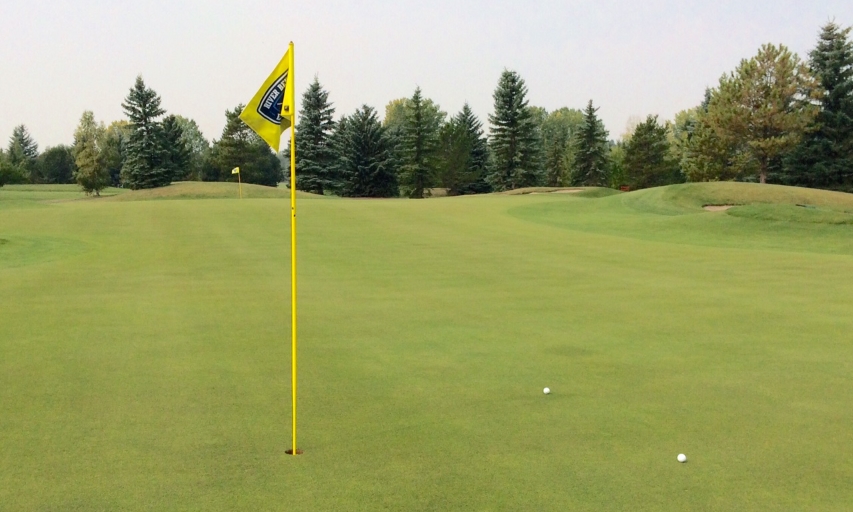 Huge Greens Were The Order Of The Day At River Bent GC In Red Deer, Although None Quite Stacked Up To The Double Green Bringing No. 2 And No. 17 Together. (Photo/Gord Montgomery)
RED DEER, Alberta (Gord Montgomery/iG) — One way for golf courses to draw customers to their venues is to put those customers onto their property with their sticks in hand for a competitive but fun competition. That's exactly what Golf Central Alberta has done for the past two years and from all indications, the golf consortium likes what they're getting out of their two-day Pro/Am event.
Speaking on behalf of the six member courses of Golf Central Alberta — Alberta Springs, Innisfail, River Bend, Wolf Creek, Pine Hills and Ponoka — Vimal Pillay noted that after several different ideas on marketing their brand and their courses didn't live up to expectations they decided to try the latest venture which appears to be paying off.
"We tried a number of different things, radio and newspaper print ads, airport banners,"  he explained as the Group of Six began trying to sell what the area, centred around Red Deer, has to offer. "We were sitting around brainstorming and thought there was no better way to push it to a golf audience than through the pros themselves from around this area in our feeder market," explained Pillay, who acted as the tournament chair this past year.
For an entry fee of $300, each player on the team of three amateurs and a pro got a round of golf on two of the six involved clubs; gift bags; two lunches; a banquet supper; a night's stay at one of the partnering hotels and if their team was good enough, a share of the prize package.  And more importantly, they got a taste of the great golf in this part of Wild Rose Country.
As for the pros, they shared in a prize purse worth $15,000 with the top guy in the Stableford system tourney taking home $1,500.
"Something like this goes a long way and it has generated in a few more rounds of golf," through the consortium's Stay and Play packages after tournament players have experienced what's being offered up as courses in the area. The tournament courses will change each year, with two in play.
The two tracks used this year, the Innisfail Golf Club and Red Deer's River Bend Golf Course, were both worthy of hosting the Pro/Am and are certainly good enough for travelling golfers to stop in and take a swing, or 90, at. Innisfail is a Bill Robinson design that offers 27 holes of challenges through rolling terrain and heavily forested sidelines. River Bend, another Robinson design, count on lots of water and huge, rolling greens to put plenty of "would'a, should'a, could'a" holes into everyone's game.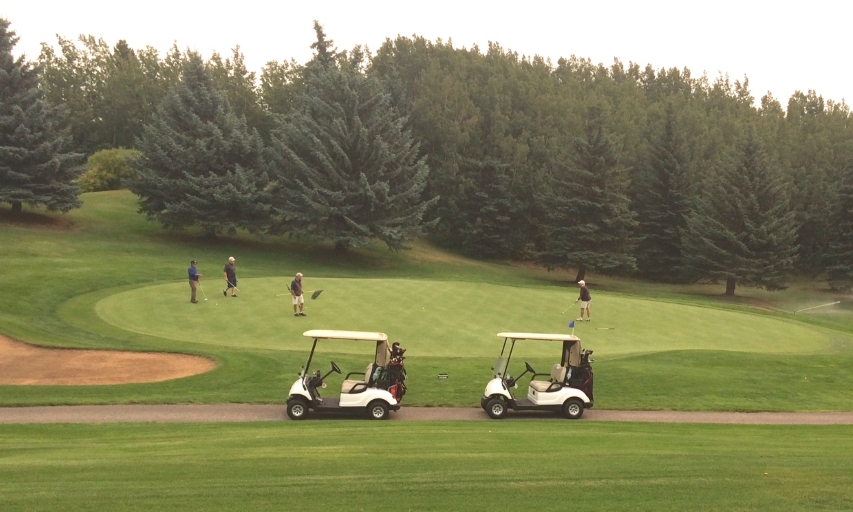 The Narrow Fairways And Quick Greens At The Innisfail Golf Club Proved To Be A True Test Of Skill At The First Stop In The 2017 Golf Central Alberta Pro/Am. (Photo/Gord Montgomery)
With this being only the second year for this idea, but one that seems to have caught on, Todd Fiske, the head professional at River Bend, said the organizing group is now looking at growing it moving forward.
"We're looking forward to making it grow, get everybody working to promote it," he said of taking the 36-hole, 18 team tourney up to 25 teams after hosting 18 teams the first two times around.
"We find 100 players is good. Pace of play is a big thing and we want guys to get around in four, four and a half hours, max. We want to get 'em in and have a good time.
"The objective is to get pros from Edmonton, Calgary and outside to come in, stay at one of our properties, come to the function, play, do all the stuff. We're trying to get it out there," continued Fiske. "We want to showcase the area as a destination and for us, we're trying to target Edmonton and Calgary as lots of our business comes from there. Our stuff works because we have guys coming from Edmonton and Calgary and meeting in the middle."
The payoff to all this is already showing that this type of concept works better than what they've tried in the past.
"It promotes the area, the hotels, the golf courses," said Pillay. "It's already made a difference," in the number of visitors each club, and the entire area, are seeing in the golf  season. The prizes for amateurs were rounds of golf at the partnering courses along with hotel accommodation based in Red Deer making for a very inexpensive Stay and Play for the recipients.
As to why this idea seems to be working, Fiske had this to say: "We are better off working together and spending our (advertising) dollars as a group. We've done different things in the past and we kind of needed to look at how we could maximize our dollars."
One place the dollars are maximized is the pro payout for the tournament. This year's tourney went head-to-head with a two-day stroke play PGA of Alberta tournament of which Fiske noted, "Our payout was bigger than theirs. They had 47 pros and we had 18 pros playing for more money," another way in which the consortium hopes to draw more pros, and their amateur partners, into the Golf Central Alberta Pro/Am in the future.
"We just need to get the word out. We're looking for guys who want to have fun and be part of the social thing, everything else. And with the Stableford format, that allows the pros to freewheel without putting a lot of stress on the amateurs," noted Fiske.
"We definitely want to make this bigger. The bigger the purse the more interest from the pros," added Pillay. "All the feedback we've gotten is positive because we want to know if it is a good event."
Considering the smiles and the tournament stories that were circulating after both rounds, everyone on hand will likely return whether it's for this tournament or simply to enjoy what the six golf courses and the area's partnering hotels have to offer.
For more information on this event, the partnering hotels and Stay and Play package prixing, go www.golfcentralalberta.com.
---
About the Writer
Gord Montgomery is a retired sports editor of two weekly newspapers in the Edmonton area and is a member of the Golf Journalists Association of Canada. He is now in his ninth year of writing for Inside Golf. He can be reached at This email address is being protected from spambots. You need JavaScript enabled to view it.. He's also on Twitter at @gordinsidegolf and on Instagram at @gordinsidegolf2.