Hidden Valley Is Truly A Hidden Gem
Details

Category: Inside Golf
Published: 2017-09-11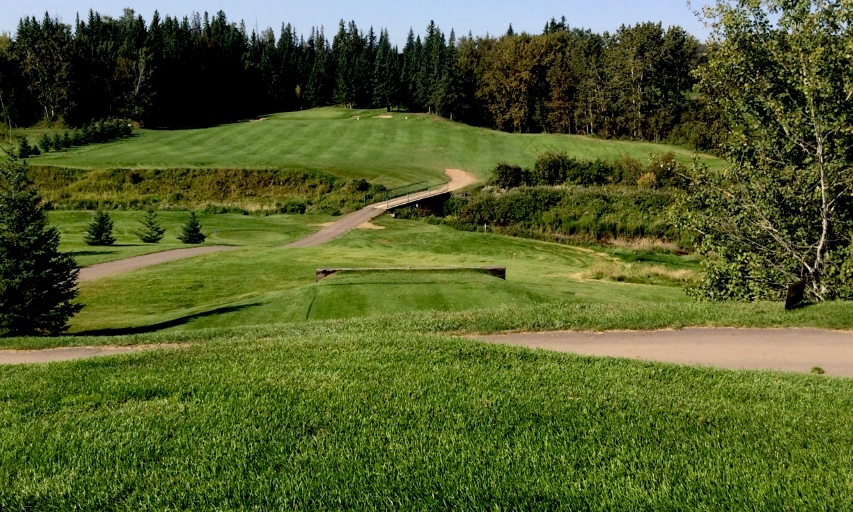 The Scenery is Amazing At Almost Every Turn At Hidden Valley, Including From The Tee Box On The Third Hole, A Short Par 4. (Photo/Gord Montgomery)
FAWCETT, Alberta (Gord Montgomery/iG) — If one was to ever find that dictionary that supposedly has pictures in it, under the heading "Hidden Gems" you'd be sure to find a photo or two of the Hidden Valley Golf Course & RV Park.
Both are that picture perfect.
This little 9-hole mom-and-pop operation, "in the middle of nowhere," as co-owner Tony Dirks describes it, is simply eye candy immediately after you complete the first hole. And that's not saying No. 1 isn't pretty either. It's just the rest of this 3,000-yard layout, set on the prairie near Fawcett, Alta., is almost beyond description.
Fashioned and sculpted by Tony with help from his wife Ivy, this layout is a dream come true for the man who had previously started another course on a nearby abandoned gravel quarry. He decided that wasn't going to work so he purchased the farm land where Hidden Valley now sits and went to work. While that was in the recent past this dream of his actually took shape years ago.
"I use to work for a sporting goods company and I'd call on golf courses and that's what planted the seed," he said as to how, and why, someone would get he itch to design and build their own golf course. "That was long before golf was popular with young people. That was when golf was an old man's sport."
Around the turn of the century he felt "it was now or never," so he began work on that original layout that was never finished. And in a way, for golfers at least, that's a blessing because what he came up with at Hidden Valley is extraordinary in every sense of the word.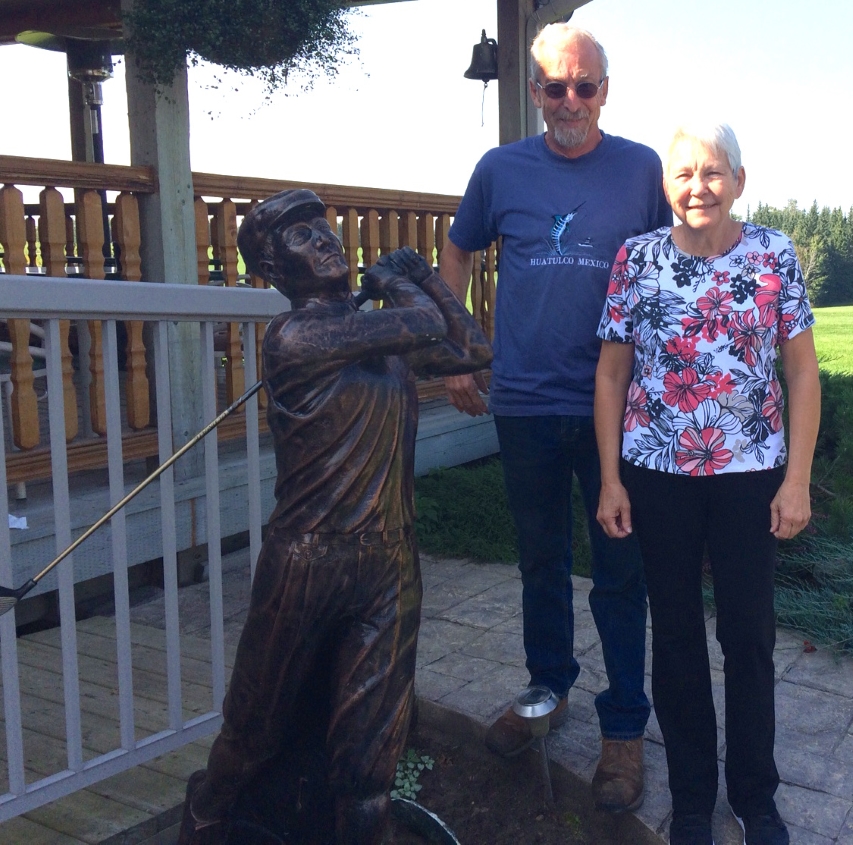 Tony And Ivy Dirks, The Owners Of The Hidden Valley Golf Course & RV Park Are Rightfully Proud Of Their Small Operation And The Growth It Has Had Over The Last Several Years. (Photo/Gord Montgomery)
Tony bought the land that was replete with water and "no rocks," and went to work creating this nine-hole fun zone. Five years later his masterpiece was unveiled to the public.
"He's a big picture person," noted wife Ivy who takes care of the RV park and works in the clubhouse and who is rightfully proud of what her husband created.
As for his creation and how it came about, Tony explained, "I walked the hills here for a whole year," before he put any machinery into action. "Then I woke up one morning at 3 a.m. and there it was! That plan was started the next morning!"
The first taste of the beauty and the care that went into this track is on the second hole, a 383-yard par 4 that has an elevated green situated just below the third tee box and the clubhouse just beyond that. The tee shot here calls for dead aim to the landing area bordered by trees on one side and a hazard on the other. Once there, you're faced with an uphill shot of around 100 to 150 yards to manage the 50 or so feet climb to where the green sits.
On the next hole, it's the exact opposite. Your tee shot plummets down from an elevated tee box on this 248-yard par 4. Short?Yes. Pretty? Even more so.
There's a huge hazard in front the tee where a topped shot will go to enjoy its retirement. There are also bunkers around the green and some foliage, so while it's not overly lengthy it can put a big crooked number on your scorecard in a hurry if one becomes too aggressive with their tee shot.
A couple of holes later you run into a fantastic little par 3. Playing at only 130 yards, the hole sits well below the tee box and again is surrounded by trouble meaning you can't simply whale away and hope for the best.
What helps make this course even better is its condition. The fairways are full and lush and you rarely, if ever, have a poor lie to hit from. And when you arrive on the putting surfaces you'll find greens that are smooth and fast and as good as almost any big golf course anywhere.
While Tony agrees his playpen is literally in the middle of nowhere it does have a the RV park right beside it making for easy Stay & Play weekends so it can be a busy place. The course is actually situated in the middle of a triangle of Alberta towns — Slave Lake, Westlock and Athabasca — from which it draws a fair amount of play from.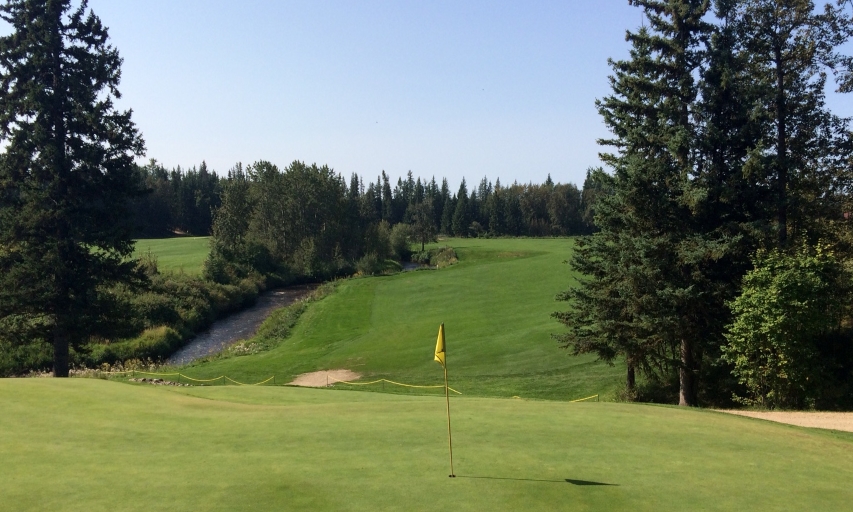 A Small Creek And Large Trees, Plus Elevation Changes Help Give Hidden Valley GC A Great Feel. (Photo/Gord Montgomery)
The other thing that makes this beauty so popular is its relaxed atmosphere. There are no course marshals, no one telling you that you've fallen behind the pace of play and certainly no lack of peaceful surroundings. And then there's the owners and how they handle new and returning customers.
"We go out of our way to became friends with everyone that plays here," Tony commented. That idea, along with the physical allure of Hidden Valley, has seen green fee play increase "10 to 15 per cent every year," for the past 12 years showing you don't need big corporation money and advertising dollars to make a big splash with a small fish.
So while Hidden Valley Golf Course is indeed hidden but seeing is believing and this is one of those courses where the term "hidden gem," isn't out of bounds.
And you don't need to find that dictionary with pictures to prove it once you get there.
For tee times, call the clubhouse at 780-954-2262 or go to their website at hiddenvalleygolf.ca.
Chip Shots
In keeping with the small town feel of this area, check out the unique Jarvie General Store, about 10 minutes to the south of the course. This is a real General Store where you can find everything from hard candy to liquor to fishing and camping supplies as well as a hot bowl of soup and a sandwich after a more than enjoyable round of golf at one of Alberta's true hidden gems. And since the store is owned by a golf pro and his wife, who knows … maybe they even have a few golf supplies in there.
---
About the Writer
Gord Montgomery is a retired sports editor of two weekly newspapers in the Edmonton area and is a member of the Golf Journalists Association of Canada. He is now in his ninth year of writing for Inside Golf. He can be reached at This email address is being protected from spambots. You need JavaScript enabled to view it.. He's also on Twitter at @gordinsidegolf and on Instagram at @gordinsidegolf2.