Playoff Birdie Propels Whitecotton To Tour Championship Victory
Details

Category: Inside Golf
Published: 2017-09-15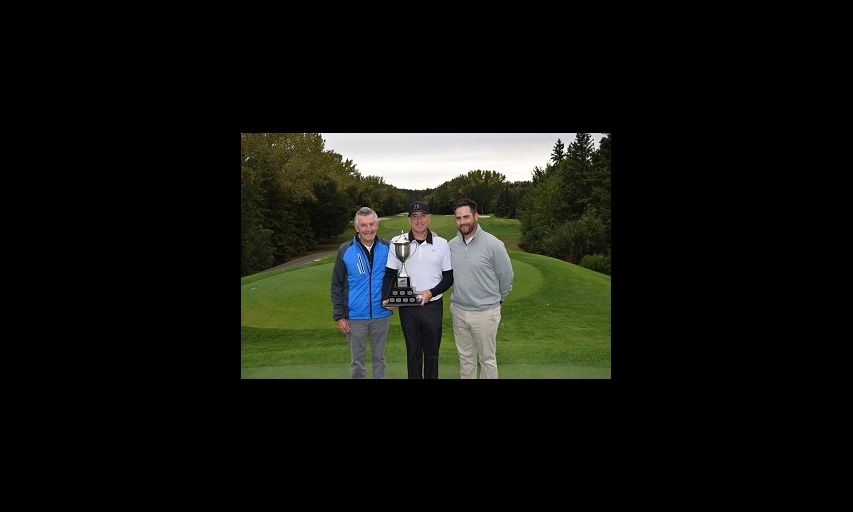 Winner Keith Whitecotton With Sunice Sponsor Nevin Thompson And Host Professional Matt Johnson Of The Royal Mayfair GC. (Photo/PGA of Alberta)
EDMONTON, Alberta (Gord Montgomery/iG) — For Keith Whitecotton, the winner of the 2017 PGA of Alberta Sunice Tour Championship, there was no better way of breaking a winless skein than by taking one of the biggest events of the year, against one of the best fields of the year.
Whitecotton overcame a triple bogey miscue in the final round to forge a tie with Mike Belbin and Dustin Risdon after 36  holes, then rolled in a short birdie putt on the first extra hole to walk away with the win and a cheque for $2,700.00.
"It's probably been a couple of years since I got a nice win, other than a one-day event," Whitecotton, the teaching pro at The Quarry in Edmonton, noted.
As for putting the pressures of everyday work aside and trying to concentrate on a two-day, 36-hole event, the winner said it's not easy staying focused.
"The two-dayers are definitely a little different than the one-dayers where you need to be ultra-aggressive and see how low you can go," he began. "With two days, you just want to sort of stick around a little bit through day one, keep yourself in the hunt and make a few more aggressive decisions on day two if you need, or vice versa if you've got a nice lead."
As it turned out, Whitecotton did exactly what he was preaching. Heading into the final round at the pristine Royal Mayfair GC in Edmonton, he found himself only one shot off the pace, set by Dillon Batsell from Medicine Hat's Connaught GC. The thing is, the logjam at the top of the leaderboard featured some pretty solid players, including Risdon and Belbin, along with David MacComb, Kent Fukishima, Kevin Black and Jake Behiels.
So the eventual winner put his head down and went to work, looking to play his best and letting others worry about themselves.
"I can't control what they're doing so I just have to go out and stick to my game plan, the shots I know I can hit and hopefully I hit 'em good," Whitecotton said of the competition lined up beside him or right behind him.
After a tough time on the 10th green that took him from first to third, Whitecotton stayed calm and let his game do the talking. He climbed back into a share of the lead on No. 17 when he rolled in a clutch 15-foot birdie putt and then parred the last hole to earn a spot in what became a 3-man playoff.
"I had a two-shot lead after nine but then had a little "whoopsie," on 10 when I four-putted for a triple!" the winner recalled with a chuckle. "But I just kept grinding away and actually had a lot of great looks at birdie coming in. The one I made on 17 was probably the longest one I had … maybe that was kind of a little bit of "back at 'cha," kind of play."
Going into the playoff on the par 4 18th, Whitecotton hit "two beauties and got it in there pretty tight," leaving him staring at a four-footer for the win. Belbin and Risdon each had birdie putts as well but neither converted leaving The Quarry pro with the chance to win it outright.
"It was the kind of pin, tucked behind the water, where you could hit it 20-feet right and let a little draw slope, if you were hitting a draw, feed it down to the hole. I didn't do that in regulation but remembered in the playoff that's what you had to do to get it really close there. That's what I did and it turned out perfect!"
Whitecotton explained that he didn't watch either of the other two attempt their birdie putts, focusing instead on what he needed to do to secure the victory.
"I don't really like to watch guys putt. Everyone has a different stroke, hit it at different speeds. I'm just head down and focusing on what I needed to do. Belbs had a pretty much impossible putt; it was a heck of a two-putt he made. Ris just hit his through the break. He probably hit a great putt, just a little too hard."
As for any concerns he may have had in making that short putt to win, Whitecotton cracked,  "There's always doubt, especially when you've got a four-putt under your belt on the last nine holes!
"It was a good putt to have. Right to left and speed was not an issue. It was going to get there no matter what. I hit it and it went right in the middle," to clinch the championship.
In closing, Whitecotton noted he's been playing professional golf for a long time, adding, "It's nice to capitalize when you get the opportunity because they're few and far between. It's nice to get a good win, a two-dayer, a Tour Championship win. I'm very proud of that and that's probably one of the strongest fields we'll likely have."
For their second-place finishes, Risdon and Belbin each collected $1,450.00 while Eric Locke from Priddis Greens in Calgary earned $1,000 for his solo fourth-place finish.\
---
About the Writer
Gord Montgomery is a retired sports editor of two weekly newspapers in the Edmonton area and is a member of the Golf Journalists Association of Canada. He is now in his ninth year of writing for Inside Golf.
He can be reached at This email address is being protected from spambots. You need JavaScript enabled to view it.. He's also on Twitter at @gordinsidegolf and on Instagram at @gordinsidegolf2.