One Was Fun, But Eight Is Great For Vlooswyk
Details

Category: Inside Golf
Published: 2017-09-15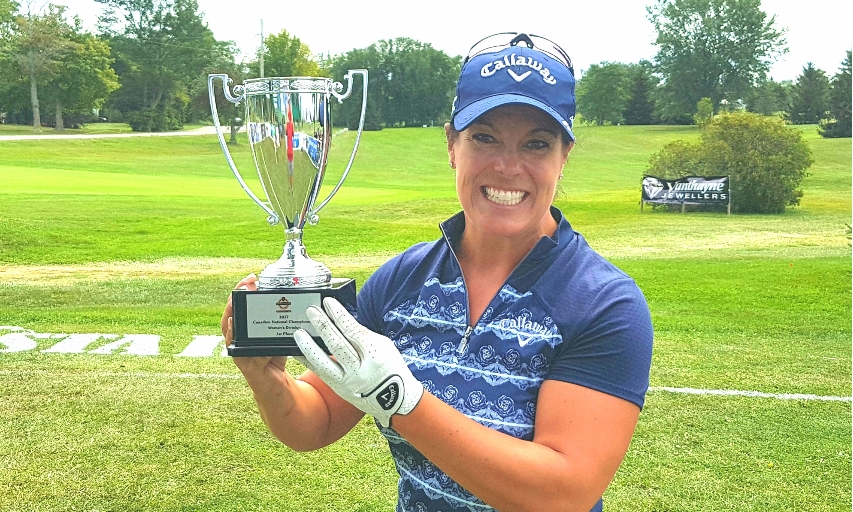 (Photo/Lisa Vlooswyck)
PORT ROWEN, Ontario (Gord Montgomery/iG) — Lisa Vlooswyk is back on top of the Canadian long drive world. The Calgarian, who had  suffered through a five-year hiatus from holding the Canadian women's championship title was, needless to say, excited about reclaiming that title.
"I have competed every single year but my last win was 2011. For five years I've chased it so that's why this was such a thrilling victory for me," she stated.
A big part of the win, she continued, was due to some new equipment and also the tutoring of her longtime coach, Paul Horton.
"My ball speed has absolutely improved with the (Callaway) EPIC driver," she said of the change from her former NIKE gear to the new toys. "I'm hitting longer drives, there's absolutely no question. This equipment feels good in my hands. I hit it well and my numbers are better."
In winning the title back, Vlooswyk, or Lisa Longball as she's known to her many fans across the country and around the world, pointed out that while the win was awesome so was the fact she landed at least one ball in a very narrow grid in each of the eight rounds the competitive field went through. In the end, Vlooswyk's best effort of 302 yards in the last round was enough to send her home as the best Canadian big bomber for the eighth time.
Coming back to become champion after those five long years is a big deal, she said, considering all she has going on in her life besides the long ball bashes. After all, she's now 43, is a touted motivational speaker, a travel journalist including for Inside Golf, makes dozens of guest appearances at golf tournaments, and is mom to a busy boy who loves sports.
"It was huge!" she exclaimed about her feelings of recapturing the title. "I first started competing in the sport in 2001, so like you said, I'm not a spring chicken. This just makes me so proud. The sport means so much to me and I continue to work at it and continue to get better at it year after year … but so does everyone else. That's what pushes our sport. Having new girls, younger girls, coming in and bombing it, it pushes all of us to keep training, keep elevating. I'm so proud to regain that Canadian title so that was just huge for me."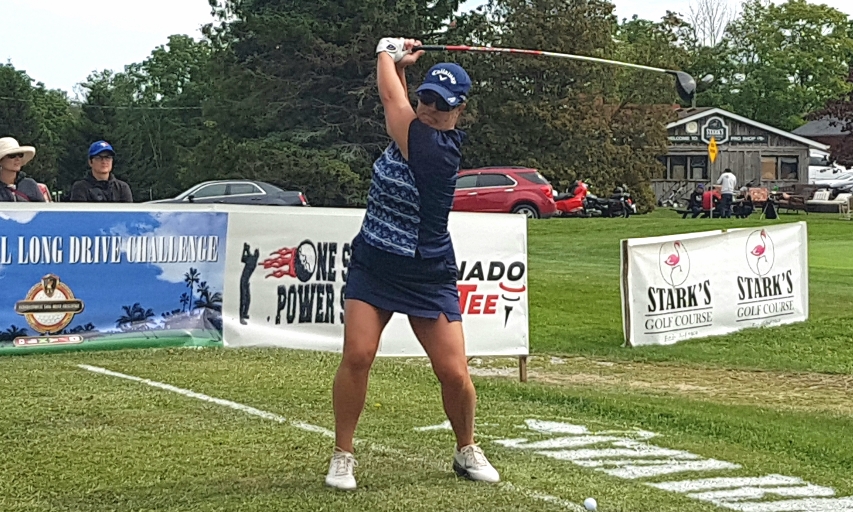 (Photo/Lisa Vlooswyk)
As for the difficulty of putting shots into the grid at the national finals, most long drive grids are usually around 60 yards wide. The one in Ontario though was just over half that width which caused some issues, said Vlooswyk, who had an acquaintance laser the  landing area.
"It was thirty-nine yards wide and we had a 24 miles per hour left to right wind with a slight headwind, so to hit this grid … and I hit it round after round after round. Last year at the National championships I hit six balls out of bounds," to be eliminated.
This time around there was no denying her though as she climbed back into the winner's seat for the eighth time and knowing her, this likely isn't the last time she'll be sitting there.
Things didn't go quite as well a few days later though as the Canadian champ struggled with fatigue at the Volvik World Long Drive Championships in Oklahoma, where she ended up 11th.
"We had phenomenal competitors there this year," she said. "But it was tough. I competed on Saturday (at the Canadians) took the last flight out of Toronto to Dallas, checked in and competed on Tuesday. Because of the odd number of girls, for the first time ever we had 10 competitive rounds, back-to-back-to-back … eighty competitive balls as fast as humanly possible. It was definitely a long day," she proclaimed of the  Worlds where tension is increased as competitors must try to launch eight rockets within three minutes in each round.
But for Vlooswyk this is just another hurdle to clear on the path to what she hopes eventually becomes her first-ever world title. With her drive, her determination, and now that new gear that title may just not be that far away.
---
About the Writer
Gord Montgomery is a retired sports editor of two weekly newspapers in the Edmonton area and is a member of the Golf Journalists Association of Canada. He is now in his ninth year of writing for Inside Golf.
He can be reached at This email address is being protected from spambots. You need JavaScript enabled to view it.. He's also on Twitter at @gordinsidegolf and on Instagram at @gordinsidegolf2.