Husband, Wife Team Up For Back-To-Back Aces
Details

Category: Inside Golf
Published: 2017-09-15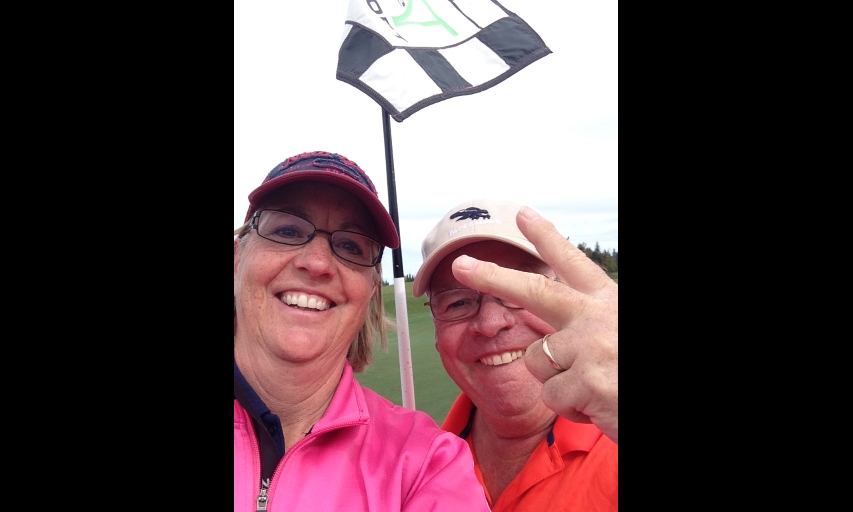 Fred Rivett May Be Indicating Two Here, But Instead of That Score On The Par 3 Third Hole At The Trestle Creek Golf Resort, The Sign Indicates How Many Holes-In-One The Couple Made. The Feat Was Accomplished With Consecutive Swings, As Fred Used an 8-Iron and Linda a 9-Iron. (Photo/Fred & Linda Rivett)
EVANSBURG, Alberta (Gord Montgomery/iG) — If one was to go looking for a good spot to record an ace this golf season, it would appear the Trestle Creek Golf Resort should be high on the list. After all, the rural course, about 45 minutes west of Edmonton, has recorded close to a dozen this year including a recent remarkable occurrence.
You see, the course has now recorded one of the rarest of all feats in golf — back-to-back aces on back-to-back swings.
How rare is this feat? Well, let's put it this way — the odds of that happening are so astronomical there doesn't appear to even be a number for it. According to Golf Digest the odds of two golfers playing together and recording aces in the same round are 1.3 million to one. For a duo to smack it into the same hole, the odds rise exponentially to 26 million to one.
But what the husband and wife pairing of Fred and Linda Rivett of Spruce Grove did — record holes-in-one on back-to-back swings at Trestle Creek on Sept. 12 of this year — is beyond calculation. There is no magic, "This is what the odds of that happening are," stats for this type of occurrence anywhere.
These were the first aces for both Fred and Linda. Interestingly enough though, the course's head professional, Matt Matheson, said this was the second time he's been a pro at a course where a pair of aces such as this have occurred.
"In '07 a couple of guys did it back-to-back in PEI at Anderson's Creek Golf Course. I saw that," he said, adding, "Those were on back-to-back swipes. But, this is the first time for something like this at Trestle Creek."
The miracle shots took place on the third hole of the Jackpine Nine, a pretty little par 3 where no matter which tee you play from your initial attempt has to carry over a water hazard. Fred played off the white tees while Linda was a deck in front at the burgundy box. As for those shots, Fred described them starting with his.
"I didn't exactly see it go in the hole, but I saw it hit the green and start rolling toward the pin. But Linda saw it. So she's pretty excited and gets up and hits her ball and I'm standing on the tee box with her and we both see it run down the slope and right in!
"So at that point, I'm pretty sure we've got one and she's sure we've got two!" continued Fred. "We drove up … and there are two balls in the hole so we're hooting and hollering."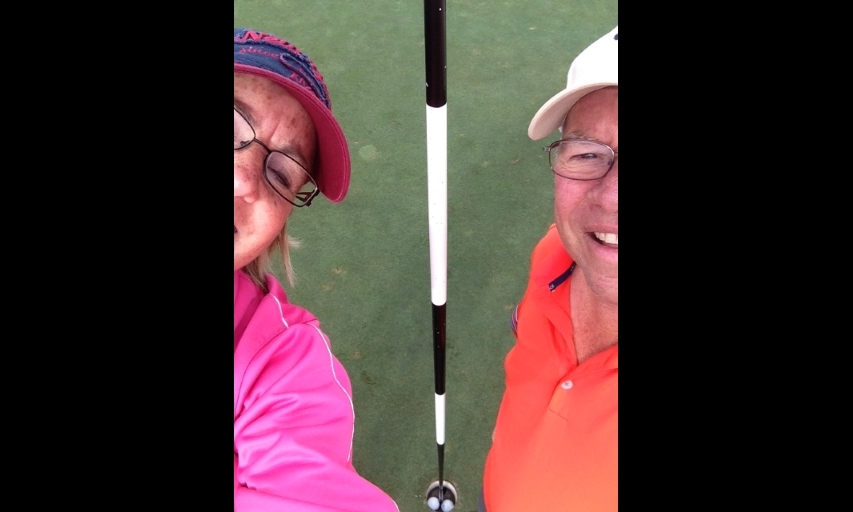 In This Selfie, Fred And Linda Rivett Of Spruce Grove, Alta., Show Off The Result of Their Consecutive Swings During A Round At The Trestle Creek Golf Resort On Sept. 12. (Photo/Fred & Linda Rivett)
For his shot, Fred, who estimates his handicap at "about 20," used an 8-iron from 128-yards while Linda, "who is probably a 30," used a 9-iron from 98-yards.
The one issue that could have made these marvellous works of sporting art a bit awkward to explain was that Fred and Linda were on their own. Fortunately, they made so much noise when Fred's ball found the cup that the two women behind them popped up over a small hill to see what was going on. They eye-witnessed Linda's great shot and then saw the pair, without clubs in hand, take the two balls out of the cup. They also signed the pair's scorecard to attest to this marvellous feat.
"Aside from our island green, this is probably the most scenic hole on the course," said the club's head golf guru. "It has a heavily undulated green. I know when he first hit his shot they were quite excited. Linda was already up at the forward tee box and she teed up fairly quickly so that they could keep celebrating. And then she knocked it in right on top of him! Besides the island green here, they definitely picked the other hole I'd want to get an ace on!"
To Matheson's knowledge there have never been two holes-in-one on the same day at Trestle Creek let alone two on swings that followed one another.
Now, when someone gets a hole-in-one, the rest of the round is usually a blur and that was the case here, not that Rivett was complaining.
"Our minds were elsewhere, trying to get our heads wrapped around one, let alone two," said Fred of the aces. "We were swinging at the ball but we weren't really committed to it."
For their amazing efforts, both Fred and Linda will get a customized flag with the club's logo, the hole number and the date on them. But they'll have to wait a while to have those framed and mounted in their home.
"Typically we have those in stock but we'd run out!" said Matheson of the run on the commemorative ace flags at Trestle Creek this year. "But, they kept their scorecard and thankfully they both kept their golf balls, which is something I recommend when you make a onesie, to always keep the ball. You'd be surprised how many people don't. They keep playing with it and then lose it in the water on the next hole."
That though wasn't the case here as Fred and Linda and the balls along with the flags and scorecard will surely be proudly  displayed indicating how they beat those unknown odds in recording this amazing feat.
---
About the Writer
Gord Montgomery is a retired sports editor of two weekly newspapers in the Edmonton area and is a member of the Golf Journalists Association of Canada. He is now in his ninth year of writing for Inside Golf.
He can be reached at This email address is being protected from spambots. You need JavaScript enabled to view it.. He's also on Twitter at @gordinsidegolf and on Instagram at @gordinsidegolf2.