Surrey's Adam Svensson Realizes Childhood Dream By Locking Up PGA TOUR Card
Details

Category: Inside Golf
Published: 2017-09-20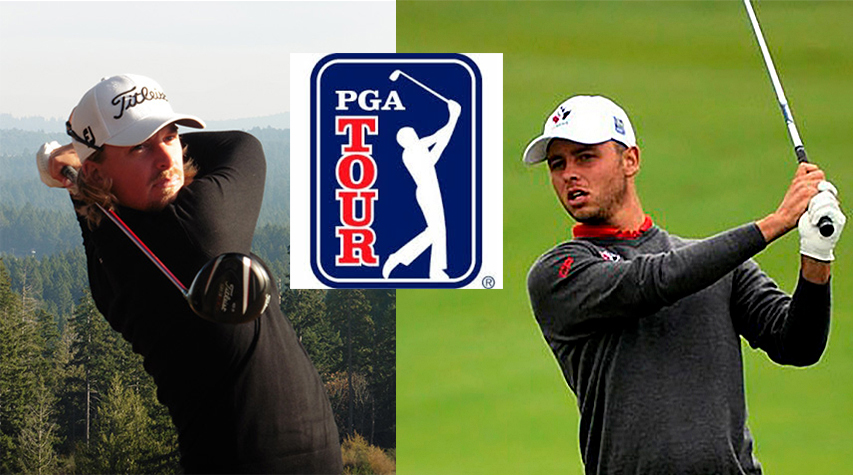 Adam Svensson (R) Has A Virtual Lock On His PGA TOUR Card For 2018 And Fellow British Columbian Roger Sloan (L) Is Right On The Verge Of Joining Him. (Photo/BC Golf)
(Brad Ziemer/British Columbia Golf) — It was the biggest putt of Adam Svensson's life and he still doesn't quite know how he made it. "I was shaking," Svensson said of the 15-foot birdie putt he faced on the 18th green Sunday at the Web.com Tour's Albertsons Boise Open.
Svensson had glanced at the scoreboard and knew that if he made the putt he would move inside the top five and make enough money to lock up his 2018 PGA TOUR card.
"I was looking at the leaderboard and saw that I was tied for eighth," Svensson said in a telephone interview with British Columbia Golf. "I knew if I made the putt I would go to T4 and I figured if I make this putt it looks pretty good. I was nervous, I was shaking a little bit. I just somehow made it. I can't even tell you what the read was right now."
Svensson, who also birdied the 17th hole Sunday, shot a five-under 66 to finish tied for fifth place at the Boise Open, the second of four Web.com Tour Finals events. The top 25 money-winners in the four Finals events earn their PGA TOUR cards and the $35,125 Svensson earned on Sunday moved him into seventh spot with $37,937.
That almost certainly will be enough to stay inside the top 25 with just two events remaining. In 2015, it took $32,206 to finish inside the top 25. In 2016, one of the four Finals events was cancelled due to weather and it only took $27,425.
It seemed only a matter of time before Svensson made his way to the PGA TOUR. He is a two-time B.C. Junior Boys champion and also won the 2010 B.C. Amateur Championship. He had a stellar collegiate career at Barry University in Florida and won the Web.com Tour qualifying school in the fall of 2015.
"I was about eight or nine years old when I first started thinking about playing on the PGA TOUR," Svensson said. "It has been a dream of mine my whole life, so to finally fulfill that is pretty amazing."
Svensson now wants to finish strong the next two weeks to try and finish as high as he can on the money list. The better his number, the more PGA TOUR events he will qualify for. "I'm going to grind it out the next two events and try and finish as high as possible," he said.
Svensson will join fellow British Columbians Adam Hadwin and Nick Taylor as a PGA TOUR regular next year. And Roger Sloan of Merritt is now in a good position to join them. Sloan finished tied for ninth in Boise and is tied for 20th on the Web.com Finals money list with $22,375.
He likely needs to make at least another $10,000 in the next two weeks to earn his PGA TOUR card. The Web.com Tour Finals continue at this week's DAP Championship in Beachwood, Oh., and conclude the following week with the Tour Championship in Atlantic Beach, Fla.