Kananaskis Country: Rebuild It And They Will Come
Details

Category: Inside Golf
Published: 2017-09-21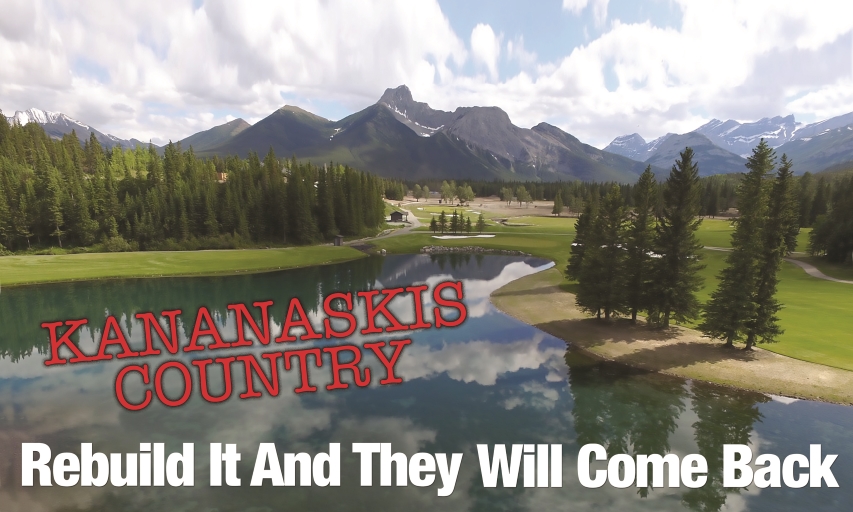 Kananaskis Golf On June 23rd Of This Year. (Photo/Kananaskis Golf)
The movie line may go "Build it and they will come."
But in this case, it's more "Rebuild it and they will be coming back... in droves.
With the restoration project at the Kananaskis Country Golf Course of the Mt. Lorette and Mt. Kidd tracks well underway, golfers from Alberta and across the world for that matter will soon be teeing it up again at the iconic pair after a 2013 flood wiped out all but four of the 36 holes at the facility.
How much of the $18 million price was covered by insurance?
Tim Chamberlin, from Alberta Parks replied to that question in an email:
"No private insurance was utilized for the rebuild. The Government of Alberta is self-insured for the lands and land-related buildings (the snack shack, toilet buildings, etc.). Kan-Alta insures the larger buildings like the clubhouse, pro shop and staff housing, which were not affected by the flooding.
That said, nearly $16 million of the golf course rebuild work is eligible for federal Disaster Recovery Program (DRP), which covers up to 90 per cent of eligible costs."
But now, divot diggers and birdie hunters alike are sharpening their games and licking their lips in anticipation of the day the two beautiful courses swing back into action as the planned opening date draws ever closer.
General Manager Darren Robinson said in mid-July that while Lorette is fully sodded and growing in well, the Kidd course has suffered a few weather related issues that will delay its opening. Both though are still scheduled to be open to the public in 2018.
"We're not on time; we're behind where we wanted to be at this point in a perfect world," said Robinson of the proposed timeline. "Last summer, being as poor as it was, we lost over 40 days to weather. This year our phasing plan had us starting mid-April and we started the first of May. Under perfect conditions we were planning on putting the last grass down on the Mt. Kidd course in early September and now we're probably a month behind schedule. We hope to get it all on the ground this year but we for sure will have a staggered start next year."
In an online news release on July 24, a report said, " …we completed sodding on the Mt. Lorette course toward the end of June. Since that time, the team from Bos Sod has sodded 1, 8, 7, and 3/4 of #6 Kidd. For the week of July 24 they will come in and complete the blue grass on 6, 3, and 4 Kidd and then put the T-1mBentgrass down on 6 and 3 Kidd greens. No. 4, 5, and 2 Kidd greens will be shortly behind …"
With all the reconstruction work taking place, there has been some changes to what was formerly in place at the Rocky Mountains beauties. But, said Robinson, those will only be noticeable to those intimately familiar with the old layout.
"There have been some little tweaks here and there that were made to facilitate pace of play, or issues we experienced from a maintenance standpoint, alignment to cart paths so they're out of sight of landing areas. Those are the kind of subtle changes that people won't necessarily be able to pinpoint. They'll just know it looks, and feels, and plays better than it ever did before."
Many course devotees have been watching this rebuild from an eye-in-the-sky viewpoint through the use of Robert Trent Drones III (a drone flown with the permission of the Government of Alberta). Bob Paley, the head professional at Kananaskis, said he's loved sharing every minute of the $18M restoration project and people have loved what he's shown them.
"What it's done, is provided a view of a project that a lot of people care about. We've received a lot of comments from people who are non-golfers," who are following what's going on through the drone's usage, explained Paley. "On Facebook, a good post for us is 3,000 to 5,000 reaches but we had one on the final bit of sod going down on Lorette that I think reached about 48,000. It's unique and gives people a different perspective on things."
While something like a natural disaster can never be fully avoided, steps have been taken to limit such possible damages going forward at Kananaskis. Robinson said work was done on both the Evan Thomas and Kananaskis Rivers to shore them up to mitigate such future problems.
"You can never prepare for everything but they've done a very comprehensive job on it," including berms to allow for greater flows through those waterways, he stated. "The Kananaskis River didn't do nearly as much damage as the Evan Thomas (which flooded the courses) and work has been done on the waterways to prevent such future events."
Speaking to the task of returning the courses to their mountainside glory, the man charged with bringing them back to life, Gary Browning, said the initial challenges were staggering. At the same time, it was exciting to be able to leave his mark on the famous 36 holes, especially considering the reputation of the original architect, Robert Trent Jones III.
"I got a chance to, as you say, put my fingerprints on this and I'm thrilled to death," said Browning from his office in Calgary. "The biggest challenge, obviously, was just getting my arms around the overall gravity of the situation, the damage that had been wrought. It was so extreme.
"Moving the dirt wasn't that big a challenge once we got into it. We worked hard to protect the integrity of the Jones' design, being respectful along the way," to bring the course back to life to the way it was originally designed.
Speaking to how it feels to have such a big part of bringing these two iconic Rocky Mountain sisters back, Browning said it has been somewhat overwhelming but also extremely exciting.
"That's something that's obviously very difficult to put into words," he explained. "It's emotional to see this come back together. It's very satisfying, very gratifying, to see the final pieces of sod go down and know we're that close to having it finished and back and having it look as good as it does. I'm thrilled beyond words, to be honest."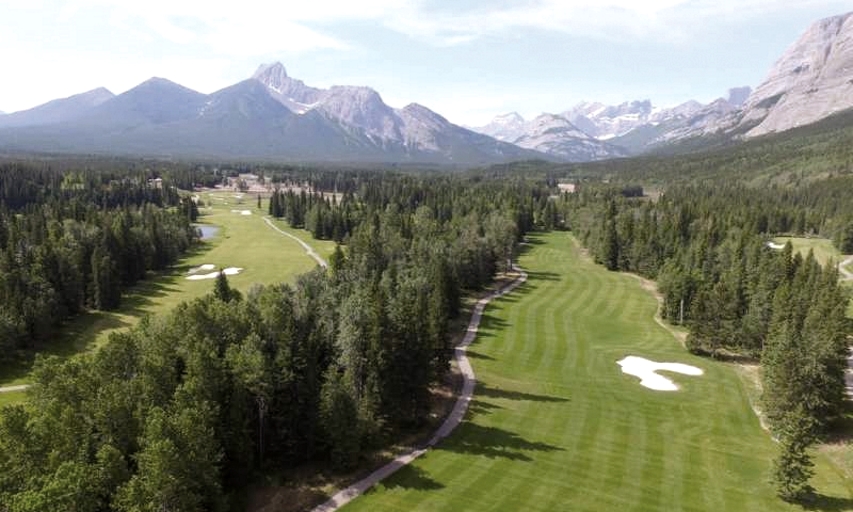 (Photo/Kananaskis Golf)
When Mt. Lorette opens up for play next golf season, many have queried the head pro about what the rate structure will look like. While no final green fees have yet been set, there is one element that is set in stone — the special pricing for Albertans.
"One hundred per cent the Alberta special rate will be in place," Paley stated. "We don't know yet what those rates will be as there are a number of things that need to be considered and looked into. What I can say though is we've always been, and will always be, about value and executing expectations.
Continuing on, Paley noted a time for online bookings in order to play the "new" Kananaskis courses has yet to be decided.
"In terms of when our reservation office will open, we haven't nailed down a date yet but it will be into 2018 as it relates to individual bookings, likely between the beginning of February and the beginning of April," he said, noting that when the booking period opens "it will be the worst kept secret in the history of the world."
In speaking to how excited everyone is about the reopening of these two great golf courses, Paley had this to say, "You hear about how negative social media can be but literally we have not had one (such comment), since the decision was made (to rebuild) and we've been documenting this whole thing. There's not been one negative (post) about this special place and that really means a lot to us."
As for Robinson, these were his thoughts on what's transpired as of late: "It's pretty cool to see how much love, and passion, and positivity there is out there surrounding this. It's really wonderful."
At the time of this article being written, the project was on budget, according to Robinson.
---
About the Writer
Gord Montgomery is a retired sports editor of two weekly newspapers in the Edmonton area and is a member of the Golf Journalists Association of Canada. He is now in his ninth year of writing for Inside Golf. He can be reached at This email address is being protected from spambots. You need JavaScript enabled to view it.. He's also on Twitter at @gordinsidegolf and on Instagram at @gordinsidegolf2.