BC's Lindbjerg & Gallacher Among Champions Crowned At PNGA Senior Team Championships
Details

Category: Inside Golf
Published: 2017-09-25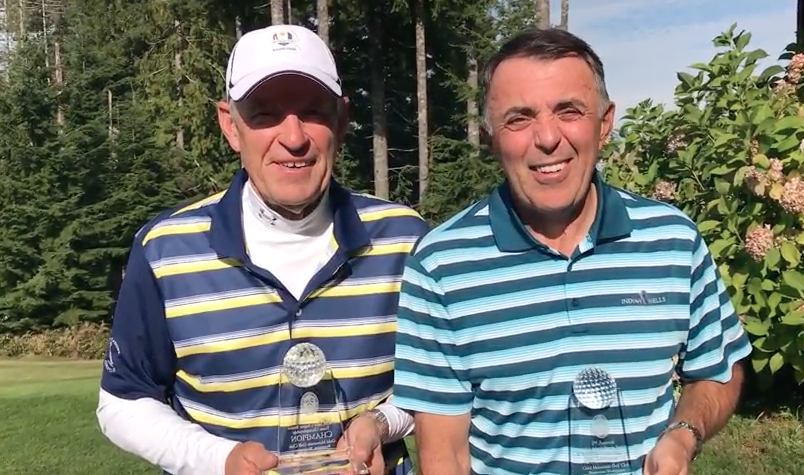 BC's Gudmund Lindbjerg (L) From Port Moody & Partner John Gallacher (R) Of Burnaby Were Among The Champions Crowned At The PNGA Senior Team Championships. (Photo/PNGA)
BREMERTON, Washington (PNGA) — At the 35th Pacific Northwest Senior Team Championships, Erik Hanson of Kirkland, Wash. and Craig Larson of Tacoma successfully defended their Men's Senior Team title; Gudmund Lindbjerg of Port Moody, B.C. and John Gallacher of Burnaby, B.C. won the Men's Super Senior Team; Ginny Burkey and Leilani Norman, both of Eugene, Ore., won the Women's Senior Team title; and Mary Ryan of Renton, Wash. and Sun Douthit of Steilacoom, Wash. successfully defended their title in the Women's Super Senior Team with the defending champion pair of Jackie Littleand Kathryn McGarvey from B.C. coming in T2nd.
The four championships were held this past week on the Olympic and Cascade courses at Gold Mountain Golf Club in Bremerton, Wash. and were conducted by the Pacific Northwest Golf Association (PNGA).
Each was played in three successive rounds of Four-Ball, Chapman and Four-Ball formats, although the two Women's championships were shortened to 36 holes after the second round, which was to be played in the Chapman format, was washed out earlier in the week due to heavy rain.
Competitors in the championships came from all parts of the region, including Oregon, Washington, Alaska, British Columbia, Alberta, as well as from Wisconsin, California and Arizona. To stay connected on social media, follow @PNGALIVE on Twitter and use the hashtag #PNGASeniorTeam.
In the Men's Senior Team, Hanson and Larson shot rounds of 65-70-67 to finish two shots clear of second-place finishers Denny Taylor of Gladstone, Ore. and Pat O'Donnell of Happy Valley, Ore. The two teams were paired together in the final round, and had started the day tied for the lead at 9-under par. Each team played the front nine in 3-under, but Hanson and Larson came home in 2-under on the back nine to seal the win.
Click here for complete final scoring of the PNGA Men's Senior Team, and here for the Men's Super Senior Team.
"Well, the key to our round today, really, was the first hole," Hanson said. "Denny (Taylor) put a great shot in there, probably the hardest hole on the course, and made birdie. I made bogey, but then Craig made a long tough putt to save par, which kept it from being a two-stroke swing right out of the gate, and this kind of kept us in the game. Both teams played solid. We made birdie on 17 which gave us a two-stroke lead going into the final hole, and that was it."
In repeating as champions here at Gold Mountain, this is now the seventh PNGA title for Hanson, having also won the PNGA Master-40 four times, including earlier this year, and the Mid-Amateur once; and it is the second PNGA title for Larson.
Click here to view the full interview with Hanson and Larson.
In the 2nd PNGA Men's Super Senior Team, Lindbjerg and Gallacher had started the third and final round in a three-way tie for second, one shot back of leaders Tom Kubisa and Ben Manchion, with Kubisa playing on his home course at Gold Mountain. But with Kubisa and Manchion managing only even-par 72 on the final day, it opened the door for Lindbjerg and Gallacher, who combined for a 6-under 66, two better than Larry Daniels and Mike Jonson, who had opened with a 7-under 65 in the first round to hold an early lead.
Lindbjerg and Gallacher had teamed together to win the Men's Senior Team title in 2014. "We played better today than we did the first couple days," Gallacher said afterward. "We shot 3-under yesterday in the Chapman format, which is pretty good."
Added Lindbjerg, "We both hit the ball pretty good today. We knew things were pretty close, with Mike (Jonson) and Larry (Daniels) creeping up the leaderboard. We missed a few putts, and got a little nervous. On 17 Larry put his shot to about a foot; he could have blown it in for his birdie; and I put mine to about 20 feet. If he makes the putt we're tied, but I rolled mine in to maintain our lead."
Click here to view the full interview with Lindbjerg and Gallacher.
In the Women's Senior Team, Burkey and Norman combined for a final round of 5-under 67 in four-ball competition to cruise to a 5-shot victory. Click here for complete final scoring of the PNGA Women's Senior Team, and here for the Women's Super Senior Team.
For Burkey, this is a record seventh time she has won this title, and the third playing partner she has won with. Norman was named the 2015 PNGA Senior Women's Player of the Year.
Burkey and Norman began the day one shot behind first round leaders Gretchen Klein and Yasue Alkins, but the duo poured it on in today's final round, and their rounds of 70-67 put them five shots clear of Klein and Alkins and also of the team of Jackie Little and Kathryn McGarvey from British Columbia, who tied for second with Klein and Alkins.
Little and McGarvey won last year's title. Earlier this year, Little was inducted into the PNGA Hall of Fame.
"Today we were both in most of the holes," said Norman, "so we each had a shot at birdie on the greens." Despite the five-shot victory, Burkey believes there is plenty left to learn. "We want to play a couple other four-balls, we played in the Oregon Four-Ball together and we still have a little learning to do about each other's games."
Click here to view the full interview with Burkey and Norman.
In the 2nd PNGA Women's Super Senior Team, Ryan and Douthit came from behind to successfully defend their title in the championship. They began the final round one shot behind first-round leaders Carol Dick and Mary O'Donnell. The two teams were paired together in the final round, and O'Donnell and Dick held their slim lead after the first nine, but Ryan and Douthit tied it with a birdie on the par-4 10th, then took the lead on the 12th and held on for the one-stroke victory.
After defending their title, Ryan and Douthit are the only duo to have won the Women's Super Senior Championship. "We intend to play until we drop dead, and we will be here winning," said Ryan. "We're going to win next year." The shot of the day came on their final hole of the day, number nine, when Douthit hit a shot pin high from 175-yards out. "I couldn't see, but I just aimed at the trees and I hit it," said Douthit, leading to a birdie on the hole and one-shot victory.
Click here to view the full interview with Ryan and Douthit.
The PNGA was founded on February 4, 1899. It is a 501c3 charitable, international, amateur golf association dedicated to preserving the true spirit of golf by supporting its allied associations, conducting quality championships, and promoting activities beneficial to golfers in the Pacific Northwest. For more than a century, the Association has been a pioneer in developing competitions and services and its mission has grown and evolved. Today, the PNGA remains committed to being a truly regional organization providing benefits and services to its members and member clubs throughout the Northwest.