Callaway's Power Pack Bundles 300 Laser Rangefinder with Valuable Extras
Details

Category: Inside Golf
Published: 2016-01-11
MACEDON, New York — Just in time for the holidays, Callaway Golf is offering its sleek, pin-seeking precision 300 Laser Rangefinder packaged with valuable extras at no additional cost — the Power Pack.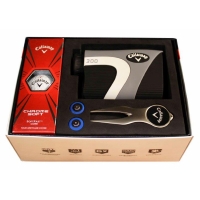 Callaway's 300 Laser Rangefinder Power Pack comes with the company's latest 300 Laser Rangefinder that was introduced to consumers at the 2015 PGA Merchandise Show. The 300 features a built-in P.A.T. (Pin Acquisition Technology) mode, which allows golfers to accurately grab the flag from up to 300 yards away while it simultaneously eliminating background objects.
Bundled with Callaway's 300 Laser Rangefinder is a 3-pack of Callaway's Chrome Soft Balls, Callaway divot tool with magnetic ball marker, two 3 volt batteries, a carrying case with carabineer clip and a lens cleaning cloth (valued at over $30).
"The response to the Power Pack from buyers has been tremendous," said David Witkoski, Vice President Marketing and Product Development for IZZO Golf, an official licensee for Callaway. "With all the great extras we've bundled in with our latest laser technology, we are confident that consumers will be equally excited."
Golfers can take dead aim with the superior accuracy of Callaway's 300 Laser Rangefinder. Scan the landscape to acquire distances to multiple targets, like greenside bunkers and water hazards.
Callaway's 300 Laser Rangefinder is sleek, compact and easy to handle.
Range: 5-1,000 Yards (5-300 yards to flag)
P.A.T. - lock on to pin up to 300 yards away
Superior Accuracy (+/- 1 yard)
6x Magnification capability
Measures in yards or meters
Water/Fog proof
LCD display
4.25 inches by 1.75 inches by 1.5 inches
The Callaway Power Pack will sell for $279.99.
For more information on the 300 Laser Rangefinder Power Pack and other great Callaway distance measuring devices, visit callawaydmd.com.
About IZZO Golf
IZZO Golf is an official licensee of Callaway Golf. IZZO offers high quality technology products that help golfers lower their scores and increase their enjoyment of the game. IZZO manufactures Distance Measurement Devices, Accessories and Training Aids under the IZZO and Callaway brands. For more information call 800 456-2129.
About Callaway Golf
Callaway Golf Company creates products designed to make every golfer a better golfer. Callaway Golf Company manufactures and sells golf clubs and golf balls, and sells golf accessories, under the Callaway Golf® and Odyssey® brands worldwide. For more, please visit CallawayGolf.com or CallawayDMD.com